WordPress offers users a lot of customization options, yet, in some regards, it is lacking. To fix this, you can install a page-builder plugin. One of the best on the platform is Elementor and there are many themes you can choose to get even better results.
While most themes are compatible with the Elementor plugin, some themes are built specifically with it in mind. As a result, these themes offer you far more options and freedom when it comes to website design.
Today, we will look at a variety of them to find out which are the best themes to use with Elementor.
Note: This list is not in any particular order. All of the themes here are great choices when using Elementor as a page builder, however, it really does come down to personal preference. So, be sure fully explore multiple themes before deciding.
Starting off our list of the best Elementor themes is one directly from Elementor called Hello. Not only is this arguably the very best theme available, but it is also completely free to use.
However, don't let the price tag fool you. It is a very good theme, and when combined with Elementor, it feels like a premium one.
This theme is perfect for Elementor and allows you to do all sorts of great things. Aside from giving you the ability to create modern landing pages and other types, the theme also offers a lot of integration options for popular plugins.
For instance, it is fully compatible with WooCommerce. With a responsive design, fast and secure code, and the ability to design and build around WooCommerce, Hello is definitely a theme you want to check out.
Benefits of Using Hello
Utilizes a lightweight design to ensure your website runs as fast as possible
Includes over 100 ready-to-use website kits to give you a head start
Gain advanced customization options for your header and footer areas
Utilize over 100 widgets to get your website to look the way you want
Easily add your business logo throughout your website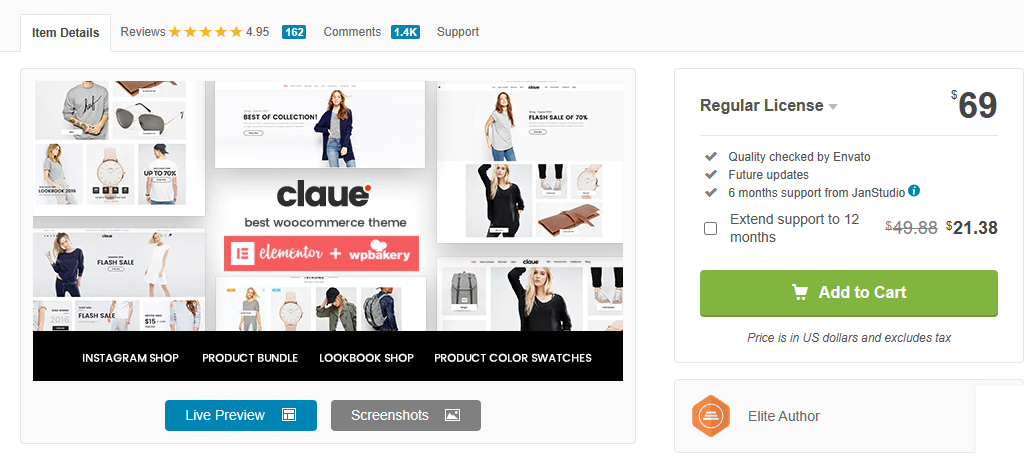 If you are interested in a minimalist look on your site, while at the same time being able to use WooCommerce and Elementor to their fullest potential, then Claue is a theme you will want to take a look at.
This theme is responsive and mobile-friendly, and it can be used for an online shop, blog, or portfolio. There are multiple header and footer layout options, and more importantly, a ton of built-in WooCommerce options that you can use in the Elementor page builder.
Product variation swatches, color swatch gallery images, product video thumbnails, custom tabs, custom layouts, and a categories filter are just the tip of the iceberg as far as what you get.
With plenty of built-in theme demos and an easy-to-use and understand control panel, Claue is the theme to use for any minimalist designer and with Elelemtor, you really have no limits.
Benefits of Using Claue
Add a dedicated Instagram feed to your website
Make it easy for customers to view different product variations (colors, sizes, etc.)
Create shopping bundles to help make orders bigger
Add product videos for every product
Utilizes a fully responsive design that ensures the mobile experience is great
3. GeneratePress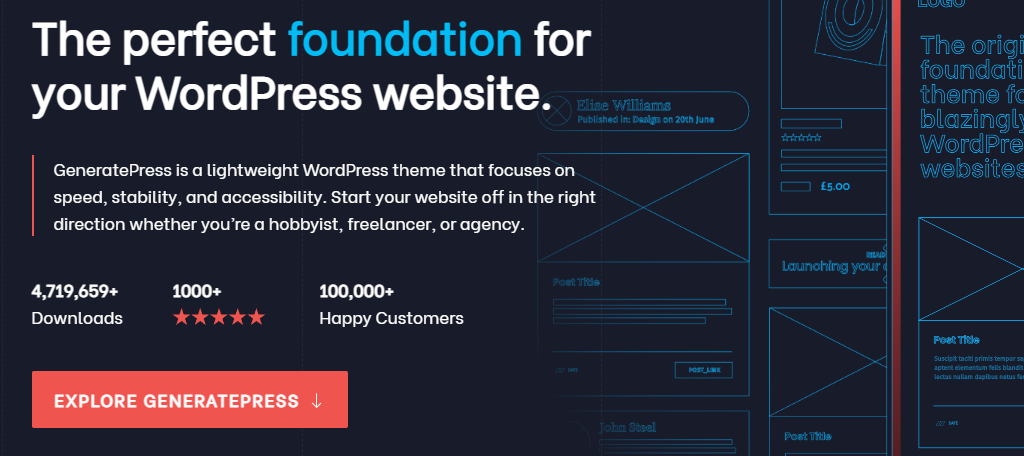 If there is one thing GeneratePress has in the bag, it is compatibility. Seriously, just about every major plugin or tool you can think of will work with GenreratePress including Elementor.
As a result, it is one of the most popular themes to use with Elementor. Or, any other page builder, for that matter.
It comes in both the free and premium variety with both being great options for Elementor. While the free version offers a lot of customization options, the premium version is where it really shines.
With it, you won't have any trouble putting together an awesome website. You'll have complete control over every aspect of your design. One of the more unique aspects is building stunning navigation menus.
Benefits of Using GeneratePress
Get any questions answered fast by a great support team
Choose from a variety of site templates that are compatible with Elementor
Add infinite scroll to your blog posts or products page
Create a unique header for mobile users
Utilize sticky navigation menus to make it easier for visitors to find what they are looking for
Aora is a lifestyle theme that is fully compatible with Elementor and has everything already built in. The theme is also compatible with all the different marketplace apps, so it's a great choice if you are looking to build an eCommerce site.
It also has integration options for other popular tools like MailChimp.
Unlike some of the other themes out there where you have to install WooCommerce and Elementor when you activate the theme, Aora already has the page builder and eCommerce plugin built-in and ready to roll.
There are dozens of pre-built home pages, mobile layouts, smart cart popup functionality, Ajax live search, product filters, and even amazing-looking blog pages. As a result, it's one of the best themes you can use.
Benefits of Using Aora
Offers a variety of pre-built homepages you can use to get started
Easily create flash sales to help boost sales and keep customers coming back
Add a frequently bought together section under your products to boost sales
Excellent mobile design options ensure it looks good on any device
Utilize Ajax Live Search to find products quickly
OuiOui is a theme that allows you to build an online marketplace quickly and easily by using Elementor to build your store. The theme comes with over 10 home page layouts built-in, is mobile-friendly and responsive, and provides multi-vendor support if needed.
And yes, this theme is compatible with WooCommerce as well.
There is an easy-to-use, one-click demo import system, along with a hot deal slider, daily countdowns, product live search, and color and image swatches. It has a very modern design and provides users with WooCommerce product blocks. 
With easy customization options, powerful theme options, and featured video thumbnail support, the OuiOui theme is worth a look if you are trying to build an online marketplace.
Benefits of Using OuiOui
Includes a variety of ready-to-use homepages
Compatible with other popular tools like Contact Form 7, MailChimp, and more
Choose from a variety of blog layouts to find one that matches your store
The theme is translation ready and offers RTL support
Add social logins to your website to make it easier for visitors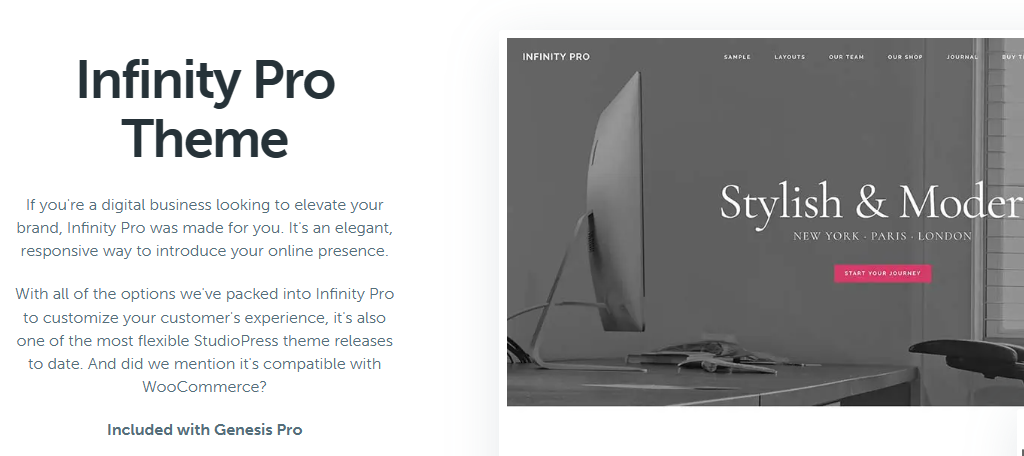 In today's online world, every business needs a website. Luckily, there are a lot of great themes that can help you get started. Infinity Pro is easily one of the best options, and it is fully compatible with Elementor.
Infinity Pro is a stylish modern theme that is perfect for business sites.
In terms of design, it offers users a minimalist layout, that allows your content to speak for itself. As a result, you have a lot of room to work with as the theme is a blank canvas.
Since it is for businesses, it is ready for eCommerce and fully compatible with WooCommerce and other popular business tools. Overall, it is a really awesome theme for your business to take advantage of, so be sure to give it a try.
Benefits of Using Infinity Pro
Easily insert your own logo into the header and throughout your entire site
Includes 13 widget areas for you to build your website with
Use the theme customizer to tweak global settings
Built with mobile users in mind, so it'll look good on any device
Easy to set up, which makes it perfect for beginners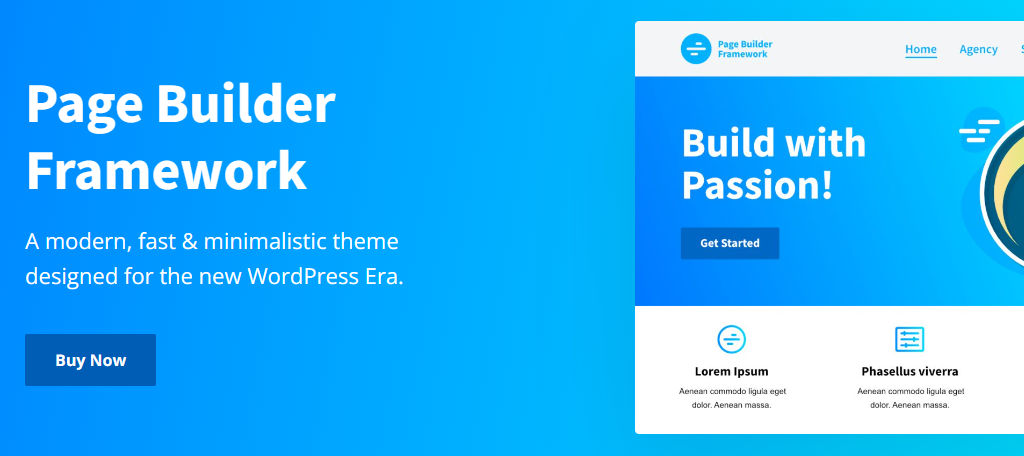 The Page Builder Framework was made with one goal: giving developers complete freedom when it comes to what page builder they use. As such, this theme works with most major page builders, which includes Elementor.
This can give you far more options as you can use a different page builder to make distinct pages. It offers a minimalist design that you can use with a page builder to customize.
The theme is lightweight on its own and follows the best SEO practices. So, you can rest easy your website will load fast and rank high.
One of the more unique aspects of this theme would be that it supports LifterLMS right out of the box. This is great for businesses with training options, or for just websites that focus on delivering courses to students.
Benefits of Using Page Builder Framework
Integrates with Easy Digital Downloads, to give customers and staff an easy way to download files online
Works well in a multisite environment as you can import everything
Receive detailed documentation and high levels of support with this premium theme
Utilize sticky navigation menus to improve site navigation
This theme is fully open-source and hosted on GitHub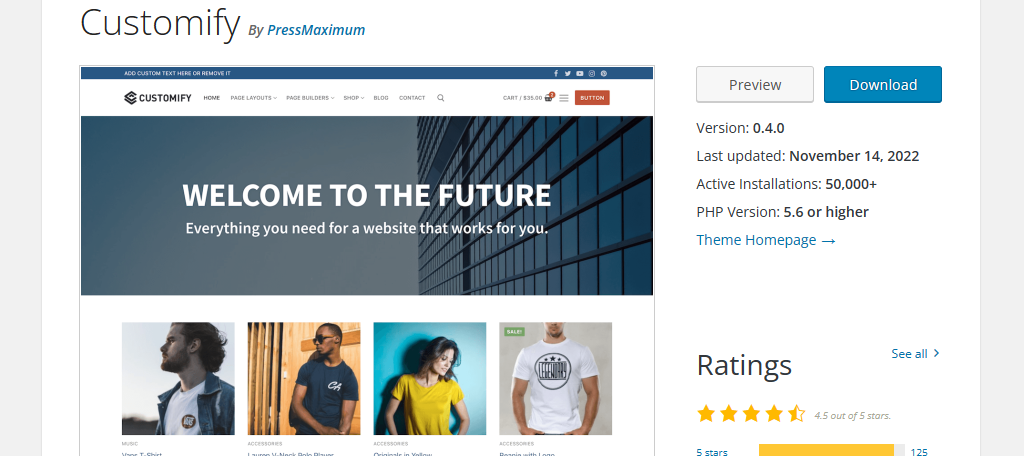 Are you looking for a free theme that is compatible with Elementor? While most work with it, one of the best options is the widely popular Customify theme with over 50,000 active installs.
Or in other words, 50,000 websites were built using the Customify theme. And it boasts an excellent rating.
As its name might imply, you'll gain access to an incredible selection of customization options. And these are taken to the next level when combined with Elementor. That said, it's also compatible with other page builders.
It's also worth noting that this theme can be used to create an eCommerce site. In fact, this theme can really be customized to do just about anything, and with Elementor, no matter what you make, it's sure to look good.
Benefits of Using Customify
Includes a WYSIWYG editor that easy to use
Gain access to a header and footer builder
Lightweight and responsive design ensures high search engine rankings
Easily customize theme colors and fonts
Create beautiful navigation menus
No business can survive without a website in 2023, and florists and nurseries are no exception to this rule. Luckily, the Alethea theme is a great option for these websites, and it is fully compatible with Elementor.
The base design of the theme is targeted at floral-centric websites, but you can customize it to broaden your horizons.
Overall, it offers websites a minimalist design, which is ideal for florists as you can really show off your flowers and bouquets. And naturally, this also means the theme is built with eCommerce in mind.
You'll also gain access to a variety of pre-built landing pages. These are built for a plethora of website types besides florists and can really save you a tremendous amount of time. It's a great theme to take a look at.
Benefits of Using Alethea
Includes access to over 90 custom widgets you can use to design pages
Create popups that are sure to lead to more conversions
Choose from over 300 templates that you can use throughout your website
Works well with WooCommerce and most eCommerce tools
Utilizes a mobile-friendly design for the best results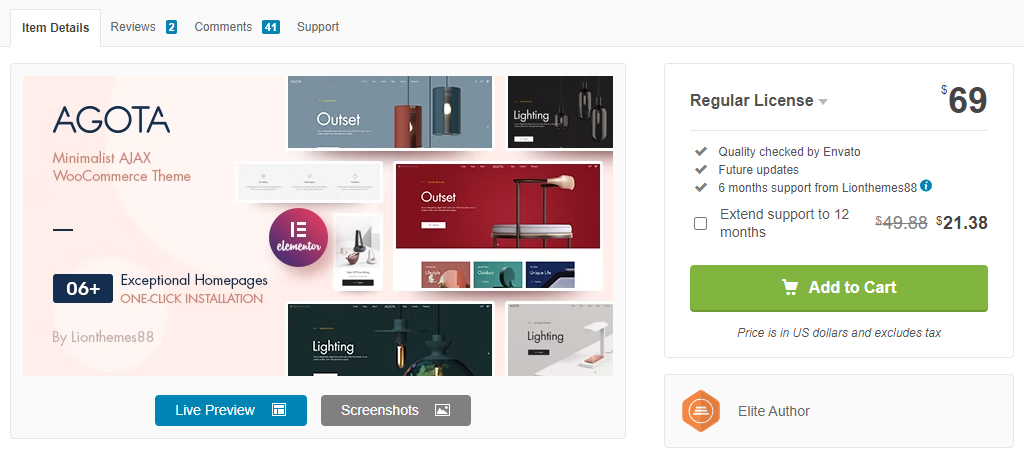 Rounding out our list of the best Elementor themes available is one called Agota. This is another excellent Elementor-ready eCommerce theme for WordPress. It provides an excellent foundation to build any kind of online store.
There are quite a few built-in and pre-made site demos to use. But, there is also something else unique about this theme.
They call it the "Agota Store."
This is a built-in store function provided by the theme. It allows you to use quick, one-click installs to import amazing store functionality to your site that is ready to go.
With a responsive and retina-ready design, mega menu support, customizable layouts, Ajax layered navigation, and order management, Agota gives you all you need to build an online store.
Benefits of Using Agota
Add Wishlist and product compare functionality
Easily add a blog to your website with the Blog Module
Utilize advanced filtering options to help customers find what they want
Import demos in a single click
Choose from multiple product layouts to get the best appearance
Can You Use Elementor with Any Theme?
In short, about 99% of WordPress themes work with the Elementor page builder plugin. For a longer answer, keep reading.
WordPress themes have come a long way over the years. One of the reasons for this has been that WordPress has continually updated how themes are written, which results in more compatibility among all plugins.
On top of this, the popularity of some plugins has become too large to ignore. Thus, theme developers need to make sure they are compatible with major plugins like Elementor, WooCommerce, BBPress, and other popular tools.
Failure to do so can alienate a theme and ultimately make it a failure if it lacks integration options for popular plugins. That's why you'll usually see a laundry list of integrations with popular plugins and apps for most themes.
With that said, what themes won't work with Elementor?
Some themes were built with specific page builders in mind and are only compatible with them. Think of them as specialty themes because they were made with one tool in mind, thus they don't work well with others.
Other examples of themes that don't work with Elementor would be older themes that are simply outdated. Elementor is a regularly updated plugin that doesn't work well with older themes made for older versions of WordPress.
The good news is that this makes up a tiny portion of themes, thus, you'll likely have no problem finding a theme that works with Elementor.
Are Premium Themes Worth it With Elementor?
Elementor opens up a ridiculous number of possibilities when it comes to website design, which ultimately leads to you having creative freedom over your website. As such, it is a really popular tool that is compatible with most themes.
Normally, this higher level of customization is only found by using premium themes. Thus, it raises the question, is it worth purchasing a premium theme when you are using Elementor?
While Elementor does give you a great amount of customization, there is really only so much it can do.
Think of it this way, you just bought an old fixer-upper car. And you spend your entire budget making the outside of it look good. That doesn't actually have any impact on how well the car actually runs.
Your website is no different. Elementor can make your website look good, but it can't do anything about a badly coded, or poorly optimized theme. While there are many great free themes, generally speaking, you will get better performance from premium options.
To be honest, most premium themes are quite cheap when compared with the earning potential of a great website.
So yeah, premium themes are worth the cost.
Choose From the Best Elementor Themes Today
As you can see from this list, there are a ton of themes that work well with Elementor. Yet that doesn't mean that choosing from the top themes is an easy thing to do. Ultimately, you still need to pick a theme that meets the basic criteria.
What does this include? Well, it needs to be optimized for SEO, offers a responsive design, and loads fast. The good news is that most themes in WordPress meet these criteria, which only makes the selection process that much harder.
Luckily, with Elementor, no matter what theme you choose, you'll be able to build any kind of website you want. Just make sure the performance is good enough to support the website.
What are your favorite Elementor themes? What is the most important factor when selecting a theme in WordPress?