If you have an online business, your choice of pricing tables in WordPress can make or break a sale. The right display of prices not only informs curious visitors, it also entices them to be committed customers. Yet, with a sea of plugins out there, how do you pick the perfect fit?
Every online entrepreneur knows the importance of presenting pricing. At the same time, many struggle with the challenge of making it effective and user-friendly. This is where the right plugin comes into play, adding flair without sacrificing clarity.
This article sheds light on this dilemma. We delve deep into the intricacies of selecting the most efficient pricing table plugins for WordPress so that your prices are showcased in the best light possible.
It's time to revamp your pricing display and convert potential interest into concrete sales. This guide will help you make that standout impression!
Our Picks for the Best WordPress Pricing Table Plugins
A pricing table plugin can significantly influence your website's conversion rates. When customers can quickly and clearly understand your pricing structure, they're more likely to make a purchase.
But what sets a great pricing table plugin apart from the mediocre? Here's a breakdown of the features to look for:
Highlighting Options: The ability to emphasize a particular plan or deal can guide users toward a specific choice, increasing the chances of conversion.
User-Friendliness: The plugin should be easy to install, customize, and integrate into your website without requiring advanced technical know-how.
Interactive Elements: Hover effects, tooltips, or even simple animations can enhance user engagement and provide additional information without cluttering the design.
Responsiveness: With increasing mobile web traffic, the pricing tables must adapt seamlessly across all devices.
Customization: A great plugin allows personalization, from color schemes to font styles, so that your table aligns with your brand's aesthetic.
Support for Multiple Payment Options: Integrating with popular payment gateways like PayPal or Stripe provides flexibility for your customers.
Without further ado, here are the best WordPress pricing table plugins that you can choose from.
Need sleek tables for your website? WP Table Builder has got you covered.
This drag-and-drop tool is optimized for WordPress. It streamlines the creation of standout WordPress pricing tables. The plugin offers several elements like text, images, ratings, and buttons. Unique customizations ensure your business pricing tables in WordPress truly resonate.
Cell management comes with abundant options. You can merge cells, add rows, and introduce columns with ease.
To get started, install the plugin and head to the Table Builder menu. Select your preferred row and column numbers, hit 'Generate', and your table foundation is prepared.
You can drag elements, make adjustments, and save. When you want to integrate the table into posts, simply use the provided shortcode from 'Embed' or 'All Tables'.
Data transitions are seamless with WP Table Builder. Importing from CSV, XML, or TablePress is straightforward. And when you're exporting, both CSV and XML are at your disposal. If moving to another site, XML is recommended to retain table settings.
Benefits of WP Table Builder
Easily design tables with drag-and-drop
Shortcodes make embedding simple
Prebuilt templates are included
Design elements are customizable
Looks great on all devices
Drawbacks of WP Table Builder
Free version lacks row duplication
Customization is limited in the free version
Fewer document formats are supported for import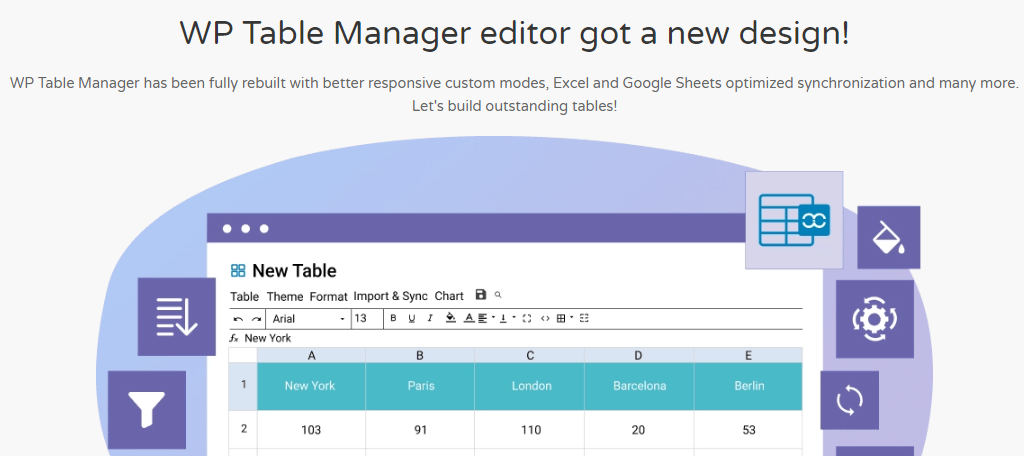 WP Table Manager offers a unique spreadsheet interface for WordPress. It makes crafting WordPress pricing tables fast and stylish.
The plugin boasts features like HTML cell editing, table copying, and sync options with Excel and Google Sheets. This suite of tools meets pricing tables for business demands effortlessly in WordPress.
WP Table Manager's recent redesign enhances its responsiveness. Improved custom modes optimize syncing with major spreadsheet platforms. And to make changes to a table, just click, edit, and save.
The plugin's synchronization is one of its standout features. It's easy with Excel, CSV, or Office 365 Excel documents. Not just data, but Excel styles like backgrounds and fonts can also be imported.
Automated sync is another highlight of this tool. You can align Excel files, CSV files, or an Office 365 table with your WordPress table. Overall, it bridges the best of spreadsheet capabilities with WordPress's versatile platform.
Benefits of WP Table Manager
Integrates with Excel, Google Sheets, and Open Office
Features a visual editor for customization
Handles extensive lists in pricing tables
Paginates tables with ease
Compatible with page builders like Elementor and Divi
Drawbacks of WP Table Manager
Limited pre-set color choices
Needs CSS for color tweaks
Limited file-type imports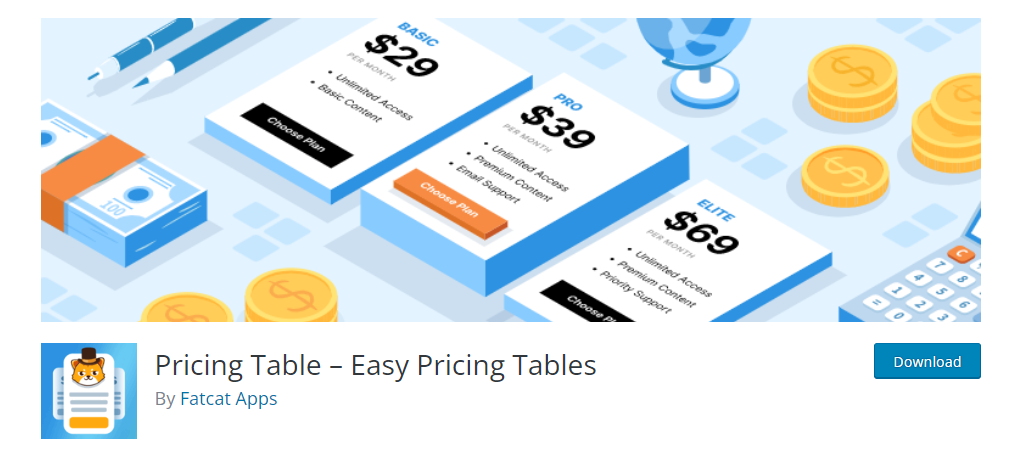 Easy Pricing Tables changes how WordPress showcases prices. This plugin allows the swift creation of striking WordPress pricing tables with no coding.
Built specifically for Gutenberg, it's a pioneer in its field. With it, businesses can readily design and launch detailed tables. Just insert the pricing block, input the details, and you're set.
Its features make it adaptable and efficient. The plugin seamlessly fits any WordPress theme and adjusts to any device. Moreover, it emphasizes optimal conversions and guides users every step of the way.
For all businesses in need of pricing tables for WordPress, this is the go-to choice. You can design within the post editor or dashboard and embed using shortcodes.
Overall, it's simple, sleek, and efficient.
Benefits of Easy Pricing Tables
Build tables easily with a user-friendly interface
Create endless rows in tables
Rearrange columns with a click
Highlight top products in a special column
Save and use tables on various posts or pages
Drawbacks of Easy Pricing Tables
Limited color options
Advanced features require the premium version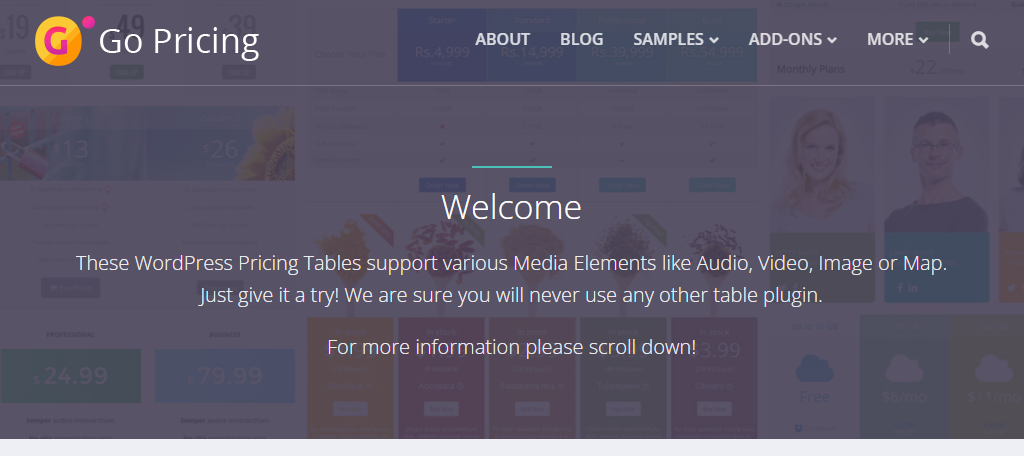 Want to blend old-school charm with modern flair in your pricing tables? Go Pricing does just that! It's like giving your usual WordPress tables a snazzy makeover. You can now jazz things up with videos from YouTube, Vimeo, or Screenr.
Its integration process is a breeze. With the user-friendly admin panel, putting stunning tables into your site is easy. Find the right table from customizable demos and tailor it to your needs.
Editing tables is also smoother than ever, thanks to the sleek interface. And whatever device your audience is on, your tables will look great. Mix up your content, throw in some audio, videos, and even maps – variety is the spice, right?
But wait, there's more! Level up your table with some snappy animations. With 39 cool transitions up for grabs, you can give your tables that extra zing. Customize to your heart's content and let your tables do the talking!
Benefits of Go Pricing
Bulk actions allow for cloning, exporting, and deleting multiple tables
Effortless import, export, and backup of tables
Regular plugin updates ensure you're using the latest features
Content loads only when needed, ensuring efficiency
Over 2,000 customizable font icons for sharp displays
Drawbacks of Go Pricing
Ready-made templates require a premium subscription
Slightly expensive compared to other plugins
Some templates lack a preview feature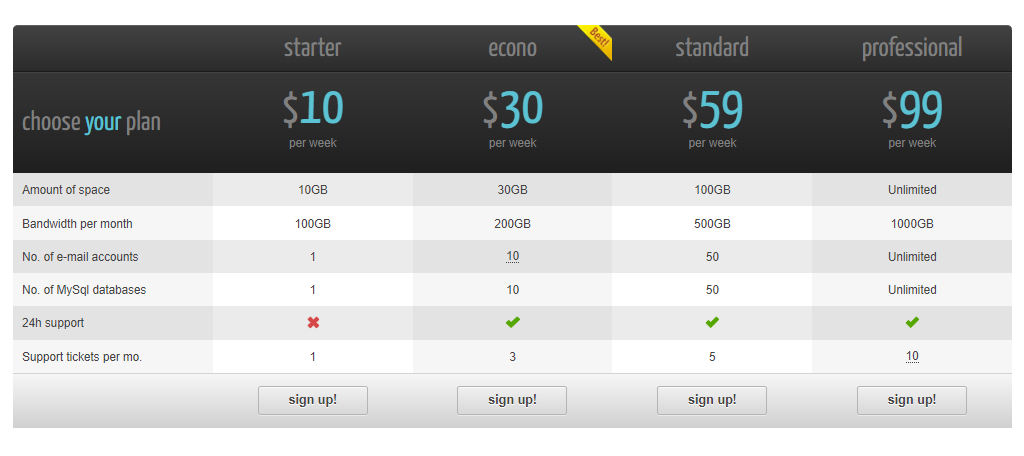 At just $27, the CSS3 plugin transforms WordPress pricing tables. Sold exclusively on CodeCanyon without a free version, it guarantees quality.
Despite this, its outstanding reviews make it a favorite. With vibrant templates, you can showcase your best prices and adjust colors and fonts seamlessly.
Its responsiveness is a key feature, especially on mobile devices. There are also added features in this plugin like sliding columns. For freelancers, this pricing table for WordPress offers a great help for their business.
The CSS3 pricing is unbeatable for what it offers. Lastly, its customization tools are a bonus. Imagine crafting tables with 20 colors, 60 ribbons, and 42 icons! Plus, you have the freedom to create limitless rows and columns.
Benefits of CSS3
It's multisite compatible
Add flair with animations and media visuals
Use CSS and HTML modules for added customization
Enhance tables with checkmarks, Xs, and other icons
Versatile shortcodes allow table placement anywhere
Drawbacks of CSS3
Few premade table templates are available
Only two styles and limited color choices
No free version is available
When precision meets creativity, you get ARPrice. With its intuitive design, creating responsive pricing tables or even a plan comparison becomes easy.
One of the shining features of ARPrice is its real-time table editor. Pick from top-notch templates and tweak them instantly. Change spaces, fonts, or add animations with ease. The live editor ensures what you see is what you get.
In today's digital world, responsiveness is key, and ARPrice doesn't disappoint. Every table fits any device, from phones to retina displays, without losing quality.
What makes ARPrice even more enticing are its diverse integration capabilities. It pairs well with popular WordPress builders and other plugins.
Furthermore, the Pricing Plans Toggle is an ingenious feature. Want to visually differentiate between monthly and yearly plans? Or maybe compare up to five distinct offerings? Just a few clicks and the toggle does the magic, enhancing user experience.
Benefits of ARPrice
Unlimited color customization
Live previews for phone, tablet, or desktop
Multiple templates to kick-start your pricing table design
Ready-made color themes simplify the design
Highlight key options with a "Featured Column" function
Drawbacks of ARPrice
An upgrade to premium is needed to maximize features
Pricing Table by Supsystic revolutionizes how we present offers on WordPress. With its free version, users get access to a great pricing table solution.
These tables aren't just functional; they're a visual treat with their vibrant designs. While the free templates stand out, the premium ones elevate the user experience even further.
But the beauty of this plugin doesn't stop at its aesthetics. It's also about ease of use. Tools like shortcodes and color sliders make setup easy without coding needed. The hover animations add an interactive touch, enticing visitors to dive deeper.
And if you want to showcase unique features or aspects of your business, the plugin supports images and videos. Rounding it all off is the drag-and-drop builder within your WordPress dashboard, making customization straightforward and efficient.
Benefits of Pricing Table by Supsystic
Hover animation adds a dynamic look
It supports unlimited rows and columns
Easy addition of price toggles
Columns can be timed, ideal for sales
Preset templates simplify the setup process
Drawbacks of Pricing Table by Supsystic
Limited template selection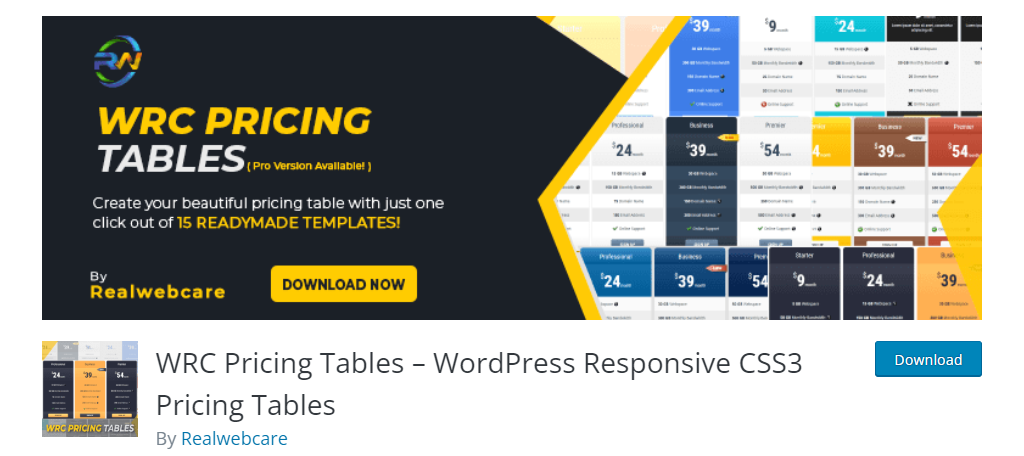 Think pricing tables are just about numbers? Well, this isn't the case with WRC Pricing Tables.
This gem of a plugin boasts 15 ready-to-use templates, all free and just a click away. Whether you're on a desktop or a phone, the responsiveness ensures your tables always look on point.
It offers two unique ways to present your product's prices and features.
First, the Individual Feature Display allows you to lay out all the juicy details of each product separately, letting your customers dig deep. On the other hand, the Comparison Pricing Tables plugin is all about speed. It lines up your products side by side, so choosing the best fit becomes a breeze.
Aside from that, you're not limited to a fixed number of rows or columns. Add as many as you need and, with the drag-and-drop feature, arranging them is child's play. Sprinkle in some icons, maybe a button or two, and you're set.
Lastly, with the integrated WordPress Color Picker, and a palette expanded to 18 vibrant shades, your pricing tables won't just be functional; they'll be a visual treat, perfectly in tune with your brand.
Benefits of WRC Pricing Tables
Columns enlarge upon hovering
Option to hide columns instead of deleting
Feature Categorization for better organization
Highlight columns by enlarging them
Display customer reviews with Star Ratings
Drawbacks of WRC Pricing Tables
May have a performance impact on your site
Upgrading to pro requires manual table transfer
Premade templates are only in the premium plugin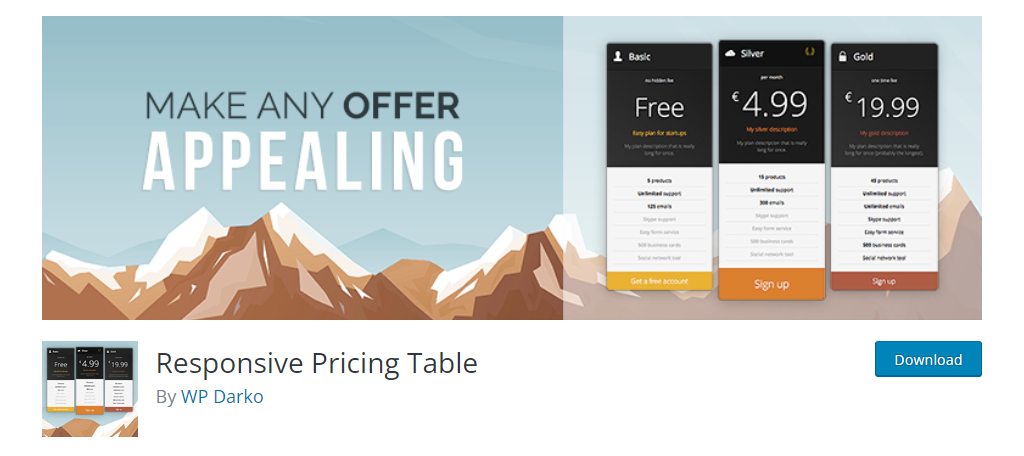 With the Responsive Pricing Table plugin, setting up tables becomes straightforward. You can select from various fields such as title, subtitle, description, or price.
With the added ability to easily embed icons, text, and button links, your table will surely stand out. Plus, highlighting a top-choice column ensures your visitors get clarity right off the bat.
One standout feature is the integrated interface. Smoothly blending into the WordPress Dashboard, it feels like a natural extension of your site. And each table you craft comes with its unique shortcode. This means effortless embedding into your content.
For those seeking more, there's a premium version packed with extra perks. More table skins, hover tooltips, and consistent column heights are just some of them.
Overall, this is a must-try plugin for those aiming for top-tier WordPress pricing tables. Its user-friendly approach combined with a professional finish makes table creation efficient and enjoyable.
Benefits of Responsive Pricing Table
Allows the addition of endless features to each price package
Can add custom buttons for PayPal or Stripe
The pro version offers a monthly-yearly price toggle feature
Informational bubbles are available for each feature
Can highlight recommended plans
Drawbacks of Responsive Pricing Table
Cannot add animation
Doesn't offer icon fonts for customization
Limited to basic layouts without premade options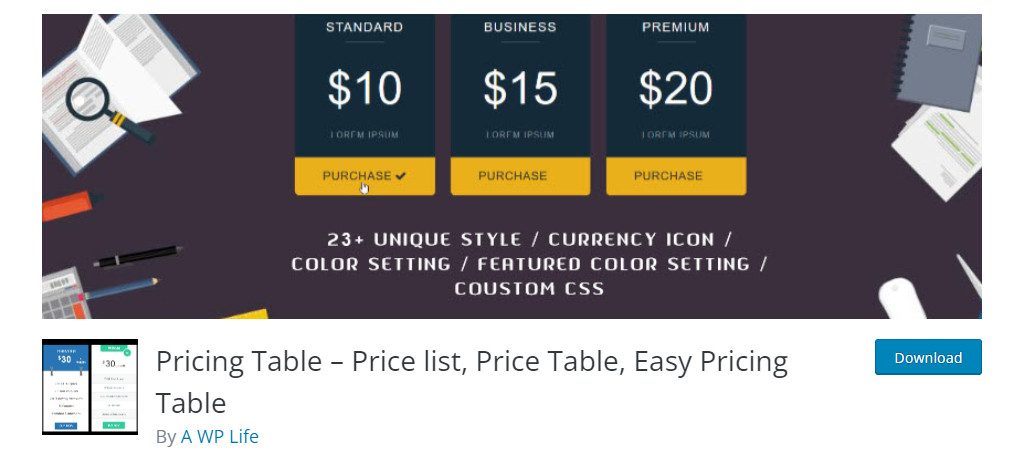 Pricing Table by A WP Life is a fusion of responsive HTML and CSS3 designed for WordPress. Whether you're a seasoned WordPress veteran or just dipping your toes in, this plugin stands out with its user-friendly nature.
It boasts four distinct style templates, so your pricing table doesn't just inform but also captivates.
With just a few clicks, you can showcase product features, set prices, and even customize colors. Most importantly, adding it to any part of your site, be it a page or even a sidebar widget, is as simple as pasting a shortcode.
Truly, when it comes to WordPress pricing tables, this plugin makes a compelling case as the top choice for any website.
Benefits of Pricing Table by A WP Life
Integrates with Elementor Page Builder for easy designing
24 template designs to choose from
Adjust header and button colors, tweak font sizes, and even set icon settings
Supports all browser
Display Pricing Table by Unique Post ID
Drawbacks of Pricing Table by A WP Life
Limited to only 5 languages
The free version has limited features
FAQs About WordPress Pricing Table Plugins
What is the main purpose of a WordPress pricing table plugin?
A WordPress pricing table plugin is primarily designed to present product or service prices in a structured, visually appealing manner on a website. By leveraging these plugins, site owners can effectively detail various pricing tiers.
This helps potential customers understand their options, thereby facilitating a smoother decision-making process.
How do pricing tables enhance the user experience on eCommerce websites?
Pricing tables enhance user experience by offering clear pricing information. By presenting product features and their corresponding prices side by side, users can effortlessly compare and contrast their options.
This not only simplifies their decision-making but also boosts their confidence in their purchase choice.
Can I offer discounts or special promotions through my pricing table?
Absolutely! Many WordPress pricing table plugins have built-in functionalities that highlight promotional pricing. This means site owners can showcase discounts, special deals, or exclusive offers within their tables.
How do I add a price table in WordPress?
Most pricing table plugins offer an easy-to-use shortcode. After installing your chosen WordPress pricing table plugin, you'll be directed to its interface where you can create tables.
Once your table is designed and populated with data, the plugin will generate a shortcode. This shortcode can be easily embedded into any page or post, displaying your price table to visitors.
Can I use these plugins to display subscription-based pricing models?
Certainly! Many WordPress pricing tables are tailored to display various subscription pricing structures. Whether you're offering monthly, yearly, or custom-duration plans, these plugins can showcase each subscription tier, detailing the unique benefits and features associated with each one.
How can I highlight a particular plan or pricing option in my table?
To draw attention to a specific pricing plan, most plugins offer a 'featured' option. By activating this, your chosen plan column gets emphasized, often with a distinct color or size.
This visual emphasis serves as a nudge that guides potential customers toward what might be the best or most popular choice.
How do I ensure my pricing table is mobile-responsive?
The beauty of most WordPress pricing tables plugins is their inherent mobile responsiveness. Before committing to a particular plugin, it's always wise to check its features or run a test.
Making sure your pricing tables are mobile-friendly guarantees a consistent experience across all devices, which is crucial in today's mobile-first world.
Upgrade Your Pricing Strategy with the Right Plugin
When it comes to something as important as pricing tables in WordPress, choosing the best plugin makes a big difference for your website.
The right pricing table plugin not only gives clarity and structure to your product offerings but can significantly elevate user experience. In effect, this guides potential clients or customers smoothly toward making a purchase.
Explore your options and choose a plugin that truly resonates with your business needs. The perfect solution is out there, you just have to look for it. Act now and let your pricing shine!