Many websites run events, keep track of release dates, and other activities that involve dates. One of the best ways to keep track of these things is with a calendar plugin in WordPress.
These tools allow you to display event information on that date in an easy-to-read fashion. Calendars are also quite intuitive to use, which makes them a great choice for beginners, not to mention most people know how to read a calendar.
WordPress does include a native Calendar block in Gutenberg. However, it is simply a static image of a month and lacks the ability for you to enter upcoming events or available office hours. Thus, it isn't very useful.
Luckily, WordPress is home to a ton of great calendar plugins that can do this. Here are some of the best ones on the platform:
Without a doubt, the Events Calendar is the most popular calendar plugin for WordPress. And it's for a very simple reason, it is the best. It provides a plethora of features that websites can take advantage of and can be placed anywhere on your website.
Perhaps one of its best features is the ability for users to place Google Maps within an event. This way, visitors will be able to see the date, time, and be able to get directions.
If you want to show off an upcoming product, you can add a "Buy Now" button to the calendar.
Benefits of Using The Events Calendar
This plugin is translation ready so visitors from around the globe can understand your events
Export your calendar to Google Calendar and other calendar systems
Choose between calendar view or list view for your entries
Place the calendar in your posts, pages, or widget area using a dedicated block
Supports all types of content like text, images, video, and more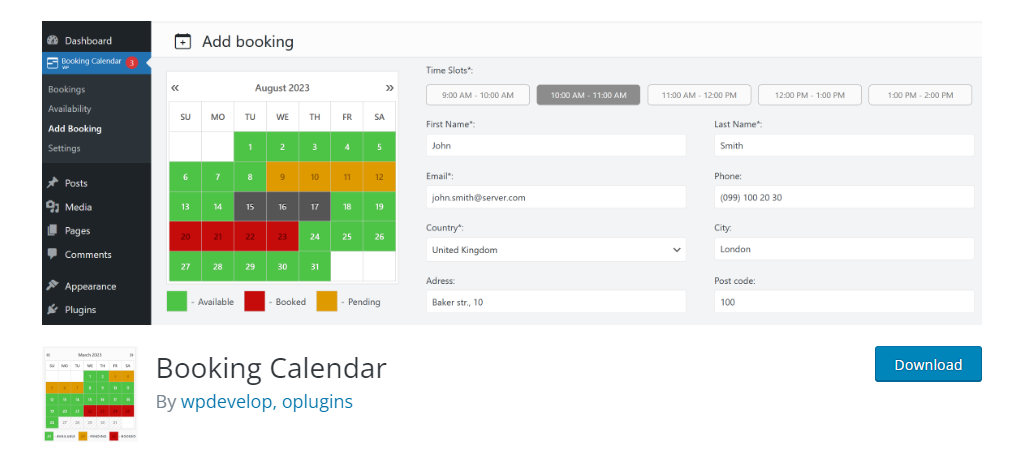 Many offices need to make appointments for customers or allow customers to book their own online. In either case, the Booking Calendar is one of the best options available due to its simplicity.
You can configure the plugin to include the necessary input fields from customers (name, phone number, email, etc.), which makes it work in any scenario.
It also includes spam protection with reCAPTCHA to ensure only humans are making appointments.
Benefits of Using Booking Calendar
Color code your calendar to reflect what days you are open and closed
Updates in real-time to avoid duplicate appointments
Import Google Calendar events to quickly fill out the calendar
Store all bookings in your database so no additional subscriptions are necessary
Include seasonal pricing options when you upgrade to the premium version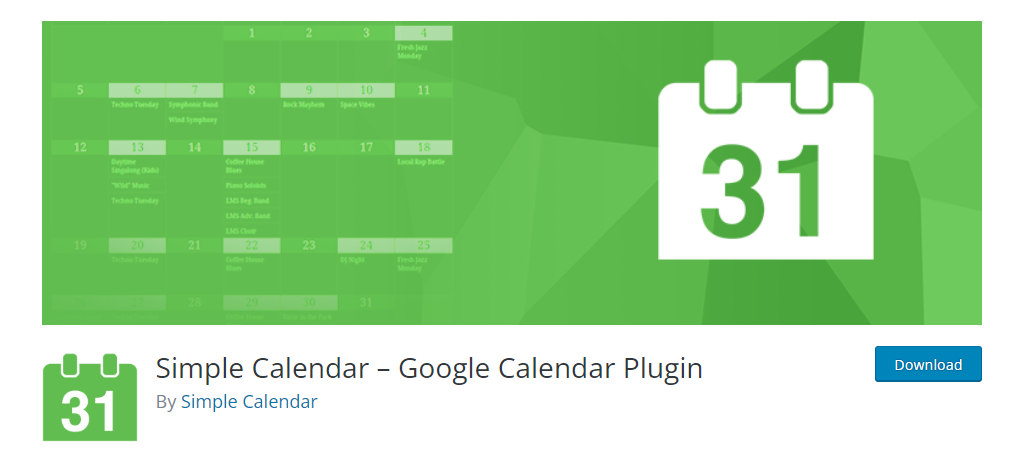 Many people rely on Google Calendar to keep track of events on their cell phones, which is why it is one of the most popular options out there. You can use the Simple Calendar to bring that same functionality to WordPress.
As a result, you can actually create all of your events within Google Calendar and just automatically import them to your WordPress website with this plugin.
On top of this, you are not limited to a single account, as you can import from multiple calendars and combine them.
Benefits of Using Simple Calendar
Swap between daily, weekly, or monthly views to help identify openings
Create color-coded calendars to help users identify different types of events or by who they are hosted by
Receive email notifications if an event time is changed or a new event is added
Display events in list mode to make event details easier to read
This plugin includes priority email support to quickly answer any questions you have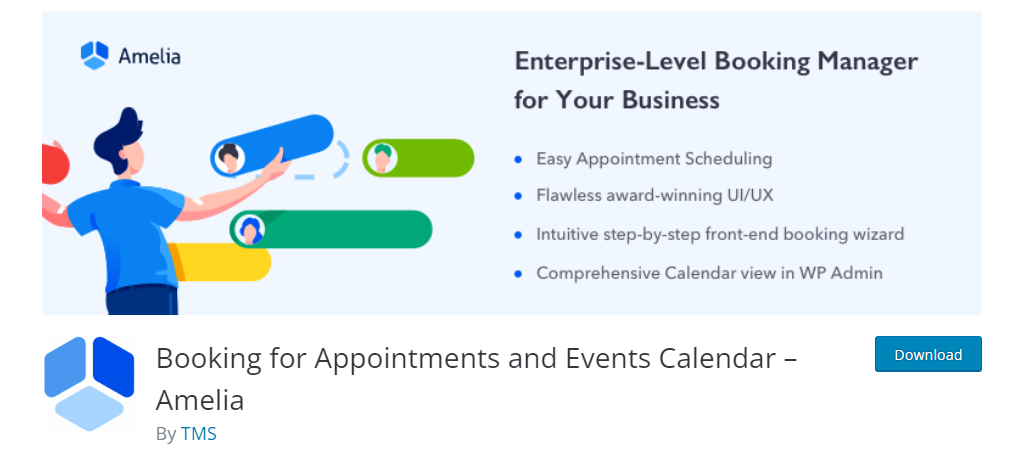 The Bookings for Appointments and Events Calendar is another excellent booking system for WordPress. This plugin focuses on improving the user experience by providing an easy-to-use booking system that anyone can use.
The calendar works for anything from hair appointments to your next concert performance. The calendar can detect what time zone a user is in and adjust accordingly to ensure guests always have the right information.
Benefits of Using Booking for Appointments and Events Calendar
Create confirmation messages for email notifications and via SMS
This plugin is translation ready with over 20 languages supported
Easily place the calendar on a post, page, or widget area by using a shortcode
Define how long each type of appointment will take to ensure that appointments do not overlap
Setup events to only allow a certain number of bookies to avoid overbooking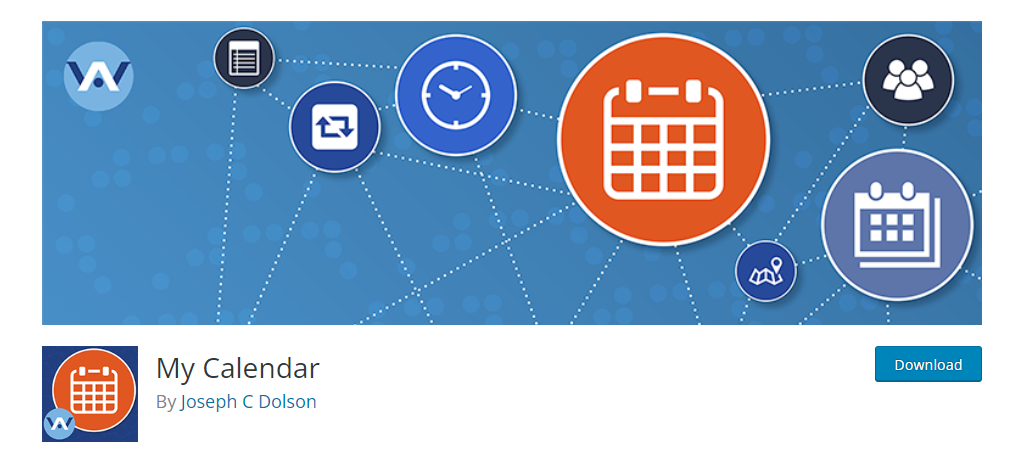 The My Calendar plugin for WordPress is built for beginners. It is easy to use for both developers and regular users looking to book an appointment.
With it, users can book or view events or appointments months in advance.
Users can even utilize a list view to display the dates and events with collapsible dates. That way, users can only see the information on specific dates to avoid confusion.
You can also color code the types of appointments or activities you are displaying.
Benefits of Using My Calendar
Easily place different views of your calendar with a shortcode generator for easy placement
Makes it easy to duplicate events for reoccurring events
Import event information from CSV files for quick calendar generation
Includes a "Share on Google Calendar" button to help visitors stay aware
Includes Google Map links to help visitors find the location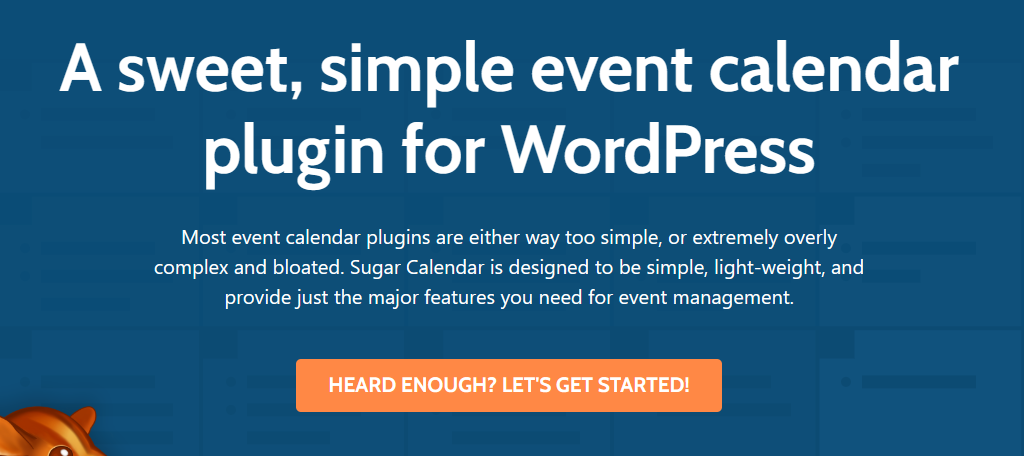 Sugar Calendar is a premium calendar plugin for WordPress that focuses on delivering a feature-rich experience, while also keeping things simple and intuitive. And good news, it achieves all of this.
It handles everything from event planning to regular bookings. Users can also share events through Google Calendar for more convivence.
One of Sugar Calendar's more powerful features would be its event ticketing, which allows you to sell tickets to events through the calendar.
Benefits of Using Sugar Calendar
Integrates with WPForms to allow for event submissions into your calendar
Utilize WooCommerce or Stripe to sell tickets to visitors
Sync Sugar Calendar with Google Calendar
Create start and end times for events to help prevent overlapping bookings
Duplicate recurring events to save time when adding them to the calendar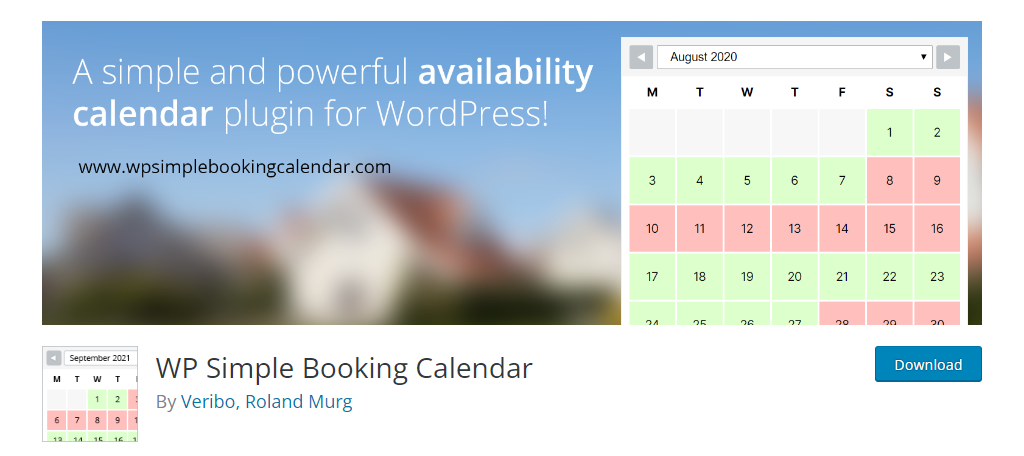 The WP Simple Booking Calendar plugin for WordPress is another excellent solution if your business needs a booking solution. It allows users to book appointments or rooms at your business and offers a color coding system.
For example, you can make days you are closed red and days you are open green. You can also use another color if the day is fully booked.
It is quite a simple plugin, but if you need a calendar for booking appointments, there are not many that do it better.
Benefits of Using WP Simple Booking Calendar
Choose from a long list of languages to accommodate more visitors
Choose from a selection of calendar overlays to better match your website
Highlight the current day to help focus attention and prevent booking on the wrong day
Hide users booking info from other users
Export booking dates to CSV files for better record keeping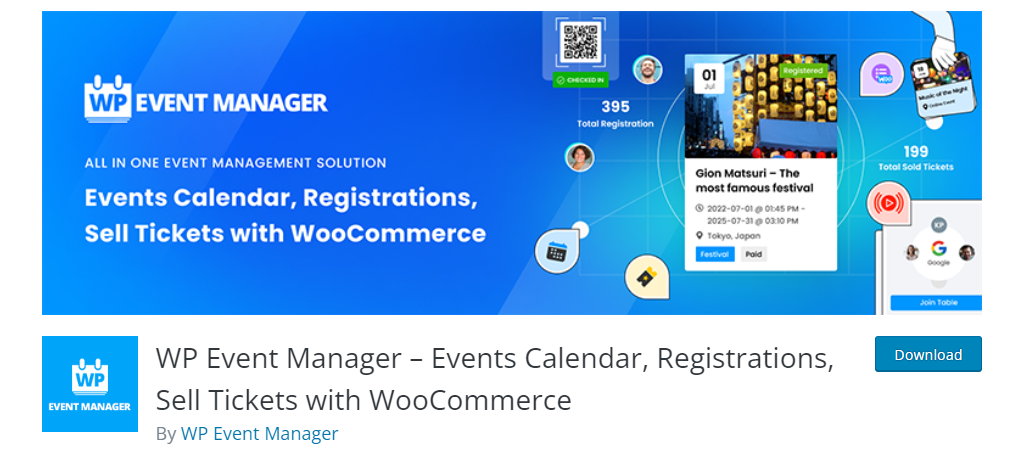 The WP Event Manager plugin is a full-blown event planning solution for WordPress. It helps you list upcoming events with a calendar, which includes registration forms for users to sign up with and even allows you to sell tickets with WooCommerce integration.
This makes it a great choice for any event that needs to sell tickets for attendance.
Of course, you could just focus on the events calendar itself, as even without all of the other functions, it is packed with features that are sure to be a hit in WordPress.
Benefits of Using WP Event Manager
Gain access to a wide array of payment gateways through WooCommerce integration
Create event listing directly from your WordPress dashboard
Users can use filters to help narrow the events they see (location, time, instructor, etc.)
This plugin is translation ready to help you create international events
Purchase a Google Maps add-on to add Google Maps to your event listings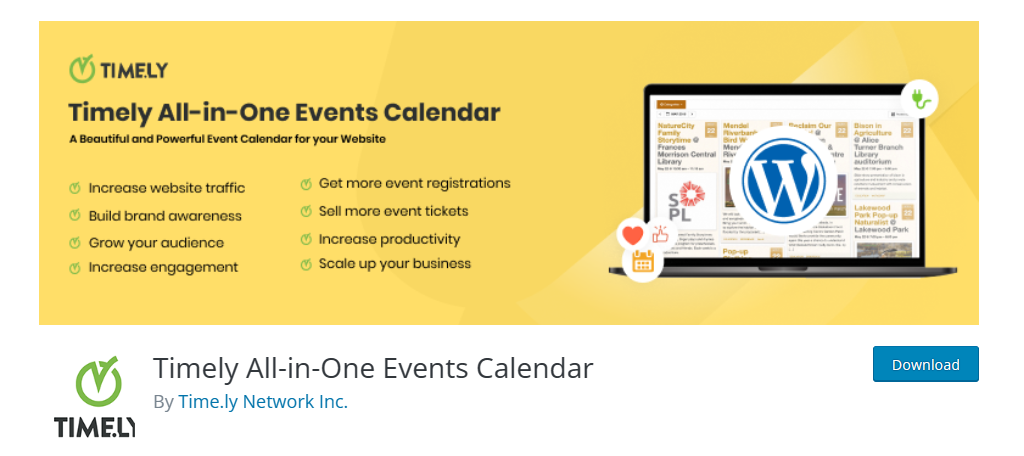 The Timely All-In-One Events Calendar plugin is another great option for WordPress sites. As the name suggests, it does everything from creating calendar views of upcoming events to selling the tickets guests will need to attend (add-on required).
It can help you create listings for any type of event from basic appointments, concerts, digital checkups, virtual conferences, and just about anything else you can imagine that would need a calendar or booking system.
It's a great option for WordPress users.
Benefits of Using Timely All-In-One Events Calendar
Include social share buttons on events to help users share them with friends and family
Customize the way the calendar is viewable with custom CSS code
If you have recurring events, you can duplicate existing ones to help save time
This plugin is optimized for SEO and utilizes the best practices
Choose from multiple display options to better suit your brand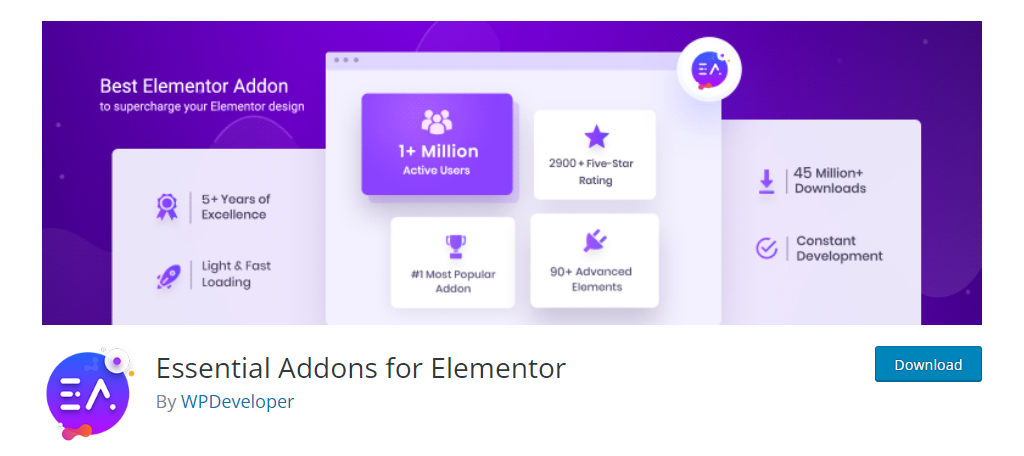 Elementor is one of the most popular ways to create pages in WordPress. Due to its popularity, there are a variety of add-ons you can purchase that give you even more features to work with.
Essential Addons for Elementor is a popular option that adds an event calendar.
This plugin allows you to integrate an events calendar into any page you have built with Elementor, thus it is a no-brainer for many sites.
The calendar is simple to use but includes all of the basic features one would expect.
Benefits of Using Essential Addons for Elementor
Integrates with Google Calendar and other popular calendar apps
Choose between daily, weekly, monthly, or list views to better suit your customers
Style your calendar with a variety of customization options
Integrates with the Events Calendar plugin to import calendars
Color code events to help visitors zero in on what they are looking for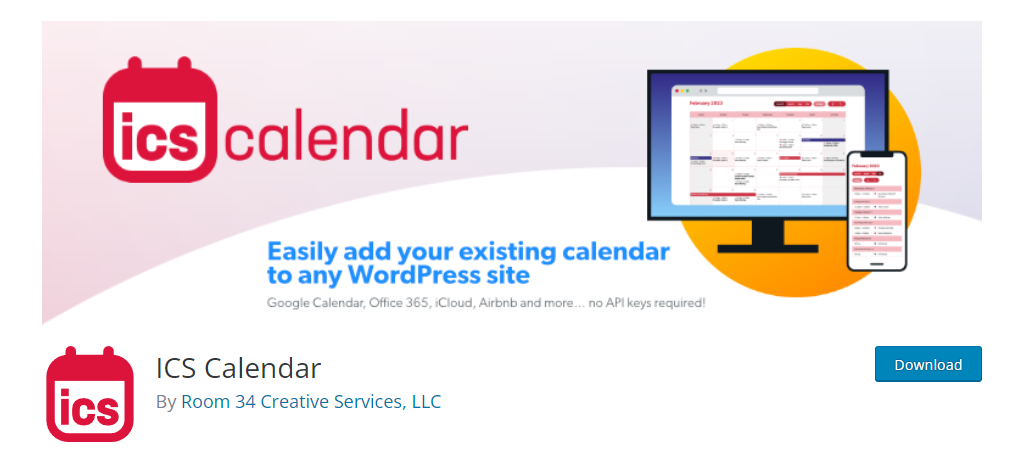 Closing out this list of the best calendar plugins for WordPress is ICS Calendar. This plugin focuses on converting existing calendars you may already be using like Google Calendar, Office 365, and more into WordPress calendars.
If a calendar produces a public iCalendar subscription link, it can be converted into a WordPress calendar with this plugin.
You can manually edit any calendar or even create one from scratch if necessary. Overall, it's a great way to use your favorite tool and bring it to WordPress through integration.
Benefits of Using ICS Calendar
Combine multiple calendars to create one calendar that contains all of your events or appointments
Place calendars anywhere a shortcode can be placed (pages, posts, widget areas, etc.)
Supports a variety of language options to ensure more users can read the calendar
Syncs with the original calendar to show updates and changes when they are made
A detailed user guide can help you locate the necessary sync code from other calendar apps
Make Sure Your Calendar Is Readable
You might have noticed that many of the options on this list include color coding options. And there's a good reason as they improve the visibility of events, which makes the overall calendar easier to read.
Unfortunately, even something as basic as a calendar can be hard to read when it is full of text, images, maps, and other types of content. Color coding the content to help it stand out is very effective.
For example, if you run a gym, you might have fitness courses taught throughout the week. The courses may be the same, but some users may prefer different instructors. Thus, color coding them by the instructor may help visitors identify the courses they want to attend.
This logic can be applied to just about anything, thus, it can be a great option to help keep calendars readable.
Help Organize Events With A Calendar Today
As you can see, WordPress has a ton of calendar and booking systems that can help your business or organization run events. Calendars are great at displaying information and at helping users find out where and when the next event is.
More importantly for you, they are really easy to manage. Many of the options on this list are compatible with popular calendar solutions like Google Calendar, which can help you import your own calendars to WordPress in just a few clicks.
By using any of the plugins on this list, you will be able to build or import calendars in and off of WordPress.
What is your favorite calendar plugin for WordPress? Do you think the native Calendar block in WordPress is worth using?