Have you ever thought about how a WordPress mobile plugin can make your website work better?
In 2024, more than 52% of Internet users are doing so from mobile phones for their online activities. With this trend, the majority of the traffic to your website will likely come from mobile users. And to make the user experience excellent, your website should work perfectly on mobile devices.
If you want to maintain user retention and engagement among your mobile audience, we've got you covered. This article is your guide to discovering a carefully selected range of the best mobile plugins for WordPress that you can use.
Our Picks for the Best WordPress Mobile Plugins
A good WordPress mobile plugin has the following features to make your website more interesting and keep people on it:
Responsive Design: Ensures your website adapts to various mobile devices and screen sizes.
User-Friendly Interface: Provides an intuitive and easy-to-navigate mobile experience.
Customization Options: Allows you to match the mobile version's appearance to your site's branding.
SEO-Friendly: Supports mobile SEO practices to maintain or improve search engine rankings.
Fast Loading: Guarantees quick loading times to prevent users from experiencing delays.
Compatibility with Plugins: Works well with other WordPress plugins to maintain full functionality.
Mobile-Specific Features: Offers features like touch-friendly menus, swipe gestures, and mobile-specific layouts.
With these features and more, here are some of the best WordPress mobile plugins for you to choose from.
The AMP for WP Mobile Plugin is a game-changer for those aiming to enhance a website's mobile performance. This plugin automatically incorporates Accelerated Mobile Pages functionality into your WordPress site, resulting in faster loading times for mobile visitors.
With over 200,000 users already benefiting from this plugin, it's a popular choice among web developers and businesses of all kinds.
AMP for WordPress also offers monetization options through native AMP Ad slots strategically placed within the design. This provides a number of opportunities to include ads in highly visible parts of your website.
Furthermore, the plugin prioritizes search engine optimization, making sure that your website achieves higher rankings in search engine results.
What truly sets AMP for WP is its exceptional mobile performance. The plugin is designed to give mobile users an app-like experience, making your site feel more like a dedicated app than a typical website.
Benefits of AMP for WP
Customizable panel for mobile
Tailored AMP theme design for mobile users
Has a friendly and easy-to-use page builder
RTL (Right to Left) support for foreign websites
Special community support where you can ask questions
Drawbacks of AMP for WP
The advanced version of the plugin can be costly
May have some issues with typography and compatibility with other plugins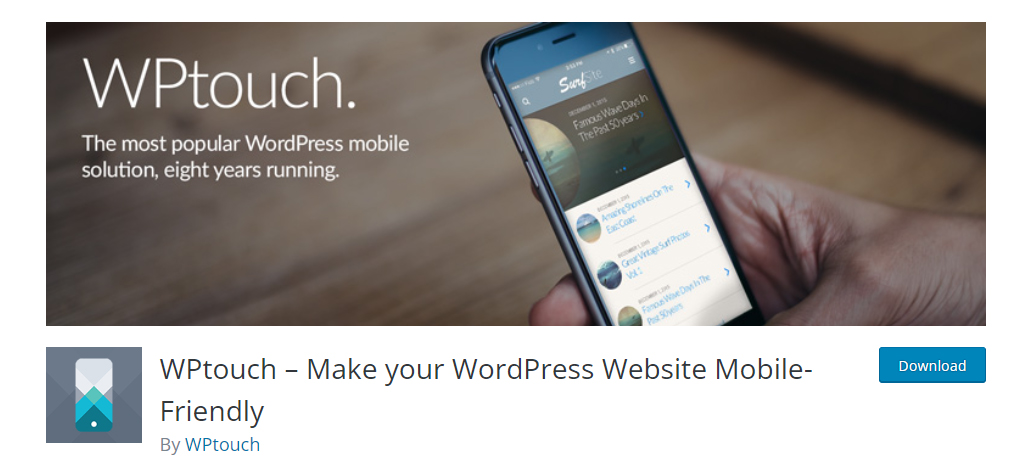 WPtouch is a WordPress mobile-friendly plugin that works by automatically adding a sleek mobile theme to your site for visitors. 
Google recommends this plugin because it meets their mobile-friendly standards, so you don't need to worry about your SEO rankings dropping because of mobile issues.
The plugin also lets you change how your mobile site looks without needing to mess with complicated code. You can make these changes through the WPtouch administration panel and WordPress Customizer to suit your brand. 
And don't worry about your primary desktop theme, as it will remain unchanged for users who are accessing your site through their computers.
WPtouch Pro also has you covered with improved themes made for blogs, businesses, and WooCommerce stores. You can also use extensions to get more control over fonts, speed up your site, and improve advertising options.
Benefits of WPtouch
Transforms your content to the same URLs as your regular theme
Fast loading and simple to set up
Users find this plugin reliable and have been using it for many years
This plugin has great customer support for all your queries
Handles audio, video, and pictures efficiently, resizing them automatically for best results
Drawbacks of WPtouch
Not updated as often as others on this list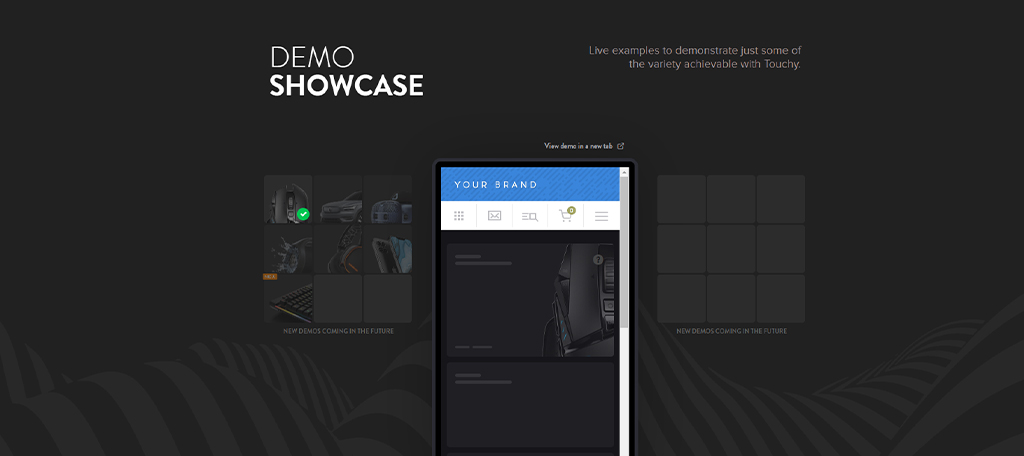 Designed with a smartphone-first approach, Touchy brings a touch of elegance to your site's navigation. But it's not just for mobile; it works seamlessly on desktop browsers too.
Its mobile menu and header are lightning-fast and incredibly responsive. Touchy has been rigorously tested across various mobile devices, ensuring it delivers an exceptional experience every time. 
This plugin also has a ton of features, like Logo locations, a quick call and email button, and a search function built right in. It also has a handy back button and a drop-down menu with more than one level. 
Lastly, personalization is important, and Touchy knows that. You can change the look of this WordPress mobile plugin to match the style of your website with just a few clicks.
Benefits of Touchy
Regularly updated to new versions
Customer settings are translatable
You can customize your dropdown menu to fit your theme
Has over 1500 icons that you can add to your text
Includes fixed and absolute positioning for the menu bar
Drawbacks of Touchy
Its complexity may deliver a bit of a learning curve for some users
Extended support for the theme can cost you more
Get the most out of your website with Jetpack. This WordPress mobile plugin offers a set of tools to enhance your visitor's mobile experience.
Jetpack has a mobile theme that provides a range of settings to fine-tune the appearance of your website on small screens. This theme prioritizes simplicity, delivering a clean, fast, and visually appealing interface that works seamlessly across different mobile devices.
What's great is that this mobile theme is free when you use Jetpack, which also offers other services. The plugin gets updated every month and adds new features like an AI writing helper. 
Plus, Jetpack's Content Delivery Network (CDN) makes your images load faster and saves your internet data. It fits smoothly into your work routine, so you can focus on creating great content.
With over 5 million WordPress websites using this plugin, you can trust it to make your website stand out from the rest without compromising responsiveness.
Benefits of Jetpack
Backs up your site automatically 
Has an activity log to see any site changes
Offers individual pricing and bundle packages for its products
Spam comments are blocked with its Akismet anti-spam feature
Provides advanced site statistics to learn more about your audience
Drawbacks of Jetpack
Can be complicated to understand for some
AMP, short for Accelerated Mobile Pages, is a plugin that optimizes your WordPress site's loading time on mobile. Google supports this open-source technology, and its main goal is to make your web pages load almost instantly on phones and tablets.
This plugin helps you create a user-friendly WordPress site that's fast, beautiful, secure, and accessible. It's not just for mobiles; AMP makes sure your site looks great and works well on both mobile and desktop devices.
For developers and implementors, this plugin is like a handy toolbox. It makes it easy to create website parts that work perfectly with AMP, whether it's plugins, themes, or even whole websites.
For site owners, AMP is an affordable way to make your site faster and better for users, which can lead to more success online.
Benefits of AMP
Translates 24 languages
Its CSS Tree Shaking feature limits the total amount of CSS for each page to 75KB
Has templated modes to suit your WordPress website
Has a compatible AMP ecosystem where you can download themes
Offers efficient validation tools to determine AMP incompatibilities
Drawbacks of AMP
Does not work on Woocommerce
May have compatibility issues with some plugins and WordPress functionality
With just a few clicks, your website becomes remarkably fast with Hummingbird. It accelerates page loading, enhances search rankings, and ensures a positive user experience.
But what exactly does Hummingbird do? Initially, it scans your website to pinpoint elements that are slowing it down. Yet it goes beyond diagnosis, offering simple solutions to boost your site's speed. These solutions include optimizing data storage and reducing file sizes.
When it comes to data storage, Hummingbird offers versatile options: it can cache entire pages, visible content, and even small items like profile pictures. Visitors will notice the improved loading speed and tools like Google PageSpeed Insights will rate your site higher.
To make your WordPress site mobile-friendly, efficient file organization is crucial. Hummingbird assists in this regard by allowing you to control the usage of files like CSS, JavaScript, and fonts to ensure swift page loading. You can also minimize file sizes and rearrange them for optimal site performance.
Benefits of Hummingbird
Has built-in Cloudflare integration
Offers a scan and one-click fix for your site to run at top speed
Works great with e-commerce plugins
Easy to install and use 
The Hummingbird Configs allows you to save your preferred settings and use them later
Drawbacks of Hummingbird
Needs a pro version to maximize the plugin since the free version offers basic features
It may change the styling for certain elements when you enable Java optimization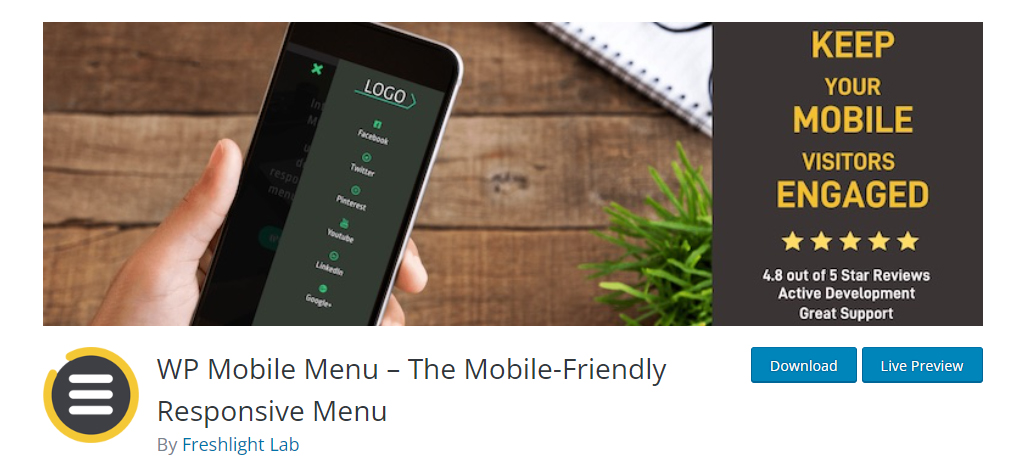 Take your mobile commerce game to the next level by using the WP Mobile Menu plugin. It grants easy access to your site's content using any device, such as a smartphone, tablet, or desktop.
This plugin easily creates a responsive mobile menu for WordPress sites that provides your visitors with quick access to your content. It also works smoothly with all WordPress responsive themes. 
WP Mobile Menu is a must-have for businesses looking to improve the mobile user experience. It offers features like logo branding and product filtering, helping you boost sales and engage mobile visitors.
And there's more: It includes a cart icon feature for quick access to the shopping cart and a streamlined checkout process.
Benefits of WP Mobile Menu
Has different menu display types such as slideout from the top and overlay full-width
Features 2,000+ icons, including animated ones
Offers up to 33% discount on an annual plan
Integrated product filters
You have the option to disable mobile menus on certain pages
Drawbacks of WP Mobile Menu
The free is very basic, and you'll unlock more functionality by upgrading
Smush is a free plugin that excels at making your images better. It goes through all your site images, strips unused data, compresses images, and makes them the right size.
One cool feature of Smush is its background optimization; it continues to work on optimizing your images in the background and sends you an email report to let you know how it went once it's done.
What if your pictures are stored in multiple folders? Smush can fix images in any folder, so all your pictures look great. It can find pictures that are too big and help you make them smaller. This can make your website load really fast on mobile devices.
Now, let's talk about lazy loading. This plugin speeds up the time it takes for your website to load by only showing the pictures that can be seen. It waits until you scroll down to load the others.
Lastly, Smush saves you time. Your favorite settings can be saved and used easily on other websites. You can make as many different sets of settings and use them anytime you want in just a few clicks.
Benefits of Smush
Offers both global and individual Multisite settings
Highly compatible with a lot of themes, page builders, and other plugins
Has a wrong size image finder for easy detection
Defer your off-screen images from loading
Compresses images up to 5MB in the free version
Drawbacks of Smush
You still need to pre-scale images before uploading
It only compresses cropped images
Does not backup compressed images
With the Specific Content for Mobile plugin, you create special content just for mobile phones and tablets. Think of it as a way to send a unique message or offer to people who visit your site on their phones while keeping the regular version for desktop users.
Say, for instance, you have a special deal that you want to show your mobile audience. With this plug-in, you can make a shorter, easier-to-read version of a long article for phones and tablets.
With just a few clicks, you can make mobile-friendly versions of your content, like blog posts, about me pages, and FAQ pages, so that your visitors can have a smoother experience on their smaller screens.
When someone visits your site on a mobile device, you can show your visitors only the most important details through this plugin. This means you can customize your content to match what mobile users want, making their experience even better.
Benefits of Specific Content For Mobile
Publishes a different page in the mobile version
Useful and easy to install
Creates a sleek and responsive design
Syncs your content data without affecting your WordPress site on a desktop
Drawbacks of Specific Content For Mobile
You need basic developer knowledge to fully utilize this plugin
Some compatibility issues with other plugins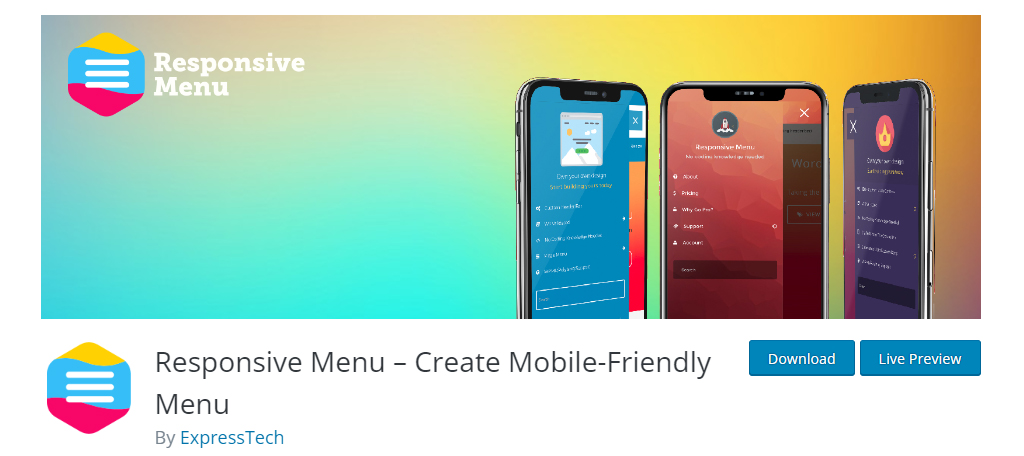 Responsive Menu is a WordPress mobile plugin that transforms your website's menu into a mobile-friendly masterpiece. This plugin is user-friendly and requires no coding. It ensures compliance with W3C standards and delivers a fantastic appearance on mobile screens.  
With its array of features, including font icons, header bar customization, and desktop menu control, you can tailor your menu to match your website's style and branding.
Responsive works smoothly with any theme, making sure your users have a great experience. And if you ever need help, their support team is there to assist you, so you're never left in the dark.
Responsive menus aren't just for mobile and tablet devices; they work just as well on desktops. You can customize every part of your menu, including the Mega Menu feature. Plus, it offers over 20 button animations, which can make your menu buttons more engaging for your visitors.
If you run a multilingual website, Responsive Menu has you covered. It works seamlessly with WPML and Polylang, letting you adjust different menu elements depending on the language your users prefer.
Benefits of Responsive Menu
It has RTL Support for other languages
Makes it simple to create a desktop and mobile menu
Compatible with all search engines
Has pre-built themes on mobile
Import and export options with a click of a button
Drawbacks of Responsive Menu
Can't change the menu font to match the rest of the site using its free version
The plugin has a bit of a learning curve, which may take some time to learn
Max Mega Menu is a unique WordPress plugin that offers you an impressive level of customization to benefit your mobile users.
With this plugin, you don't have to settle for a plain menu. It empowers you to effortlessly create visually stunning and highly functional mobile menus with tons of options to make them look amazing.
You can also add interactive elements to your site content by incorporating images, icons, maps, or any other WordPress widgets. Furthermore, it integrates smoothly with your existing theme, replacing the default menu.
What's even better is that you can easily create Mega Menus in a familiar way—through the WordPress menu interface. Drag-and-drop editing makes the process intuitive and user-friendly.
Benefits of Max Mega Menu
Automatic support for native touch events
You have the option to hide submenus on mobile
Mobile Toggle Bar Designer allows you to customize your style with your website branding
Features options for menu items including Disable Link, Hide Text, and Hide on Mobile
Its Grid Layout Builder lets you organize your sub-menu content into columns and rows
Drawbacks of Max Mega Menu
There's a significant learning curve when using the plugin
Doesn't have a close icon to the dropdown menu
FAQs on WordPress Mobile Plugin
What is a mobile plugin?
A mobile plugin in WordPress is an add-on or extension that makes your website work better and look better when it's viewed on a mobile device. These plugins are made to make your site easier to use and work better on mobile devices like phones and tablets.
How do I make my WordPress site mobile-compatible?
To make your WordPress site work on mobile devices, you can start by picking a responsive theme, whose layout changes depending on the size of the screen. Also, you might want to use a WordPress mobile plugin to improve your site's mobile navigation and make sure users have an easy time.
Are mobile plugins compatible with all WordPress themes?
Most mobile plugins are designed to work with a wide range of WordPress themes, but it's a good idea to check compatibility before installing one.
Are WordPress sites mobile-friendly?
Yes, WordPress sites work well on mobile devices by default. Additionally, you can make sure that your website looks good and works well on mobile by choosing a responsive theme, optimizing images, and using mobile plugins.
How do I add a mobile menu to WordPress?
With the help of plugins like Max Mega Menu, you can add a mobile menu to your WordPress site. After installing and activating the plugin, you can use its easy-to-use interface and drag-and-drop editing to make and change a mobile menu quickly.
How can I increase the speed of my WordPress site on mobile?
To boost the speed of your WordPress site on mobile, start by optimizing images, minimizing CSS and JavaScript files, and using a caching plugin. Additionally, consider a content delivery network (CDN) to serve content faster to mobile users and improve overall site performance.
Are there any SEO benefits to using mobile plugins?
Yes, having a mobile-friendly site can improve your SEO efforts, as search engines like Google prioritize mobile-responsive websites.
Find the Right Mobile Plugin for Your WordPress Website
Making sure your WordPress website works well on mobile devices is very important. Through this article, we've discussed the power of WordPress mobile plugins and how they can help you optimize your user's mobile experiences. 
In this digital era, your website's success largely depends on how well it looks and works on mobile devices. These plugins can make sure your visitors will have a great time browsing your site, whether they're using a phone or something else.
Now is the best time to act. Choose the WordPress mobile plugin that fits your needs, and start making your website awesome for mobile users in 2024. Your visitors will appreciate it, and your website's performance will reflect your commitment to staying ahead in the digital world.
Don't wait; the future is mobile, and it's time to make it work for you.