Dream weddings deserve dream websites. When it comes to finding the ideal wedding theme, WordPress offers a wonderland of options that cater to every style, offering a digital canvas for your love story to unfold gracefully in front of your guests' eyes.
However, we understand that sifting through the plethora of choices available can feel overwhelming, even for tech-savvy couples.
That's precisely where this guide steps in, addressing those pain points head-on. We've meticulously curated a list of the best wedding themes for WordPress to use in 2024, each promising not just a visually appealing layout but a seamless user experience.
So, whether you're dreaming of a site sprinkled with modern features or one adorned with timeless elegance, we've got you covered. Dive into our guide, and discover the theme that will echo your love story perfectly, offering a delightful prelude to your happily ever after.
Our Picks for the Best Wedding Themes for WordPress
Choosing the right wedding theme for your WordPress site is a vital step in creating the perfect digital showcase for your big day.
So, what are the best features that make a great wedding theme for WordPress? Let's delve into the critical elements that can make your wedding website a digital masterpiece.
Responsive Design: In a world constantly on the move, your wedding website should be accessible and visually appealing on both desktops and mobile devices.
Easy Customization: A great theme should offer tools and options that allow you to tailor the site to your preferences without requiring extensive technical knowledge.
RSVP and Guestbook Features: Integration of features such as online RSVP and guestbook pages not only adds an interactive touch to your website but also facilitates smooth communication and planning.
Interactive Map Integration: A feature that integrates maps helps in conveniently providing your guests with the exact locations for your wedding events, enhancing the user-friendliness of your site.
Engaging Visual Effects: Incorporating engaging visual effects such as parallax and smooth animations can add a modern and lively touch to your website, offering a delightful browsing experience to your guests.
With these features and more, here are the best wedding themes for WordPress that you can choose from.
Imagine a wedding theme in WordPress that helps you tell your love story beautifully on your website. Divi can do just that. It's a powerful tool for creating and customizing your site without needing to know how to code.
This theme offers more than 200 different building blocks, called modules, that let you design your site just the way you want it. You can create excitement by adding a countdown timer or showcase your favorite moments with a lovely picture gallery.
With Divi, you can share your love story, all the important wedding details, and helpful tips for other couples. Whether you're a bride sharing your journey or a wedding expert offering advice, Divi lets you make your wedding website truly unique.
It also comes with many templates designed especially for weddings, wedding planners, and event websites. These templates are like starting points that you can customize to match your style.
Benefits of Divi
You can easily add, remove, and rearrange things on your website
Making changes is simple, with options to undo, redo, and see all the edits you've made
A lot of features for the price
You have lots of choices for customizing your website
Trusted by a lot of users
Drawbacks of Divi
Does not offer integrated tutorials within the builder
Needs some WordPress background to maximize Divi
Do you want to use the best wedding website style available online? Try looking up Zakra.
Zakra's template is designed especially for wedding websites. It's user-friendly and versatile, perfect for showcasing the bride and groom. With this WordPress wedding theme, you can add a personal touch by introducing yourselves and sharing your love story.
You can also easily include important details like engagement dates, wedding specifics, and reception information, ensuring your guests have everything they need in one place.
But what sets Zakra apart are its special features. Want to make your wedding website even more unique? Add a photo gallery of the bride and groom to visually share your love story.
Plus, Zakra allows you to include an RSVP form on the website for wedding invitations, making it easy to manage your guest list.
Benefits of Zakra
Uses Vanilla JavaScript and reduces unnecessary scripts
Optimized for Accelerated Mobile Pages (AMP)
Super-fast loading time
Complies with WP Coding Standards
Regular updates with bug fixes
Drawbacks of Zakra
Does not have a mega menu option
Fargo is a popular wedding theme for WordPress designed for visual artists aiming to captivate their audience with striking visuals.
The theme's charm lies in its ability to make each project shine brilliantly. From seamless navigation to smooth transitions, everything seamlessly aligns, ensuring your work always takes the spotlight, just as you intend.
One notable feature of Fargo is its versatility in presenting your content. Whether it's text, video, portrait photography, or landscape captures, Fargo handles them all with finesse.
But this theme offers even more—it delivers a cinematic experience to your audience. Details are crucial, and Fargo pays close attention to them. The Zoom-In and Zoom-Out adjustments immerse your visitors in your work, fostering a deep connection as they explore your portfolio from top to bottom.
Lastly, customization is a breeze with Fargo, thanks to the built-in Style Manager. You can effortlessly tweak colors and fonts, choosing from ready-made palettes or creating your own.
Benefits of Fargo
It's easy to translate your website
The theme is optimized for search engines
Very fast website loading time
It works well on mobile devices
Offers great customer support
Drawbacks of Fargo
Mainly specialized in wedding photography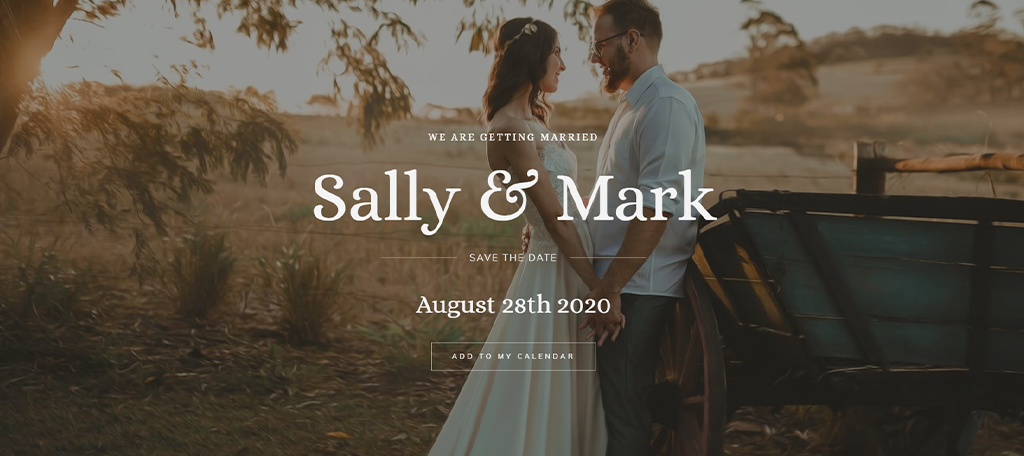 Astra, a well-known WordPress theme, now offers a wedding invitation option that's stylish and easy to use. If you're looking for the best wedding theme examples for your website, you're in for a treat.
This theme works smoothly with popular WordPress page builders like Elementor and Beaver Builder, making it simple to create your wedding site.
But the standout feature is the Wedding Invitation template. This one-page design is romantic and eye-catching. It sets the stage for a beautiful wedding website.
As you scroll down, you'll find customizable content blocks for sharing your story and important details about your wedding date and location. Want to make it easy for guests? Astra also has an 'Add to Calendar' button.
This wedding theme for WordPress also includes a map, an RSVP form, and all the information your guests need. And if you're worried about the cost, Astra offers an impressive free version, or you can go for premium features if you want more.
Benefits of Astra
Create a beautiful wedding website with an elegant design
Stylish colors and fonts
Engaging parallax effects
Flexible customization
Its RSVP Form makes it easy for guests to respond
Drawbacks of Astra
The Pro addon is needed to get access to its most amazing features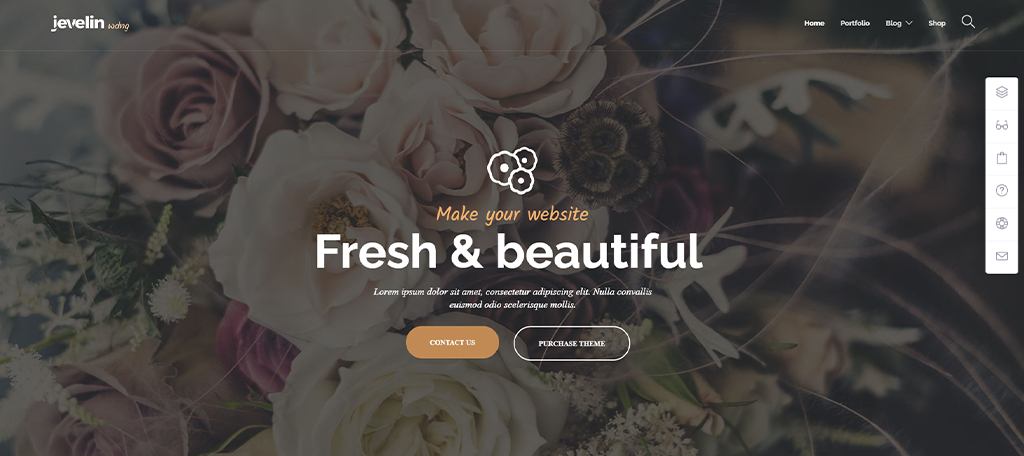 Jevelin is a fantastic wedding theme for WordPress, perfect for telling your love story online. Whether you're tech-savvy or just starting, Jevelin makes creating your wedding website possible in just a few clicks.
With a single click, you can use ready-made website designs, setting the scene for your big day.
The theme comes with Slider Revolution, an easy tool for building web pages. You can change how your website looks and add cool stuff easily. It's perfect for showing off your wedding photos with 10 different layouts.
Editing is made simpler with the Yellow Pencil editor. No need to know how to code – you can change fonts, colors, and more in minutes. Lastly, you can create beautiful portfolios with ready-made designs that look great on phones and computers.
Benefits of Jevelin
Simplifies website creation process with frontend page building
Uses pro-level slides to enhance visual appeal and engagement
Fully compatible with WooCommerce for seamless e-commerce operations
Over 40 custom-made demo pages
Easily translate your website into multiple languages
Drawbacks of Jevelin
Some issues of customer support not responding immediately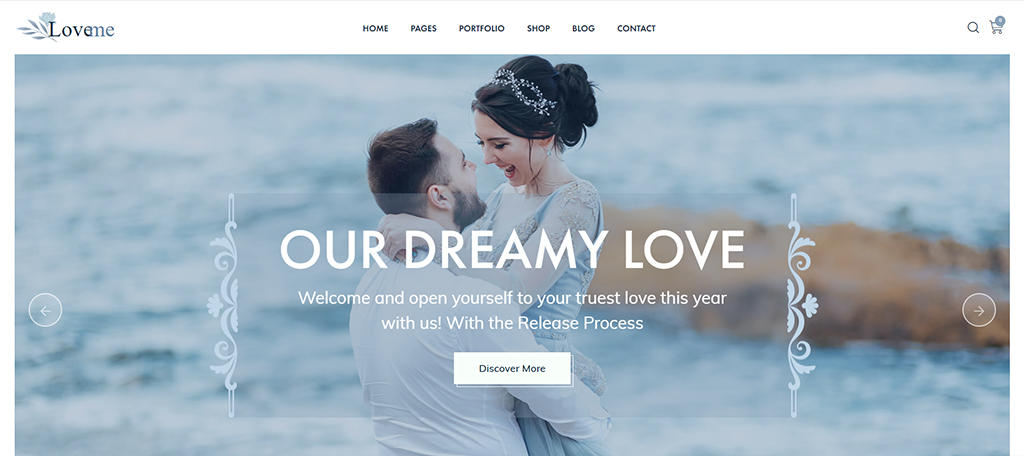 Loveme is the ultimate wedding theme WordPress tool, perfect for both newcomers and professionals in wedding planning.
It's not just easy to use but packed with pre-made designs to cater to all your wedding needs, from sharing news to crafting exquisite invitations.
Moreover, showcasing your services and pricing is effortless thanks to the pre-designed page templates.
Plus, with features such as ready-to-use contact forms and social media links, Loveme ensures your site is operational in no time.
Benefits of Loveme
Features a structured theme designed to maximize protection against malware and other threats
Exceptional customer support
High-quality design
Fully responsive layout
Has advanced typography with unlimited colors
Drawbacks of LoveMe
No free version is available
Not compatible with WPBakery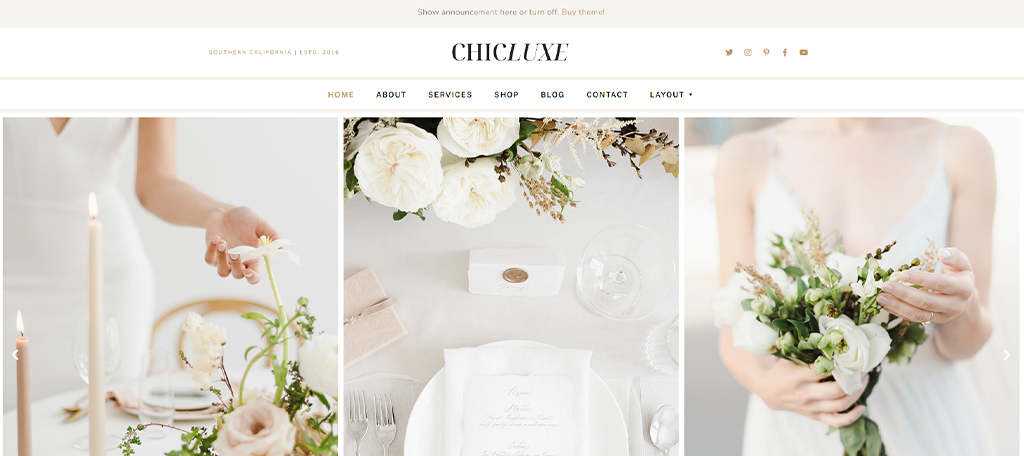 ChicLuxe is all about sophistication and style, tailor-made for wedding vendors and event planners. They promise to showcase your high-end services with grace and ease.
What makes ChicLuxe special is how easy it is to use. You don't need any technical or coding skills to create your dream website. With the simple drag-and-drop Elementor editor plugin, you can bring your vision to life in just hours or days, not weeks.
This theme also includes a shop page for selling products, a Blog page for sharing knowledge and boosting your online presence, a Portfolio page to showcase your best work, and a Testimonial page to display happy client reviews.
Plus, there's an FAQ page to answer common questions in an easy-to-understand way.
Lastly, ChicLuxe includes all the stock photos from the demo site, so your wedding-themed WordPress website will look just like the impressive demo.
Benefits of ChicLuxe
Easily add a cookie consent bar for GDPR compliance
Showcase your work with a filterable portfolio for visitor convenience
Choose from various blog layouts to suit your style
Boost newsletter sign-ups with an embedded Newsletter Sign-up Form
Promote announcements effectively using the built-in header notice bar
Drawbacks of ChicLuxe
Some design limitations for specific elements
May appear too simple for those looking for a more complex website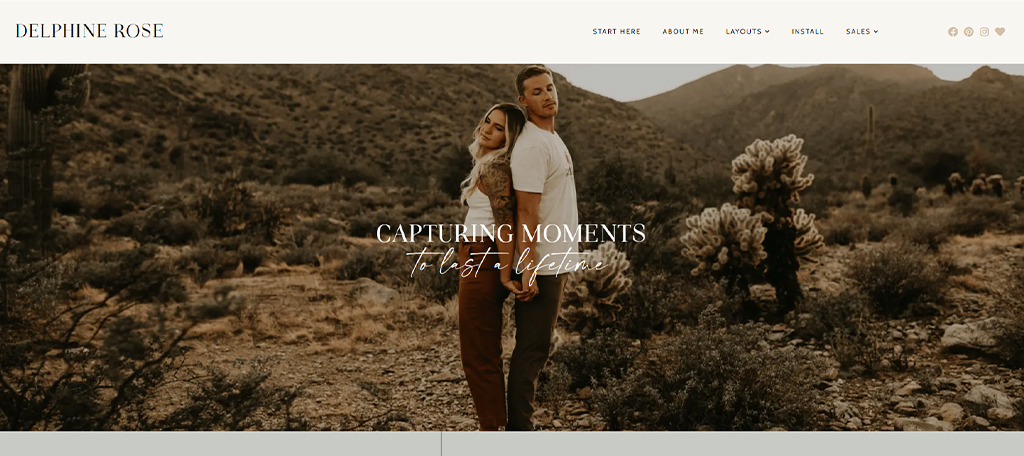 Introducing Delphine, a WordPress wedding theme that redefines the possibilities of elegance and functionality. It's your gateway to a world of style and features.
Imagine a website that feels tailor-made for you, where every detail exudes a custom touch. This boho-inspired WordPress theme effortlessly integrates into your personal branding, saving you precious time in the process.
With WordPress 5.0+ Gutenberg support and full responsiveness, your website will shine on every device.
Unleash your creativity with up to eight customizable pages using the free Elementor Plugin. Whether you import all demo content or handpick custom page templates, Delphine ensures your website is uniquely yours.
Benefits of Delphine
Easily reach a global audience with its translation-ready feature
Choose from two header layouts
Seamlessly switch between text and logo images
Control the visibility of search forms and social media icons
Maximize revenue with custom layouts, widgets, product sliders, and affiliate HTML options
Drawbacks of Delphine
A bit expensive relative to other themes
With Blossom Wedding, you don't need to be a coding wizard to create an eye-catching and elegant wedding site that captivates your guests.
This theme boasts unique features tailored for wedding websites, ensuring you can effortlessly connect with your loved ones and share your beautiful moments.
You can guarantee an exceptional user experience for your visitors with this theme. Here, you can showcase your romantic journey, keep your guests informed about wedding events and party schedules, and manage RSVPs seamlessly.
What's more, its ultra SEO optimization and Schema.org Markup readiness make your wedding website primed for the top spot on search engine results.
So, why settle for ordinary when you can have an extraordinary wedding theme for WordPress with Blossom Wedding? You'll never regret choosing this one.
Benefits of Blossom Wedding 
The theme is SEO-optimized to boost your website visibility
Blossom Wedding prioritizes speed for an excellent user experience
Offers a Video Banner section for dynamic and engaging content presentation
Seamlessly integrate your social media profiles
Fully responsive and mobile-ready
Drawbacks of Blossom Wedding
It may have limited customization options for advanced users seeking unique designs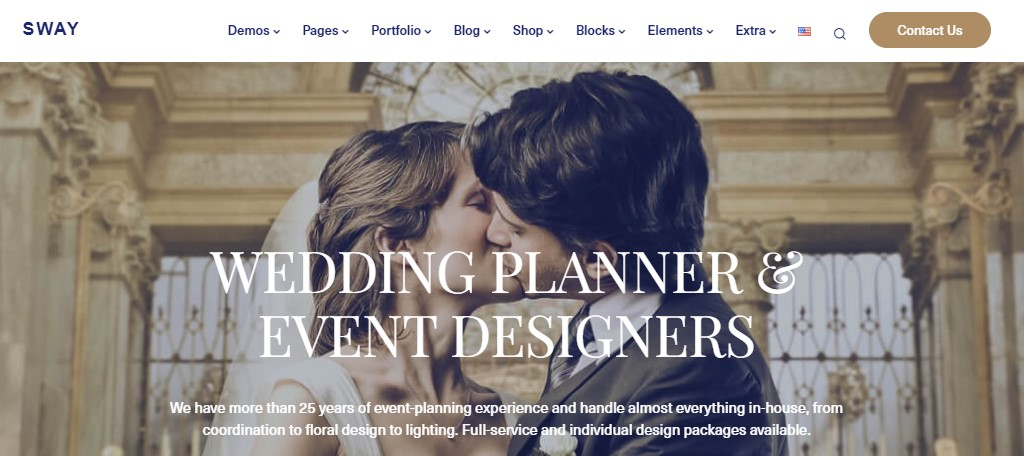 When it comes to setting up a wedding theme on WordPress, the Sway theme stands out with its modern outlook.
It's designed not just to suit corporate businesses but also to create the romantic, elegant online space that every couple desires for their wedding website.
Think of a platform that welcomes your wedding guests with style, giving them a fabulous first impression. That's what Sway offers, a chic design tailored to give your wedding that modern touch.
Diving deeper, this theme offers more than just style. It brings to your fingertips the tools to create something genuinely unique. Thanks to the bundled WPBakery Page Builder, you can easily design your layout.
Sway also features over 65 demos crafted with different niches in mind, making it adaptable to various themes, including popular wedding themes.
This theme, with its professional outlook, presents an exciting journey of creating a wedding site that resonates with your style and story.
Benefits of Sway
Responsive layout that makes your website look great on all devices
Translation-ready to provide multiple languages on your site
Great customer support for your queries
One-click demo import
Has more than 300 ready-to-use template blocks
Drawbacks of Sway
Not compatible with Gutenberg
The Hotspot element supports adding text only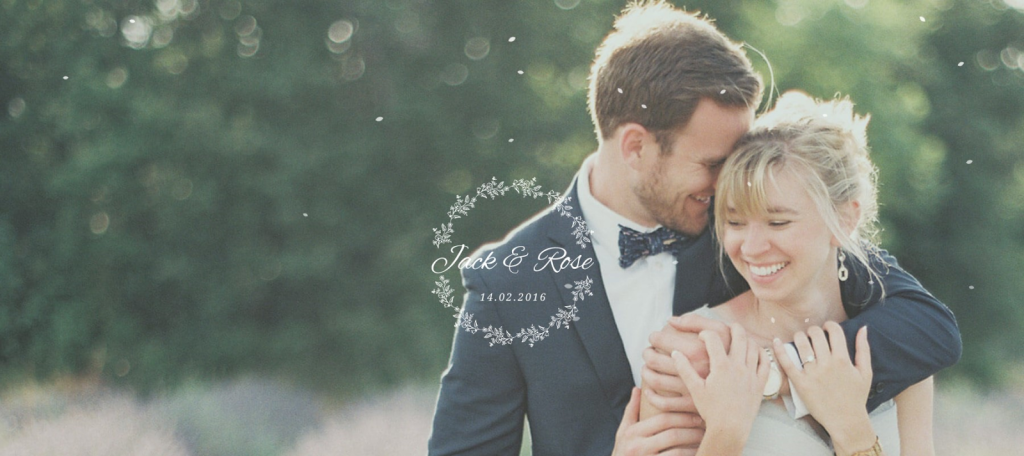 With Jack & Rose, creating your dream wedding website is no longer a distant fantasy but a tangible, delightful reality.
Picture the ease of crafting a dream wedding website without any coding knowledge. This is the reality with Jack & Rose, a stellar wedding theme WordPress enthusiasts would rave about.
Whether sharing joyous moments or detailing the wedding events, this theme serves as the perfect canvas for your love story, melding simplicity with elegance in a seamless fashion.
This theme promises a smooth and swift setup process, ready to launch your site with just a few clicks. Moreover, it's a treat for those on a budget, offering a lavish look at a minimum cost, balancing aesthetics with affordability brilliantly.
Plus, its fast performance ensures that your guests have a delightful browsing experience. This keeps their excitement bubbling as the big day approaches.
Benefits of Jack & Rose
Online RSVP form makes guest management easy
Interactive guestbook page for attendees to share their thoughts and well-wishes
Easily add all wedding venues to the interactive Google Maps section
Showcases modern effects such as smooth parallax, fade-out animation, and sakura fall effects for a stylish user experience
Access to a fast and friendly customer support team for any assistance needed
Drawbacks of Jack & Rose
The theme was last updated in June 2021
Some caching problems may be encountered
Qi is a haven for imaginative minds. It allows a delightful fusion of infographics, typography, and SEO amenities amongst others. Distinctively crafted, it delivers a plethora of widgets, neatly categorized to facilitate a seamless building experience.
The theme has over 150 demos readily adaptable through Gutenberg or Elementor. With six specially designed wedding demos, it addresses varied needs from online invitations to a perfect space for wedding photographers.
Diving deeper, we find that Qi is not just about grandeur, as it pledges efficiency and mobile-friendly layouts. Its rich bank of over a hundred custom widgets stands ready to assist in constructing text marquees, sliders, and more. It's time to say goodbye to repetitive layouts.
Notably, it brings to the table six distinct layouts for sidebars and single blog posts each, placing vast possibilities at your fingertips.
Lastly, Qi introduces you to a world rich with adjustable project navigation styles and versatile item hover styles. It enhances the visual narrative, offering twelve single project templates to choose from.
Benefits of Qi
Has a clean code that meets the modern industry standard
Features animated parallax effect
Offers one-page navigation menu
AJAX pagination for portfolio, blogs, and shop list
More than 1,000 Google fonts are available
Drawbacks of Qi
The free version is very limited
Cannot create accents on letters
FAQs About Wedding Themes for WordPress
What is a WordPress wedding theme?
A WordPress wedding theme is a pre-designed template created specifically for wedding websites. It offers features and styles that help couples share their story, and details of the event, and engage with guests effectively. This provides a central hub for all things related to their special day.
How do I integrate RSVP and guestbook features in my WordPress wedding theme?
Integrating RSVP and guestbook features is often straightforward with the right WordPress wedding theme. Many themes come with built-in features or compatible plugins that you can set up from your dashboard.
Doing so allows guests to RSVP and leave messages seamlessly.
Can I add an interactive map to my WordPress wedding website?
Absolutely. Many wedding themes support Google Maps integration, allowing you to add interactive maps to your site. This feature helps you to guide your guests to the wedding venue by providing them with a detailed map and possibly even personalized suggestions for accommodations and sightseeing.
What are some popular plugins to enhance the functionality of my wedding website on WordPress?
Some popular plugins you might consider include RSVP plugins for easy guest management, SEO plugins like Yoast SEO to optimize your site for search engines, and gallery plugins to create beautiful photo albums.
Social media plugins can also be handy to foster engagement and share updates seamlessly.
What are some trendy design features to look for in a wedding theme for WordPress?
In 2024, expect wedding themes to embrace minimalistic designs with smooth transitions and interactive elements. Trendy features might include parallax scrolling, video backgrounds, and integrated storytelling timelines to narrate the couple's journey together.
Also, look for themes offering a variety of font and color customization options to match your wedding theme.
Can I transition my wedding website into a personal blog after the wedding using the same WordPress theme?
Yes, you can! After the wedding, you can repurpose your website into a personal blog. Many WordPress wedding themes offer the flexibility to modify sections and create blog pages where you can share updates about your married life, adventures, and more.
This allows you to maintain a continuous connection with your loved ones.
How can I optimize my WordPress wedding website for SEO?
To optimize your wedding website for SEO, focus on creating quality content with relevant keywords. Utilize SEO plugins such as Yoast SEO to help you manage meta tags and create SEO-friendly URLs.
Additionally, ensure your website is mobile-friendly and has a fast loading speed to improve user experience.
Begin Your Happily Ever After with the Right WordPress Wedding Theme
As we navigate the vibrant journey of life, special moments like weddings deserve a grand stage, even in the digital realm.
Each theme mentioned in this guide brings something unique to the table, offering a perfect amalgam of style, elegance, and user-friendliness. They carry the power to transform your vision into a reality, offering spaces that echo with warmth, love, and personal touch.
Embark on this beautiful journey with a theme that resonates with your story, a theme that will be the digital harbinger of your love, warmly welcoming every visitor with open arms.
Dive in, explore, and let your love story shine in all its digital glory.