When it comes to featuring your architectural prowess, nothing less than a top-tier digital portfolio will do. The right themes for architecture in WordPress can turn your website from a simple showcase into an impressive digital skyscraper.
However, choosing from thousands of options out there can be as daunting as planning a multi-story building. Many architects find themselves overwhelmed, sticking with outdated or inadequate themes that fail to showcase their talent effectively.
This guide is designed to simplify that decision for you. We'll cover the most powerful, versatile, and visually stunning WordPress themes specifically tailored for architects and architectural firms.
Your work deserves a showcase that's just as innovative and polished. Stick around, and by the end of this article, you'll know exactly how to pick a theme that not only looks great but also boosts your business.
Our Picks for the Best Architecture WordPress Themes
Finding the right WordPress theme for architecture is much like selecting the right materials for a building. You need something that's both functional and aesthetically pleasing.
But what exactly should you look for to ensure you're making the best choice? Here are some key features to take into consideration.
High-Quality Design: First impressions matter. Opt for themes with a clean, modern design that can effectively highlight your architectural projects.
Responsive and Retina Ready: In an increasingly mobile world, your theme needs to look and function well on all devices, including smartphones and tablets.
SEO Optimized: Visibility is crucial. Choose themes that are built with SEO in mind to help your site rank better in search engines.
Fast Load Times: User experience is key. A theme should load quickly to ensure that potential clients don't leave your site out of frustration.
Easy Customization: Your projects are unique, and your website should be too. Look for themes that offer a variety of customization options, including color schemes, fonts, and layouts.
Integrated Plugins: A great theme will support popular WordPress plugins like Elementor, WooCommerce, and WPML, providing more functionality and flexibility.
Regular Updates: The online world is always evolving. A worthwhile theme receives regular updates from developers to fix bugs and add new features.
Solid Support: Even the best themes can present challenges. Opt for themes that offer robust customer support to help you navigate any issues.
With these in mind, here are the best architecture WordPress themes for you to choose from.
Turn your architecture portfolio into an online masterpiece with Jevelin.
This theme stands out for its simplicity and efficiency. Just one click is all it takes to install the theme and access a range of demos.
But the one-click install is just the tip of the iceberg. Jevelin comes packed with a perfect plugin set to elevate your site's functionality. From WooCommerce for your online storefront to WP Bakery and Slider Revolution, it's got all the tools you could wish for.
The feature that takes the cake is the live drag-and-drop builder. Boasting over 100 pre-built elements, this modular builder aims for maximum efficiency. Customize layouts, add widgets, and shift elements around, all without touching a line of code.
Last but not least, Jevelin offers a visually stunning gallery feature. With this theme, you can create eye-catching portfolio scenes to showcase your architectural designs.
Benefits of Jevelin
Visually create your website using the WPBakery Page Builder
An intuitive panel offers advanced settings for easy site management
The theme is optimized for Gutenberg
Instantly import demo content to get your site up and running
Easily translate your site into multiple languages
Drawbacks of Jevelin
There's no free trial or freemium version available for initial testing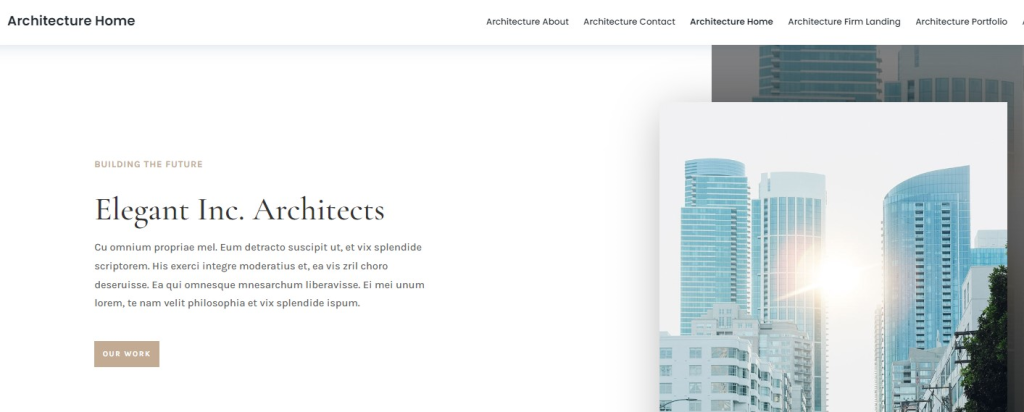 Transform your portfolio with Divi, a game-changer in the world of architecture WordPress themes.
This theme employs advanced visual builder technology, giving you the ability to craft a site as you've never done before. Instead of the standard WordPress editor, you get a superior visual toolset. Now, both design pros and novices can create jaw-dropping designs effortlessly.
But wait, Divi also offers a complete design framework. This means you have full control over every element of your WordPress architecture site, from headers to footers and everything in between. With such granular control, customizing your website down to the tiniest detail becomes a reality.
Not just about design, Divi also focuses on performance and conversions. Equipped with powerful tools like Bloom pop-ups and Monarch social sharing, it aids in marketing your site effectively.
Divi Leads offers split testing features to optimize for conversions, so your site not only looks good but performs well too.
Ultimately, Divi takes the guesswork out of creating a spectacular, high-performing site.
Benefits of Divi
Easily rearrange elements on your site without coding or back-end hassle
Design your pages in real-time with intuitive visual controls
Your website looks great on mobile
Edit text directly on the front end
Save unlimited custom designs for easy reuse
Drawbacks of Divi
Divi's builder can be slow to load sometimes
Its updates can cause instability, requiring regular backups before updating
Divi could benefit from integrated tutorials for better user guidance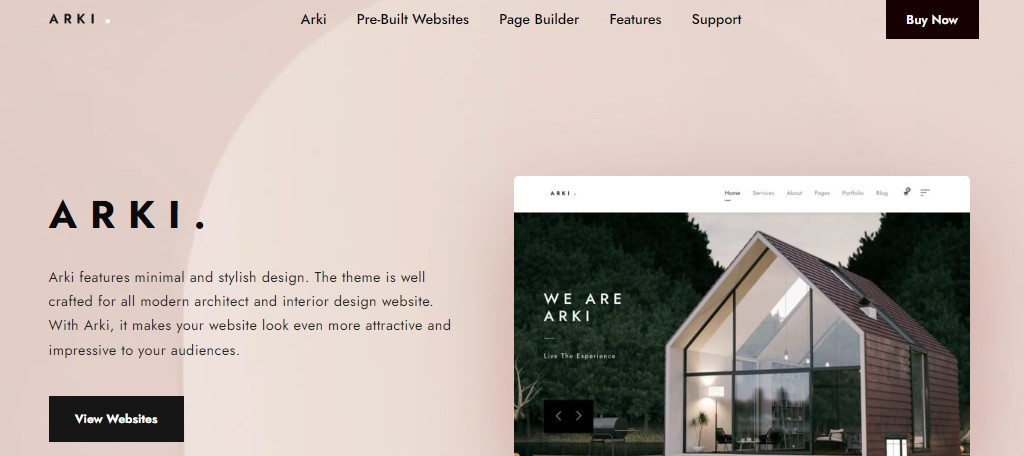 Arki sets a high bar for the rest of the themes for architecture in WordPress. Whether you're a solo architect or part of a bustling agency, Arki has a demo that fits your needs. With nine high-quality designs, your architecture website will radiate a premium look.
Moreover, each demo serves a specific purpose. It caters to everything from brand promotion to showcasing intricate projects. It even includes a specialized demo for those in the interior design service sector.
But Arki's prowess doesn't stop at aesthetics. The theme comes loaded with an array of templates. This makes the addition of about, contact, services, and portfolio pages a breeze.
If you don't see a template that fits your unique vision, don't fret. Arki incorporates a robust drag-and-drop builder, allowing you to custom-design your pages effortlessly.
Overall, Arki combines form and function to give you an all-in-one solution for your architecture or design website. If you want to leave a lasting impression with your architect WordPress theme, Arki should be your choice.
Benefits of Arki
Regularly updated by the developers
Offers a wide range of options for colors and header layouts
Enables you to customize your website without any limitations
1-click demo importer
Reuse frequently used blocks by saving it as a custom template
Drawbacks of Arki
No free version is available
Only offers 6 months of support from developers for the regular license

Ready to design a website as stunning as your architectural projects? Use Inteco.
Inteco shines as a go-to choice in architecture themes for WordPress, especially for architects and interior designers. It offers ready-to-use demos that give you full control over your online image. The layout is slick, and the features are versatile, making it a robust framework for your website.
Don't feel like starting from scratch? You're in luck. With just one click, you can import Inteco's demo content. It's that simple to kickstart your web space. But if you prefer to add a personal touch, you can. Inteco's powerful page builder makes customization a few clicks away.
Besides, this theme packs six demos and plenty of internal pages. With Inteco as your architect WordPress theme, you're well-equipped to start sealing new deals regularly.
Benefits of Inteco
Offers excellent customer support
Change colors easily using the color picker in the admin panel
Its page builder is both fast and efficient
Features 19 header styles for you to choose from
Fully customizable demo importer
Drawbacks of Inteco
No free version is available
Inteco's filtering option is limited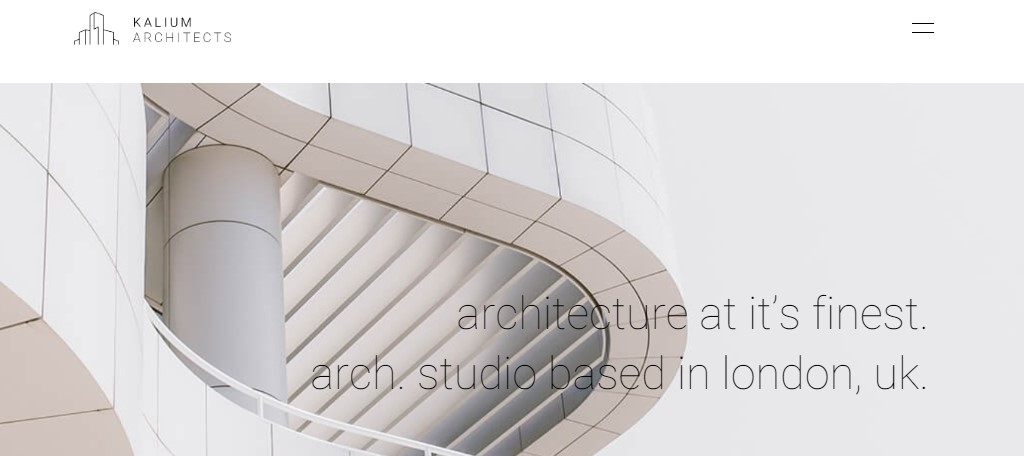 Step up your web game with Kalium, an award-winning jewel among architecture WordPress themes.
Built for speed and beauty, it's a designer's dream come true for any type of website. Kalium doesn't just look good; it's optimized for top-notch performance, meeting Core Web Vitals' high standards for quick loading times.
Customization is the name of the game with Kalium. The theme offers an array of unlimited features and possibilities to make your architect's website portfolio stand out.
You have the choice between two of the world's best page builders: Elementor and WPBakery Page Builder. But if you're short on time, the one-click installer has you covered with pre-made templates that are business-ready.
What sets Kalium apart is its detailed focus on design elements. Want a custom header? Use the drag-and-drop header builder or pick from professional pre-made layouts. Fonts are easily customizable as well, with access to over 15,000 options.
On top of all this, Kalium takes SEO seriously, ensuring your site isn't just beautiful, but also highly discoverable.
Benefits of Kalium
Supports translation plugins for multiple languages
Offers a clean code that meets WordPress standard
Responsive design makes it look good on all devices
GDPR compliant for data privacy
Lazy load for images optimizes site speed
Drawbacks of Kalium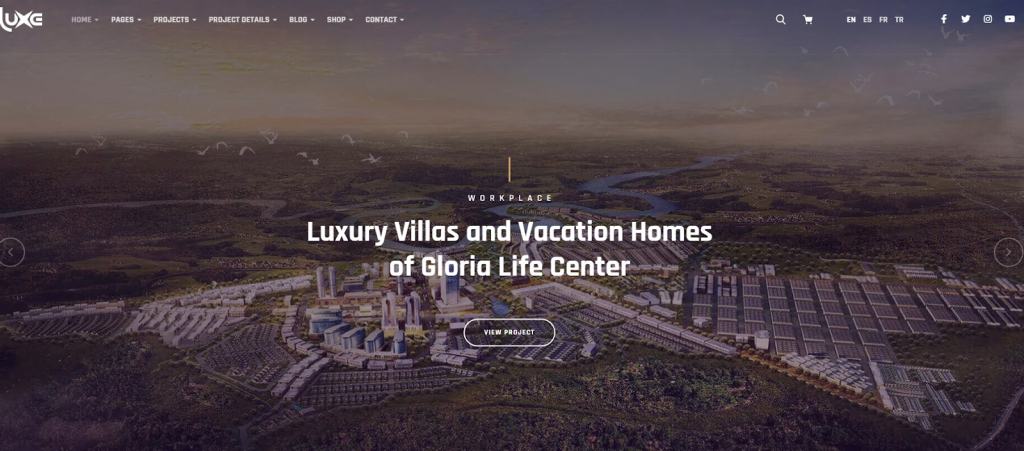 With Luxe, your online portfolio becomes an art form. This theme isn't just about aesthetics; it's a full package of stunning features and endless customization.
Dive into the pre-built demos that Luxe offers. Easily adjust elements to mirror your unique style and make a lasting impression. And if you've got a range of projects to showcase, Luxe has you covered there too.
When it comes to project management, Luxe simplifies the game. The theme boasts an intuitive listing system that helps you organize your projects with ease. Even better, you can categorize your projects using dynamic filters. This feature enhances user experience and makes navigation easier on your site.
Crafting your portfolio? Luxe's versatile project builder is the tool you've been looking for. With its advanced customizer, the sky is the limit for how you can design your project pages.
Benefits of Luxe
Adaptive images make your website look great on any device
Automatic updates mean you don't have to worry about security issues
The Block Editor lets you design pages with a simple drag-and-drop
Blog Management features make it simple to run a dynamic blog
Utilizes Bootstrap for a mobile-first, customizable design
Drawbacks of Luxe
No free version means you have to invest upfront
Its last update was months ago as of this post
Why settle for less when you can have the best? Prague is the go-to WordPress theme for architects who mean business.
This theme is perfect for showcasing high-definition images of your architectural or interior design work. With its sleek, minimalist style, Prague screams professionalism. You won't find that quality in every architect theme out there.
So, what's in the box? Prague offers a variety of demos and essential pages like 'About' and 'Contact.' For portfolio page layouts, choose from nine outstanding options, including two that feature parallax designs. That's right, you can easily add depth and movement to your site.
Now, let's talk visuals. The theme comes bundled with the Slider Revolution plugin. This allows for silky-smooth and eye-catching media displays. Plus, you have the option to add a video backdrop to your homepage.
In short, Prague gives you pretty much all the tools to create a visually striking website.
Benefits of Prague
Has 29 unique homepages to choose from
Fully responsive makes it look good on all devices
SEO optimized for better online visibility
Offers a clean yet stylish design
Has a one-click importer feature
Drawbacks of Prague
No free version is available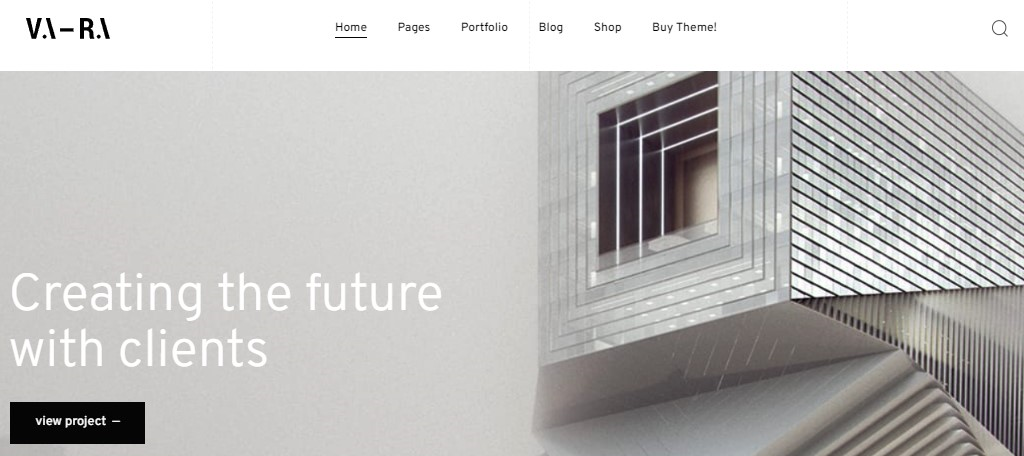 You don't have to compromise on the design of your site. Choose Vara, the theme that architects swear by.
This theme is the ideal pick for architectural bureaus, engineering firms, and design studios. With its eye-catching, minimalistic design, Vara keeps your visitors focused on what's important. It's all about showcasing your work in the best light possible.
Vara allows you to customize your headers and footers using Elementor custom widgets. Whether it's for your homepage or blog archive, you have control. This feature is all thanks to Vara's in-house plugin, which makes customization a few clicks away.
Additionally, this theme is fully responsive and retina-ready. Your site will look crisp and fill the screen on any device, from desktops to phones. It offers three customizable display modes, ensuring your work appears exactly how you want it to.
Overall, Vara combines style with functionality, making it a strong contender in the architecture WordPress themes market.
Benefits of Vara
Compatible with all browsers (Firefox, Safari, Chrome, IE11+)
Includes the Slider Revolution plugin for free when you purchase the theme
Supports 800+ Google fonts
Translation ready for multiple languages
One-click demo content import
Drawbacks of Vara
Takes a long time for customer support to respond
It has been months since the last update as of this post
No free version is available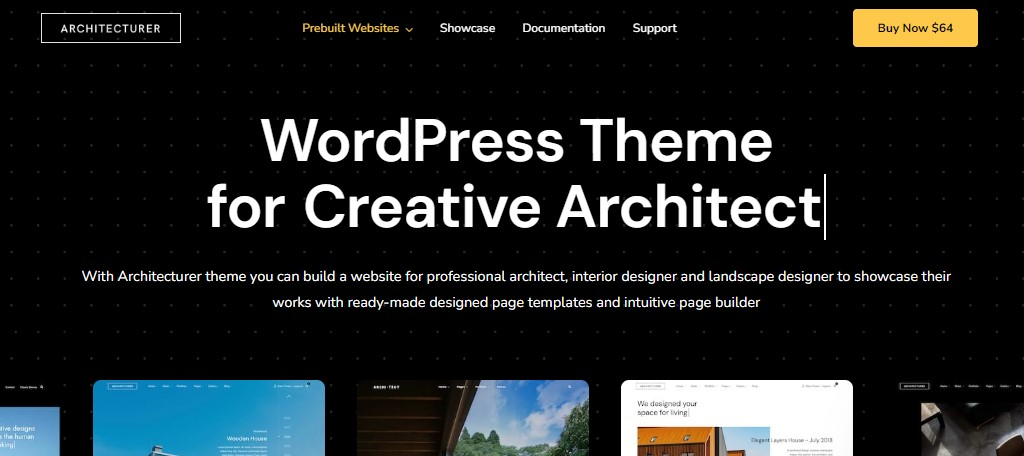 Architecturer is an optimal choice for architects, interior designers, and landscape artists. It comes packed with ready-made templates, streamlining the process of showcasing your masterpieces. Elegant and functional, Architecturer gives you total control over your website's look and layout.
The theme's Visual Design Editor is a standout feature. It lets you tweak your site's elements like color and see the changes instantly. Essentially, what you see is what you get. You no longer have to guess how your edits will turn out; you can see them in real-time.
Architecturer also offers over 100 predefined widgets, packed with design options that are flexible for any creation. From concept to execution, this architect theme for WordPress is the best in the market.
But that's not all. Architecturer knows the importance of being mobile-friendly. The theme is 100% fluid and responsive. It ensures your site looks stunning on all devices, from mobile to desktop and tablets.
Benefits of Architecturer
Allows you to manage client bookings efficiently
Offers a one-click installation feature
Has an intuitive drag-and-drop Elementor page builder
Provides free lifetime updates
Features 22 ready-made websites to choose from
Drawbacks of Architecturer
The portfolio section is not dynamic
Can be a little bit too simple if you're looking for a more complex website theme
Dessau is a ready-to-go platform that empowers you to create the online presentation your work truly deserves. With pixel-perfect layouts and open-ended customization options, it takes your portfolio from good to great with just a few clicks.
Portfolio lists are where Dessau truly shines. The theme comes loaded with a variety of engrossing portfolio templates. Each one is distinctly stylized, offering you endless ways to keep your audience engaged. So, you can present your architecture projects in fresh and exciting ways every time.
This theme also features an assortment of dynamic modules specifically designed for project showcase. It provides a wide range of single-project layouts, portfolio lists, and sliders.
Fully compatible with WooCommerce, Dessau is more than just an architect WordPress theme. It's also a full-fledged online shop, backed by an impressive collection of shop page templates. So, if you're looking to monetize, Dessau is your theme.
Benefits of Dessau
Provides a user-friendly page creation
Top-notch customer support
Set up your site fast by importing demo content in seconds.
Complete control over color customization
Built with best coding practices to help your SEO efforts
Drawbacks of Dessau
Relatively more expensive compared to other architectural themes
Last updated in 2021, although developers said that the current version still works properly with the latest version of WordPress
Unlock limitless creative possibilities for your architecture website with Oshine.
Equipped with Tatsu, a revolutionary fully visual page builder, this theme is a cut above the rest. Oshine boasts 50+ styling modules, so you don't have to be a coding guru to make your vision come alive. It is ideal for those who want to create an eye-catching architectural website portfolio.
One of its best features is the live text editor. This handy tool lets you format your text, change its alignment and color, and even tweak typography settings. So, you can play around with font sizes and line heights until they're just right.
But that's not all. Oshine elevates the entire building process with time-saving keyboard shortcuts. This means you can perform actions like save, cut, copy, and paste at lightning speed.
What's more, you can experiment with 2, 3, 4, or even 5-column portfolios and galleries with Oshine. Plus, your portfolio can feature metro-style grids, various title styles, hover effects, and eye-catching loading animations.
Benefits of Oshine
The high-quality design ensures your website will look professional and polished
One-click demo installer makes getting started fast
Customize your portfolio in many ways to best display your work
Complete control over fonts and colors to match your brand
Regular updates keep your site equipped with new features and free from bugs
Drawbacks of Oshine
Need to buy Tatsu pro plugin separately
Has no Slider Revolution feature
Designed to truly impress, Addison is a standout among architecture WordPress themes. Tailored for the interior design niche, this theme offers four visually captivating examples. These are centered on different areas of design, coupled with impressive portfolio showcases.
In the world of architect website portfolios, it's more than just aesthetics; functionality matters too. Fortunately, Addison packs both, making it not just eye candy but a robust tool for professionals.
With Addison, design is not just the icing on the cake but an integral part of the user experience. This philosophy extends to the customization capabilities Addison offers. From header layouts to color schemes, you're in control, which allows for brand consistency.
Another key feature is its portfolio views, tailor-made for designers. You can choose between grid and tile layouts, each with its own customizable flair.
And if you're keen on showcasing your work in detail, the single portfolio view is a bonus. This offers you the creative freedom you need, and let's face it, we all crave that freedom.
Benefits of Addison
Responsive design with retina-ready feature
Specialized shortcodes
Custom icon sets are business-oriented
Lightning-fast page builder
Left and right sidebar options
Drawbacks of Addison
Doesn't display image captions in their single portfolio image gallery
The theme doesn't have an HTML version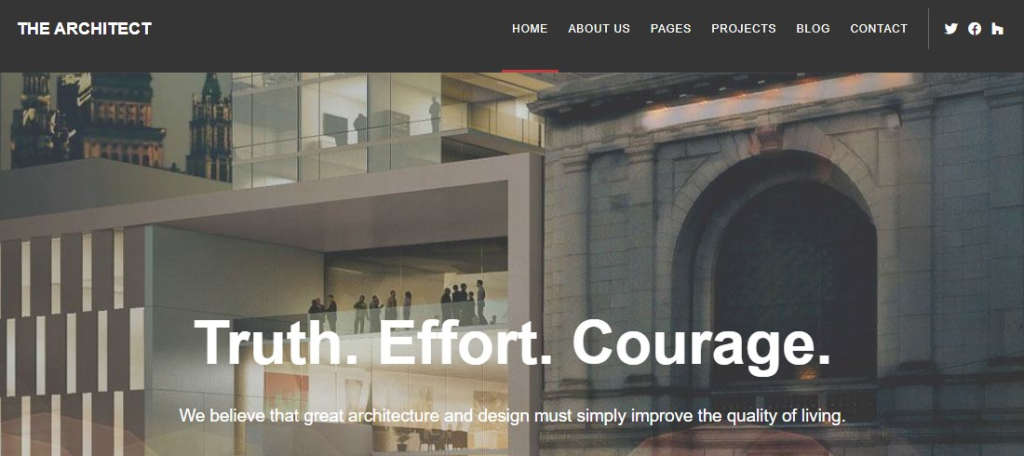 Show the world your design prowess with The Architect, a WordPress theme crafted for professionals who think outside the box.
From architectural firms to landscape designers, this theme serves as a digital portfolio that speaks for itself. And let's not overlook the speed; it's optimized to load quickly, adheres to coding standards, and stays up-to-date with WordPress versions.
If you're looking to present your architectural projects in a classy manner, this theme has your back. Its built-in features make it incredibly easy to share updates, news, and, most importantly, your portfolio.
What makes this theme stand out are the smart features bundled in it. There's the unlimited color schemes option, for instance. Moreover, the theme comes with multiple widget areas, allowing you the freedom to customize as you see fit.
Lastly, with retina support, the theme ensures your projects look perfect across all types of digital screens. A clean and elegant design completes the package, making sure your work is always the star of the show.
Benefits of The Architect
Excellent customer support for your queries
Supports multiple languages
Child theme included
GDPR compliant
Encourage user engagement and content sharing with custom share buttons
Drawbacks of The Architect
Does not offer a free version
Can be relatively expensive compared to others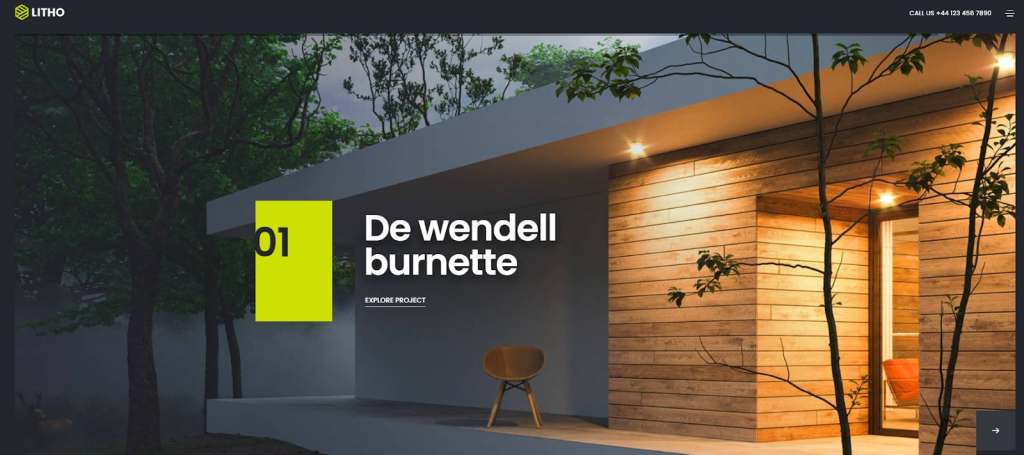 Upgrade your portfolio from meh to marvelous with Litho—where creativity and performance unite.
Created for both experts and novices, this high-performance theme is fully integrated with Elementor. It's also optimized for SEO so that your architect website portfolio won't just look good but will also rank well on search engines.
With Litho, customization is very easy, thanks to its 37+ ready-to-use home page demos and a stunning library of over 300 templates. Featuring more than 200 elements at your disposal, you can craft layouts that perfectly showcase your projects.
In terms of design, Litho doesn't compromise. It also adapts seamlessly to various screen sizes, making it a truly responsive Elementor WordPress theme.
Benefits of Litho
Wide plugin compatibility
Affordable price for its features and capabilities
Detailed documentation and video guides
Create custom layouts effortlessly
Custom Elementor elements designed specifically for Litho
Drawbacks of Litho
The lack of access to licenses or updates for bundled plugins
Does not include support access
FAQs About Architecture WordPress Themes
What are architecture WordPress themes?
Architecture WordPress themes are specialized website templates designed specifically for architects, interior designers, and architectural firms. These themes offer a unique blend of layouts and design elements that highlight your architectural projects.
Overall, it makes your website both functional and aesthetically pleasing.
How do I create a WordPress website for architecture?
Creating an architecture WordPress website starts with purchasing a hosting plan and installing WordPress. Once that's done, choose an architecture-specific theme to install.
You can then customize the theme with your own text, images, and other elements to better reflect your brand and services.
Why should I use an architecture-specific WordPress theme?
Using a theme tailored for architecture ensures that your portfolio and projects are showcased in the best possible light. These themes are designed to highlight architectural content, making it easier for you to build credibility and attract potential clients.
What kind of customization options can I expect from these themes?
Architecture-specific WordPress themes typically offer a wide array of customization options, including various layout designs, color schemes, and elements like headers and fonts.
This flexibility allows you to create a website that fully represents your brand and showcases your work effectively.
Do these themes come with blogging features?
Most of the themes include dedicated blog layout options that make it easy to publish articles and updates. This feature is particularly useful for sharing insights, news, or updates about your industry, further establishing your expertise.
Can I showcase my architectural portfolio easily with these themes?
Yes, most architecture WordPress themes come with specialized portfolio sections that allow you to effectively showcase your work. These portfolio options are designed to be visually appealing.
With this, potential clients can easily navigate and appreciate your projects.
Change the Landscape of Your Architecture Website with the Right Theme
Choosing the right architecture theme for your WordPress website is more than just a matter of aesthetics; it's about functionality, ease of use, and scalability.
The right theme not only gives your online presence a professional touch but also makes your life easier as you manage and update your portfolio. Your website is often the first point of contact between you and potential clients; therefore, making a strong impression right off the bat is crucial.
Transform your architectural website portfolio today by choosing the theme that fits your needs perfectly. Take the first step now to elevate your digital presence and capture the attention your work deserves!