Financial advice is highly sought after today, and building a website centered around it is a great choice. Luckily, due to the sheer popularity of financial sites, there are a ton of amazing themes to choose from in WordPress.
Unfortunately, that can also make it difficult to track down the best themes the platform has to offer. It's also worth noting that financial sites can focus on very different topics. For example, one website could focus on stocks, while another focuses on crypto.
As such, you'll also need to keep your niche in mind when selecting a theme. Here are the best financial themes on WordPress.
Our Picks for the Best Financial Themes in WordPress
Astra is one of the most popular themes in WordPress with millions of users. It has achieved this high level of popularity because of its insane customization potential, a huge library of premade templates, and you can even use it for free.
This, of course, means they have a healthy selection of financial website templates for you to choose from.
These templates have a professional tone to them and can be customized to fit your needs. You can even install your favorite page builder to edit them as Astra is compatible with all of the major players like Elementor.
However, one of the strongest aspects of this theme would be how easy it is to use. This theme is full of customization, but everything is intuitive and beginners can get excellent results. Overall, Astra may just be the best theme for WordPress in general.
Benefits of Using Astra
Lightweight design ensures your website is fast
Includes a Header and Footer builder
Create mobile headers to better fit the latest mobile design trends
Build mega menus to help improve navigation on larger sites
Fully integrates with WooCommerce for excellent eCommerce support
Drawbacks of Astra
Many of the key features are locked behind the Pro version
Are you a financial advisor looking for a theme for your website? If so, look no further than the Mai Prosper theme. It is perfect for presenting your skills to clients and leaving a strong impact that will keep them coming back.
It is a block-based theme built on the Genesis framework, so there are tons of customization options to choose from.
When it comes to design, it utilizes a professional tone that tries to show off your skills or explain the services your financial business provides. As such, it is a great choice for any investment firms or financial advisors looking to show off their skill set.
When it comes to actually using the theme, it was built to be easy. It has a simple one-click setup that will help you get started immediately. The rest of the features are intuitive to use and you won't need any coding experience to get the best experience.
Benefits of Using
Supports Google AMP for better mobile experiences
Easily upload your logo and center it on your site
Powerful site customizer makes editing your site a breeze
Fully compatible with WooCommerce for eCommerce functionality
Excellent performance results in high page scores
Drawbacks of
Lacks template options
Does not have a free version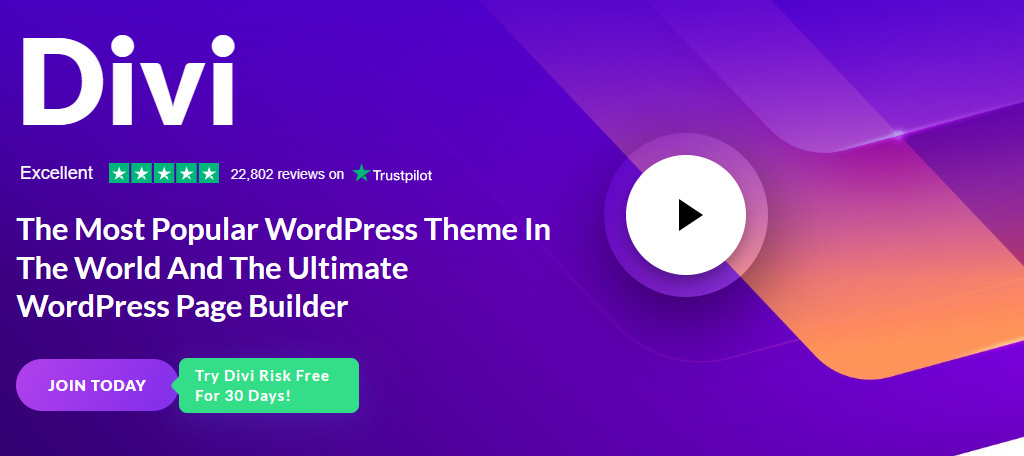 Divi is another wildly popular theme for WordPress that brings a lot to the table. It has one of the most robust libraries of templates to choose from, which means it is a great choice no matter what kind of website you are building.
One of the standout template options is for an accounting website. It has several homepage designs you can choose from to make your site stand out.
There are also more traditional templates for financial blogs.
When it comes to design, Divi is one of the best. It comes equipped with a drag-and-drop editor to help you build pages any way you want, which only adds more versatility to the templates.
As such, you really do have full creative freedom when using Divi. It is also feature-rich. Sliders, testimonials, galleries, forms, and more are just some of the built-in modules you can gain access to when using Divi.
Benefits of Using Divi
Create background gradient colors by adjusting a slider
Includes access to a variety of animation effects
Add hover states to your site elements to make them pop out for visitors
Choose different fonts from a big selection
Create shape dividers for your content
Drawbacks of Divi
Some of the modules cause compatibility issues with popular plugins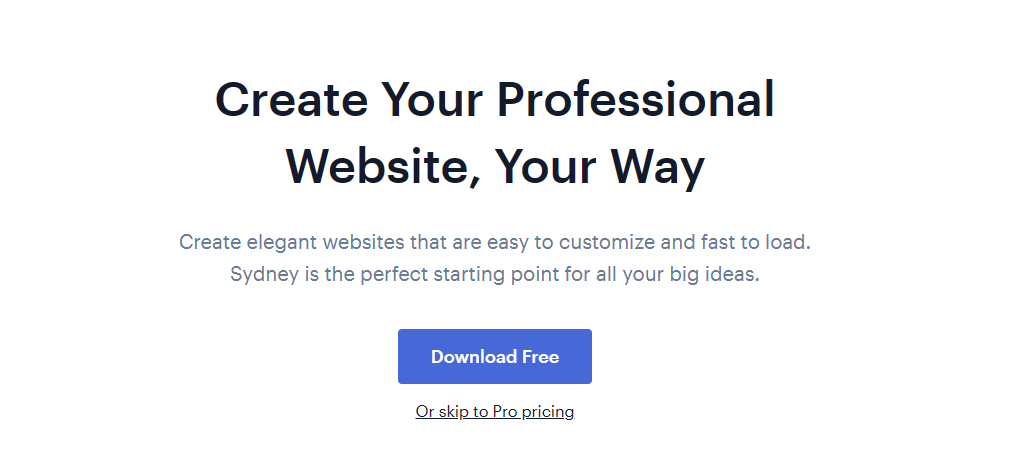 Sydney is another multipurpose theme that can work well in any situation. This theme offers a great free version and focuses on delivering fast load times and full integration with the most popular plugins.
As such, it is easily one of the best financial themes available in WordPress. And it has an excellent professional vibe going for it.
There are several templates you can use to build your site and one of them is perfect for financial websites. More importantly, when you purchase the Pro version, you'll gain access to a template builder module.
This allows you to build your own templates with unique layouts and you can also include Elementor design options. The Pro version also comes with extra Elementor widgets you can use for extra customization options.
Benefits of Using Sydney
Choose from 7 blog layouts to get the right fit for your site
Customize how every slider behaves on your website
Includes a Wishlist for WooCommerce integration
Includes plenty of pre-built sections to help save time
Includes several mobile header options
Drawbacks of Sydney
The Pro version is more expensive than most premium themes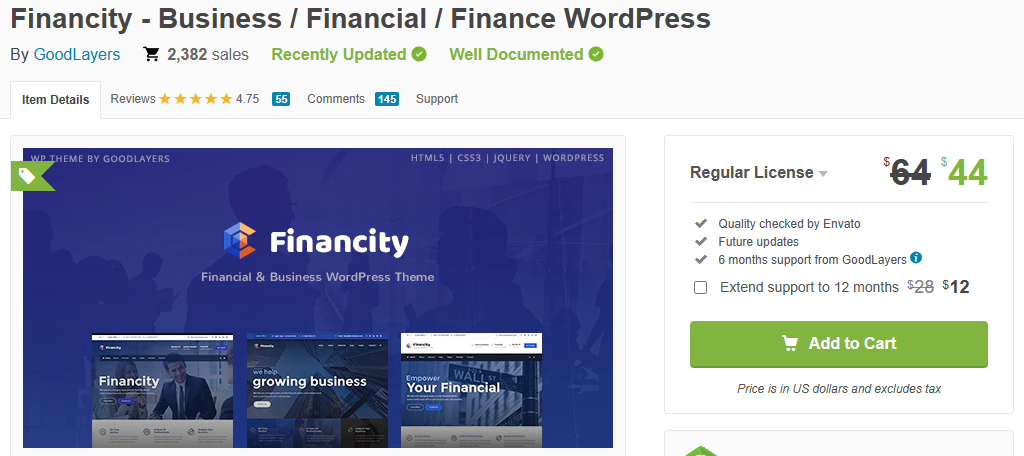 Finacity was built specifically for finance websites of any kind. This includes financial advice, accountants, financial blogs, or anything else that you can think of in the field. The theme can be customized to fit any niche and includes a lot of templates to help save time.
As such, it is one of the best themes about making money. Naturally, it has a professional vibe that is expected of these kinds of websites.
The theme includes a drag-and-drop page builder that you can use to build your own pages and layouts. You'll have an unlimited number of options, so there really are no limits when it comes to creating a website.
Of course, the site also includes several demo sites that you can use as the base for your website. They are all ready to use, but taking some time to add your own unique spin on them is recommended. Importing the demos only takes a single click, so it is quite easy.
Benefits of Using Financity
Naturally responsive design ensures your website looks great on any device
The admin panel allows you to do anything from changing the page layout to enabling maintenance mode
Create individual sidebars for your pages to reach more users effectively
Includes access to over 700 Google Fonts
Dedicated support teams respond within 12-14 hours
Drawbacks of Financity
No free version is available
6. OceanWP
OceanWP is another one of the more popular themes on the WordPress platform. It is multipurpose and offers users a huge library of demo sites that you can use to build any kind of site. It is also really simple to configure, which makes it perfect for beginners.
I cannot praise the templates enough as it has some of the best website templates for financial services on the market.
It takes a single click to import the demo content into WordPress. You can then edit using the vast customization options offered through OceanWP, or you could use your favorite page builder plugin.
OceanWP is compatible with Elementor, Beaver Builder, and other heavy hitters. One of the best parts of this theme is building global sections. These sections can be reused on your other pages and posts to help save time and edited all at once (great for pricing tables).
Benefits of Using OceanWP
Change everything from fonts to colors on a global level
Choose from 7 header styles
Includes 3 mobile menu styles
Gain access to powerful Elementor widgets exclusive to this theme
Seamless integration with WooCommerce
Drawbacks of OceanWP
The free version has a lot of advertisements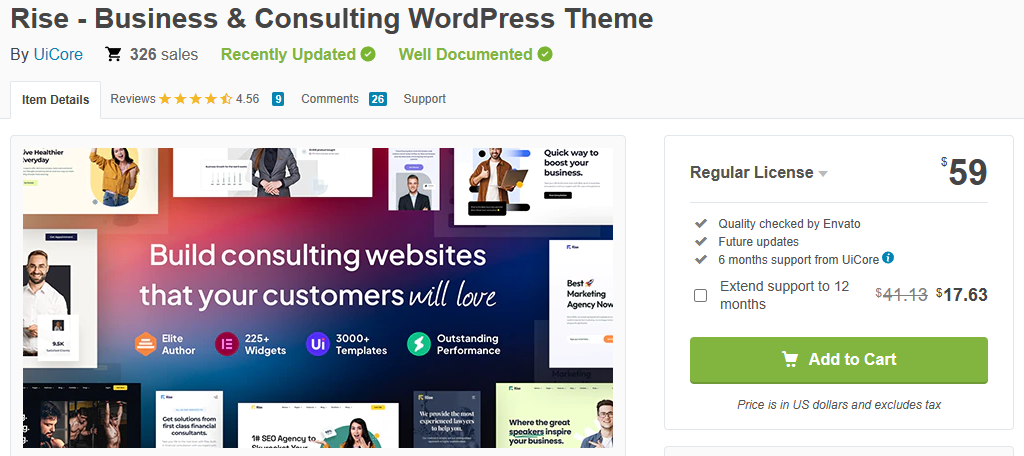 Rise is another one of the best financial themes for WordPress. It is a theme built for consultants and offers a lot of customization to help you create the right image for your business.
That said, there are plenty of templates that work for other financial topics or news sites.
One of the first things that stands out with this theme is that it includes an AI assistant. You can even use the AI to generate content or to use it as a support tool as it can answer your questions about the theme.
When it comes to design, you'll gain access to plenty of pre-made pages that use a professional aesthetic. Each can be customized using over 200 design options available in the theme.
Rise even includes a form builder, so give it a try today.
Benefits of Using Rise
Build stunning portfolio pages to show off your skill set
Fill WooCommerce integration to sell products, or accept payments for services online
Includes a built-in animation engine
Supports custom fonts
Create marketing banners to commemorate active deals
Drawbacks of Rise
No free version is available
Ultra is another wildly popular multipurpose theme that has an amazing selection of templates to choose from. Naturally, that means it has templates that are perfect for financial websites. In this case, it has a great one for accountants.
That said, you can repurpose other templates if you like the aesthetic, so you really do have a lot of options available.
As with most multipurpose themes, customization is the name of the game, and Ultra doesn't disappoint in this regard. It is full of options and style choices that can help you craft any kind of website. Most importantly, it is very easy to use at any skill level.
This is because it offers the Themify Builder. This editor allows you to build pages and tweak templates using a drag-and-drop interface. You can add entire site elements in minutes with this tool, which makes it a perfect choice for beginners.
Benefits of Using Ultra
Includes multiple add-ons like a countdown plugin
Includes over 60 pre-designed layouts
Add image filters to all of your pictures like greyscale
Build mega menus to accommodate larger websites
Gain access to section scrolling
Drawbacks of Ultra
There are a lot of options, which can make it a bit overwhelming when starting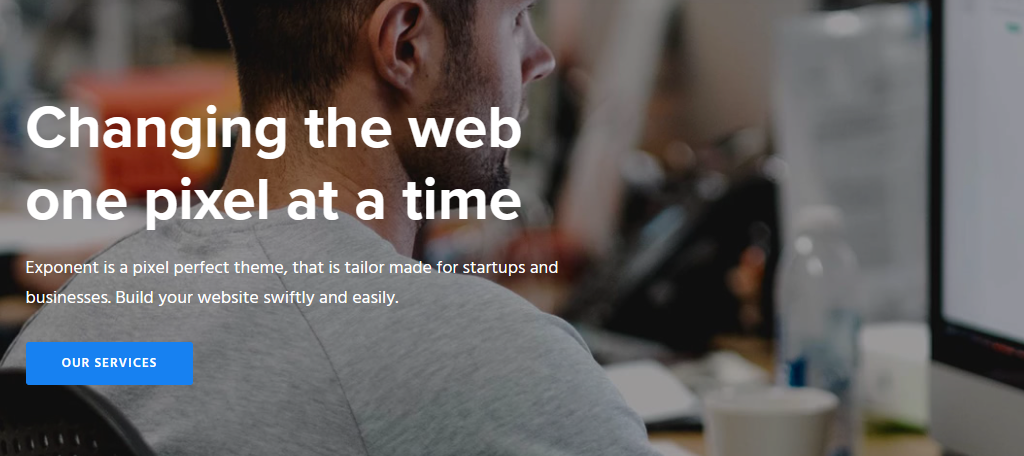 Exponent is another amazing premium business theme that can adapt to any kind of environment. It includes access to 26 pre-built websites that you can use as a starting point for your website. Each one is fully customizable using a drag-and-drop WYSIWYG editor.
On top of this, you'll also have access to over 200-page layouts. If you are looking for options, this is the theme for you.
The editor isn't just for pages either, as you can use it to build custom headers and footers. It even has a full portfolio builder, which is perfect for businesses. You can show off your staff's experience, skillset, and past projects through this builder.
Since many financial businesses today operate on an international level, you'll be pleased to know that Exponent is compatible with popular translation plugins like WPML and Polylang to ensure your content is readable in most languages. It even has GDPR support options to help with compliance.
Benefits of Using Exponent
Create sections for your website and save them for reuse
Edit global sections and make changes that affect the whole site
Import demo content in a single click
Fully compatible with WooCommerce to sell products and services to customers
Gain access to terrific support and documentation
Drawbacks of Exponent
Some of the templates fail to stand out from one another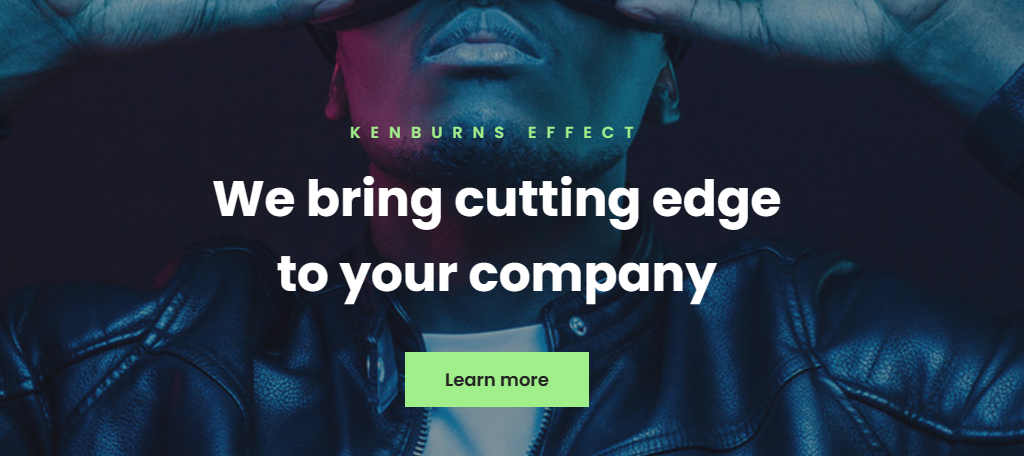 Adri is a theme built for consulting and business websites. It offers nine templates that you can use to start your website, but the real power comes from its customization options and support for page builders like Elementor.
Thus, no matter what kind of business site you want to make, this theme has you covered.
One thing that is important to note about the demo content is that it comes in both a one-page variant and a multipage variant. As such, it's really like having twice as many options. Naturally, this means the theme is well suited for one-page designs.
One of the strongest aspects of this theme would be the high level of support you get access to. Not only is there a support team that can help, and documentation, but the developers go the extra mile and even have a tutorial video to help you get started.
Benefits of Using Adri
Import all demo content in a single click
Easily change the colors of the site to match your brand
Add transparent navigation menus to follow users down the page
This theme is translation-ready with WPML support
Create your own templates
Drawbacks of Adri
It doesn't have many templates to choose from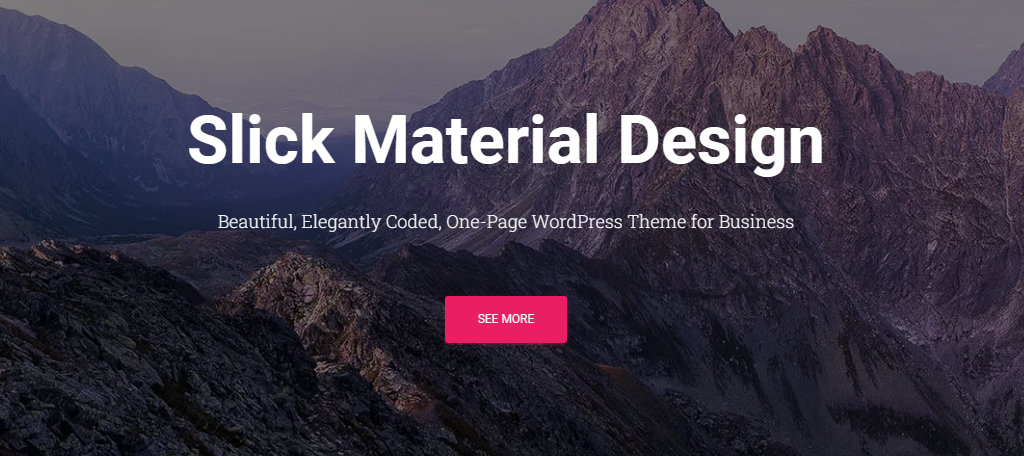 While business sites come in many shapes and sizes, one of the most popular design options remains the one-page design. The one-page design allows you to display all of the business information in one location and leave a strong impression on users.
After all, many users lose interest when they have to spend time navigating through different sections of a website.
When it comes to one-page designs, no theme does it better than Hestia Pro. As such, it is one of the best financial themes for WordPress thanks to a huge library of demo content you can utilize. It has a demo for every niche including finance.
You also have complete freedom when it comes to design. The theme is compatible with nearly every major page builder, so you can use your favorite tools to build.
You can even create slider and video headers for your pages to help capture visitor attention immediately.
Benefits of Using Hestia Pro
This theme is translation-ready with RTL support
Includes unique features for WooCommerce integration
Lightweight design ensures that your pages load fast
Responsive design ensures the site looks great on any device
Includes a full-width layout for blogs
Drawbacks of Hestia Pro
Site templates are locked behind the Pro version of the theme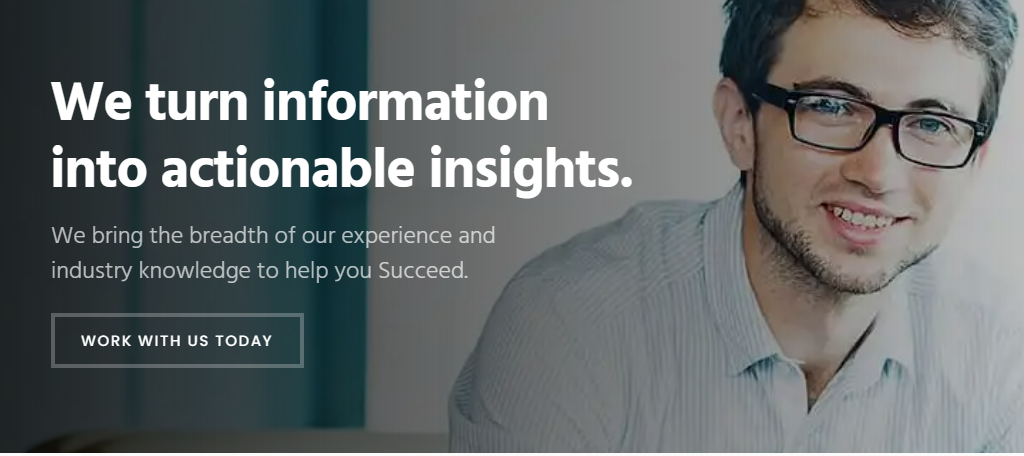 Success is one of the best financial themes for WordPress and focuses on businesses that provide professional services to clients. This makes it perfect for consulting firms, financial advisors, and so on. That said, you can branch out to other fields with some creativity.
This theme only offers you a single demo site, but that is because it also offers you a ton of customization.
As a result, you can realistically build any kind of site with the Success theme. One way you can accomplish this is through the creation of global sections. For instance, you may want to create a pricing table as a global section that you can reuse.
You can also edit a global section and see the changes throughout your website with a single edit (great for sales/deals). Perhaps one of the most interesting features is that it includes a narrated video tutorial. This theme will help you learn about everything it offers in an easy-to-understand way.
Benefits of Using Success
Fully compatible with Google Schema
Includes access to WPBakery
This theme is translation-ready with RTL support
Gain access to a talented support team that is ready to help
Supports a full-width layout
Drawbacks of Success
Does not include multiple templates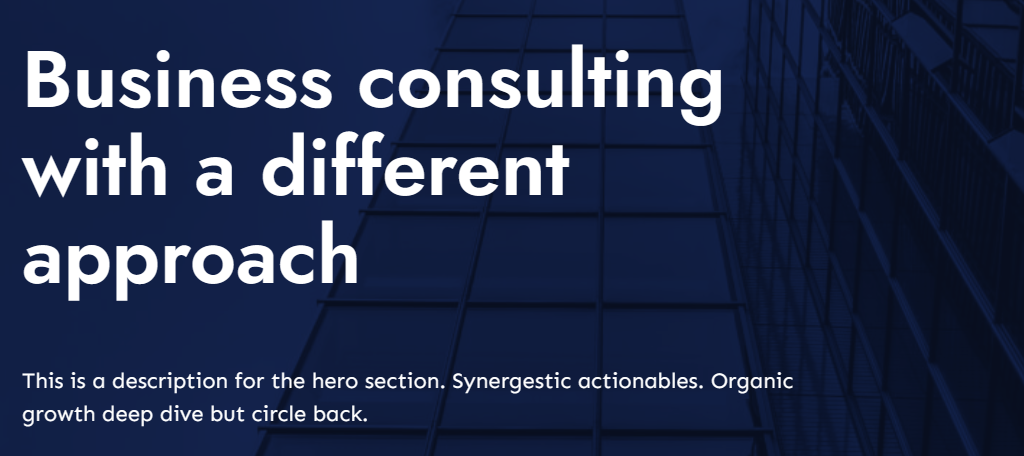 Neve is one of the best financial themes for WordPress due to a huge library of site templates and a wide range of customization tools. With them, you can create any kind of financial site from basic financial advice to a full-on consulting agency.
Neve's signature feature would be its flexibility. Seriously, you name it and Neve probably supports it.
For example, when it comes to building pages, you can use any of the popular options like Elementor, Beaver Builder, Divi Builder, and more. It is also compatible with nearly every plugin you would use like WooCommerce, Contact Form 7, Yoast SEO, and more.
As such, you have so many options available to you. Did I mention that this theme also provides over 100 starter site templates? When combined with all of the other options there is no limit on what kind of sites you can create. It also fully supports one-page designs.
Benefits of Using Neve
Fast lightweight design helps keep visitors on your pages
Build your own header and footer areas
Change the colors of your website from a global level to save time
Choose from several blog layouts
This theme is translation-ready with RTL support
Drawbacks of Neve
Support is not available 24/7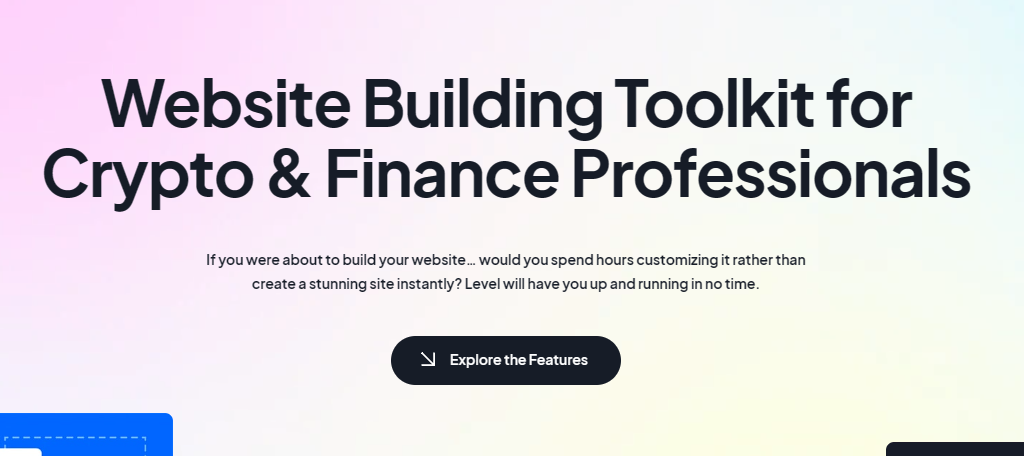 Level is an interesting financial theme for WordPress that focuses on financial technology and crypto. That said, it has over 30 demo sites and over 200 templates to choose from. As such, you can pretty much make any kind of website with it.
Combine that with great customization options and it becomes pretty easy to see why this is one of the best financial themes for WordPress.
Naturally, with such a large pool of demo sites and templates to work with, all of them can be edited. To make that easier, Elementor is baked into the theme to help you build any kind of pages you'll need or repurpose the demo content.
If you are looking to show off your staff, or just your own expertise, you'll be pleased to know that this theme offers 4 portfolio layouts to choose from. A strong portfolio can help you land clients that are impressed with your credentials.
Benefits of Using Level
Choose from over 990 Google Fonts
Includes a custom 404 Error page
Utilizes WPML to ensure your website supports multiple languages
Responsive design ensures the website looks great on any device
Includes a contact Form Builder
Drawbacks of Level
Only includes 6 months of support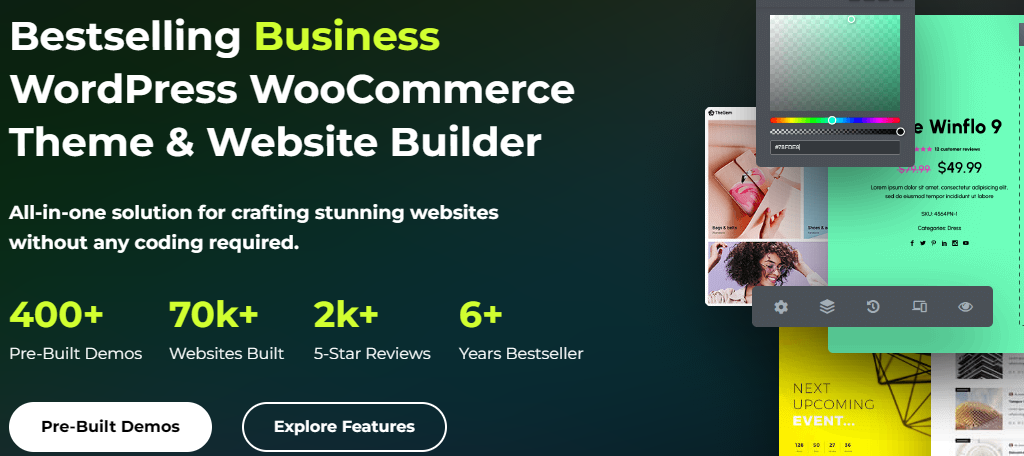 Closing out this list of the best financial themes for WordPress is none other than TheGem. It is easily one of the most robust multipurpose themes for WordPress with over 400 demo sites you can use. Naturally, many of those demos are perfect for financial sites.
As you can imagine from such a large selection, the demos come in all shapes and sizes with single and multi-page designs supported.
When it comes to page design, you can tweak any of the demo content or create a new page with the WPBakery page builder. As such, you gain access to a drop-and-drag that can help streamline the creation process for your website.
One of the crowning jewels of TheGem would be its support. Not only do you get top-notch support, but you get it in four languages. This makes it one of the most accessible support options on this list.
If you are looking for a lot of flexibility, look no further than TheGem.
Benefits of Using TheGem
Includes access to Slider Revolution for more options
This theme is translation-ready with RTL support
Combine template pieces
Create your own sections and reuse them
Choose from over 20 portfolio layouts
Drawbacks of TheGem
The number of options is pretty overwhelming, so expect a learning curve
FAQs About Financial Themes in WordPress
Are Premium Themes Better Than Free Ones?
There are thousands of themes to choose from and generally speaking, they can be broken up into two camps, premium and free. This raises the question of if premium themes are actually worth the cost.
There are two main differences between premium and free plugins on a general level. The first is the number of features that are included. Themes are far from just cosmetic in 2023 and often include a plethora of features.
This can be access to a page builder, or the inclusion of other premium plugins, or it can be through exclusive features not available anywhere else. The other main difference is the level of support you have access to.
Premium themes often provide access to dedicated support teams that can help you troubleshoot problems you may run into. This can be an invaluable resource for beginners, this it is often recommended to buy a premium theme when starting out.
With all of this said free themes are nothing to scoff at. While they typically have fewer features, that can be made up for by installing other plugins. In fact, sometimes you may not even need the premium plugins that come with your premium theme.
This can actually cause your website to slow down because you have extra plugins installed. Thus, free themes give you a bit more control over what gets added to your site. Overall, premium themes offer more, but sometimes you may not need the extra features.
What Are Theme Templates?
Templates are like skins for your themes and are the backbone of most major themes in 2023. In fact, the most popular themes are often multipurpose themes that include huge libraries of templates.
The end result is that one of these themes could work as a financial site, a fitness site, or anything else for that matter. As a result, themes with a lot of templates are extremely versatile and can match the needs of your website.
Is It Better to Use a Multipurpose Theme or a Niche Theme?
You might be wondering if it is better to choose a multipurpose theme that has a financial template or if you should just pick a dedicated financial theme for WordPress. The main difference will really be in the features they offer.
For example, a multipurpose theme will come with more generic, but useful features like sliders, and pre-made pages (404, Contact Us, etc.) while a more specific theme may come with tools that are more useful to your niche.
A great example would be a financial theme that comes with a stock ticker so visitors can see the latest stock prices. That said, since you can generally add these features with other plugins, it really does come down to what you find more useful.
Does My Site Need an Investment Disclaimer?
Making an investment is anything but a guarantee. For this reason, most financial blogs will have a short disclaimer on the page notifying users that investments have inherent risks and that it is not responsible for any losses incurred.
Essentially, this just means the site is not responsible if the advice they gave was not accurate and ended up making the investor lose money. If you plan on issuing investor advice, you should definitely include a disclaimer on your pages.
Failure to do so could make you the target of lawsuits from readers. This is why most financial, health, and legal blogs all contain these types of disclaimers. It's also worth pointing out to mention the country this advice pertains to.
US investment laws are different than the ones in the EU.
Should A Financial Site Always Be Professional?
While you should never say never when it comes to web design, this might be one of those cases where it is absolute. When users look online for financial advice or news, they want it to come from a professional setting they can trust.
If you don't believe me, look at the biggest names in the industry. You might notice that all of their websites utilize a professional design. It's not an accident. It is expected from visitors, and if you want to be taken seriously, be professional.
Are All Themes Compatible with WooCommerce?
Nearly every theme in WordPress is compatible with WooCommerce. And due to its sheer popularity, most themes go out of their way to advertise that fact even if it is a pretty standard thing.
This means no matter what theme you choose, you'll have no issue creating an online store, or using the plugin to accept payments for services or subscriptions offered by your finance website.
Can You Uninstall Prepackaged Plugins?
Most premium themes come with premium plugins included to help justify the price tag. There may be certain plugins that your website does not need, and removing the plugin could help you save site resources.
You will have no issue deleting these plugins from your theme, you can also reinstall them in most cases. Just refer to the theme documentation for all of the details, or contact the themes support team for more information.
Build A Financial Site with These WordPress Themes
As you can see, WordPress has an amazing selection of financial themes to choose from. Even most multipurpose themes include financial website templates that you can take advantage of, which means you have a ton of options to choose from.
It is really about finding a theme that matches the design aesthetic you are going for while also having a professional vibe. This is one field where trying to be different will most likely backfire.
In any event, I hope this list has helped you find the perfect theme for your new website.
Which theme do you use for your financial website in WordPress? What is the most important factor when picking a theme?