Do you know what a restaurant, dentist's office, and hotel have in common? You can book an appointment or reservation online to ensure you get help. And you can add this in WordPress with booking plugins.
WordPress has no shortage of plugins that specialize in helping visitors book an appointment or reservation. And picking a good one for your site can help make the process seamless, which in turn, boosts your business's bookings.
Of course, some booking plugins are specialized for specific types of businesses. Thus, you are going to need to spend a bit of time to make sure you pick the best one for your specific needs.
Today, I will cover 17 different booking plugins that can help take your business to the next level.
What Are Booking Plugins in WordPress?
WordPress booking plugins are tools that allow your business to set up an appointment, or reserve a space at a designated time or place. It is an essential part of any business as both employees and customers will use it.
Booking plugins come in a variety of sizes and shapes. Some might be as simple as a calendar with a form built-in. However, they can get a lot more complicated as more moving parts are added to the equation.
For example, if you are renting out a party space or venue, you may be responsible for decorating, supplying the and drink, or providing the right type of live entertainment. There's a lot that goes into setting up a reservation.
But there are also cases, where it really is just up to the customers to do all of that. Thus, the reservation system needs to be robust enough to match the needs of your business model.
Some are built for a single schedule, while others can support multiple. It's all about finding the one that's right for your business.
How Can WordPress Booking Plugins Help A Business?
In no uncertain terms, hotels, resorts, cruise lines, and many other businesses could not survive without a booking system in place.
These systems allow for the business to always have customers lined up, and more importantly, it also reduces the time employees need to answer phones and manually book these reservations.
In fact, just the thought of having to call a business to book an appointment or reservation is enough to scare away customers.
Even when you are not setting up appointments weeks, months, or even years in advance, it can help ensure your business runs smoothly on a daily basis.
For instance, think about a restaurant for a moment. Normally you can walk into a restaurant and quickly be seated. However, that's not always the case for large parties. And sometimes, these can end up as impromptu gatherings.
Thus, being able to reserve a larger table for a party is essential.
Appointments not only help ensure that there is less wait time for customers, but it also opens up a new revenue source for businesses.
Have you ever failed to make an appointment? Well, there may be a penalty for doing so, there may have even been a fee for making the reservation in the first place.
While customers won't be happy, it is something that can really help the business.
1. Booking & Appointment Plugin for WooCommerce
When it comes to online storefronts in WordPress, Woocommerce dominates the market. And it has hundreds of add-ons that make it a competent booking and reservations system with the Booking & Appointment Plugin for WooCommerce at the top.
This is easily one of the most robust and versatile add-ons for Woocommerce as it can fit the needs of just about any business.
Regardless of if you are renting out hotel rooms, salon appointments, hardware rentals, or something else entirely, it's possible to configure the plugin for that something.
Most importantly, the interface that both customers and staff will interact with is easy to use. This makes it easy for customers to set up a reservation while making it easy for staff to verify the information.
While there are a ton of great features to take advantage of, here are a few of the lay ones:
Google Calendar sync for both customers and staff
Gives the business the ability to set up SMS (text message) reminders for customers
Compatible with all payment gateways available on WooCommerce
Support for over 60 languages
Allows the business to set up variable rental period lengths
While the plugin does not offer a free trial, there is a demo site you can interact with. The good news is that you have a 30-day, money-back guarantee, thus you do have some time to make sure it is right for you.
There are three pricing plans available:
Starter $199 per year
Business $299 per year
Enterprise $399 per year
2. WordPress Online Booking and Scheduling Plugin – Bookly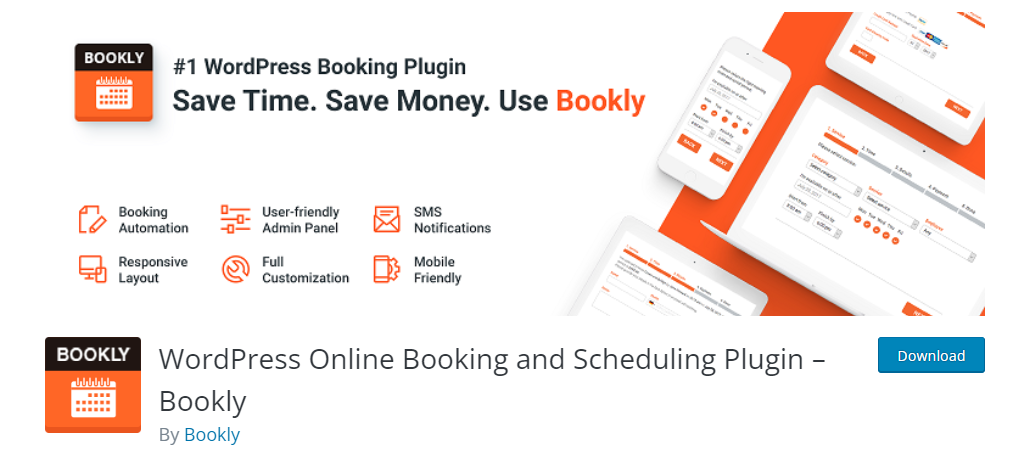 Regardless of if you are looking for a free basic booking system or a feature-rich premium tool, the Bookly plugin has you covered. It provides the best of both worlds and that's pretty rare when it comes to booking plugins.
Due to the free nature of these plugins, it is an extremely useful tool for beginners to start off with.
The free version gives businesses the ability to book appointments online. The interface is quite modern, in fact, it's probably the most modern on this list. Creating a booking is quite streamlined, and businesses have a ton of options to choose from.
However, the free version does have some noticeable limitations. For instance, it does not support any payment methods.
Thus, if you were planning on charging for bookings or reservations, the free version won't cut it. But that's where the premium version comes in. This version supports a variety of payment gateways.
Here are some of the key features you can expect if you purchase the premium version:
Integration options Zoom and Google Meet to help improve communication
Sync options with Google calendar
Access to analytics to help you see how your business is performing
You can set up an unlimited number of services and add an unlimited number of staff
Provides templates for email notifications and supports integration with Mailchimp
While the free version can be enough for small businesses just starting out, as your business grows you can upgrade to the premium version which starts at $89. There are also premium add-ons you can purchase for additional features.
3. Booking Calendar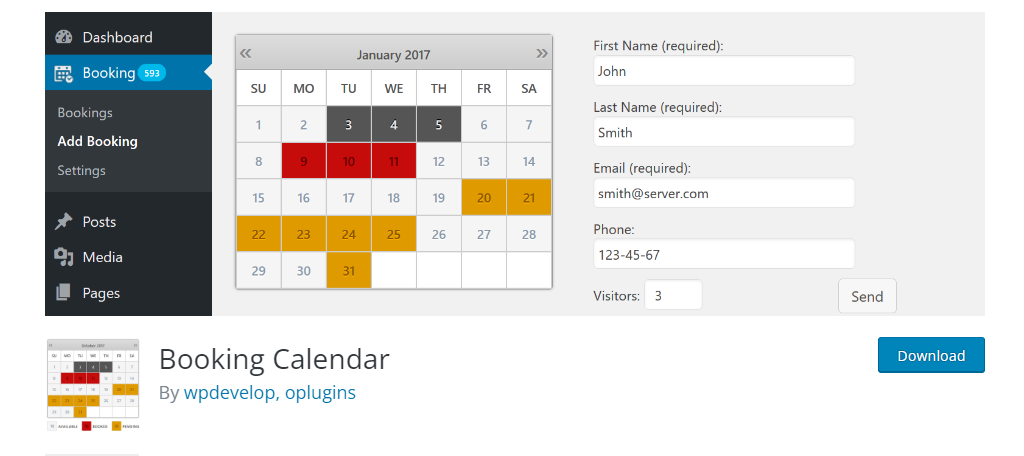 If you are looking for the best booking plugins on WordPress, it won't take long to find the Booking Calendar plugin. In fact, it's actually the very first booking plugin for WordPress as it started all the way back in 2009.
Since then, it has been installed over 2.2 million times and has continued to remain one of the best options.
This plugin offers both a free and premium version.
The free version will work quite well for new businesses that only need the basic features. Users have access to both a calendar and a list view and can make changes from either.
One of the best parts about this plugin is the color coding. This applies to both views and can help make recognizing different types of booking a breeze. Not to mention that the plugin is ready to go out of the box.
That's right, you just need to add the shortcode to add it to your live site. It really doesn't get any simpler.
If you are looking for more robust options, the premium version has you covered. Some of the key features include:
You can sync your bookings on Google Calendar, Airbnb, TripAdvisor, and Booking.com
Offers features that prevent double bookings from happening
Supports over 30 languages
This tool can be placed in the sidebar area via widgets
Redirects users to a "Thank You" or "Appointment Booked" page after a successful booking
The free version is a great choice for new businesses, but as your needs grow, upgrading the plugin is a great choice. The premium version of Booking Calendar has several plans to choose from.
Personal starts at $79
Business Small starts at $149
Business Medium starts at $249
Business Large starts at $349
MultiUser starts at $649
4. Bookingo – Course Booking System for WordPress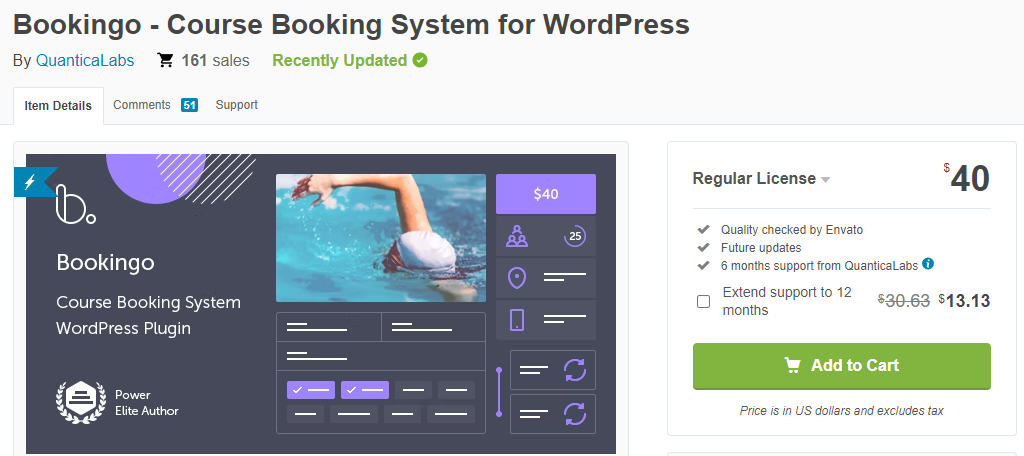 When the pandemic began, many businesses scrambled to find online solutions to stay in business. And businesses that specialized in offering coursework turned to the Bookingo plugin.
This plugin specializes in not only letting customers sign up for courses but also allowing you to post those courses online.
So, what kind of courses does this plugin support? Well just about anything such as physical courses like swimming lessons, driving lessons, yoga, martial arts, and more. It also works for more traditional classes like supplementary classes and tutoring.
Most importantly, the design of this plugin allows the users to create stylish class pages for customers to sign up. And when the sign-up looks good, that means more people will be inclined to register.
You will have control over every element of the plugin and it can even integrate with other tools like WooCommerce.
Of course, this is only scratching the surface. Here are some of the other great features you can expect from this plugin:
You can create your own form fields for customers to fill out
Utilizes the Nexmo and Twilio API to send out SMS notifications to customers
You can create coupons for your business to help draw in more customers
Integrates with the WPBakery Page Builder plugin (but can also run without it)
Supports a variety of payment gateways, including all of the ones in WooCommerce through integration
Bookingo is a premium plugin only. There is a demo you can use to test out the plugin and if you purchase the full plugin for $40, you can import those demo settings into the plugin.
5. Salon Booking System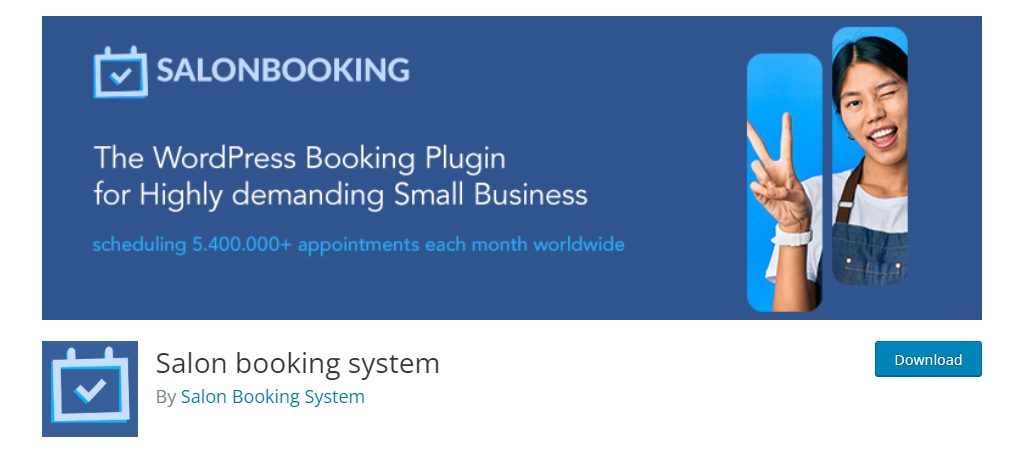 If your looking for WordPress booking plugins for your salon, barber shop, or spa, look no further than the Salon Booking System plugin. It was made specifically to answer the needs of any salon on a daily basis.
This was vital for many businesses that had to follow strict lockdown regulations, where appointments became necessary.
One of the strongest features of this plugin is the notifications it can send out. It is equipped for both email and SMS notifications, while also supporting Google Calendar.
If you upgrade to the premium version, staff will have access to a mobile app to help them keep track of upcoming appointments and communicate with other staff members.
It's also worth pointing out the number of integration options that this plugin offers including big names like MailChimp and WooCommerce. Here are some of the key features you can look forward to on the premium version:
Stores can create rules for the entire store to follow, or rules for specific assistants and services to follow
The tool can help collect feedback from other sources like Google My Business and Facebook reviews
You can create discount codes and use the analytics to see if they are successful
Accepts online payments (either a small deposit or the entire fee) when booking
Customers get access to their own page that contains all of their reservations, future, and past
The free plugin is a great choice for brand-new salons that might not have a lot of staff to manage. But as your staff expands and you get more customers, upgrading to the premium version is worth the cost.
Salon Booking System offers customers a variety of plans that include:
Basic starts at €69
Business starts at €89
Full Support starts at €149
Agency starts at €199
Unlimited starts at €399
6. Appointment Hour Booking – WordPress Booking Plugin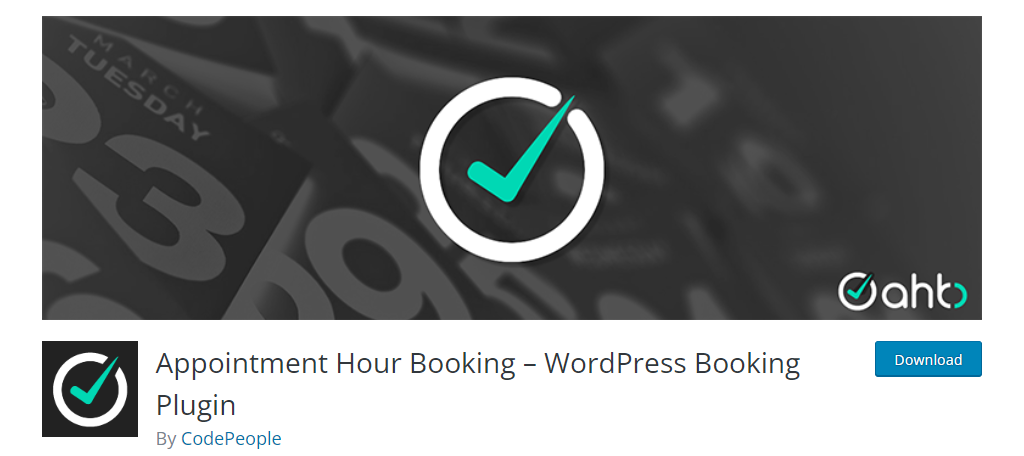 If you are looking for competent booking plugins in WordPress that won't break the bank, the Appointment Hour Booking plugin is a perfect choice. It's a versatile booking tool that can work for most business types.
Most importantly, it is easy to use for both customers and management. It has both a free and premium version to choose from.
You can start off by telling the plugin what your business hours are including what holidays you are open or closed. With this information, the plugin can ensure that appointments are only made when you are open.
It has even more features that help prevent double bookings, which helps avoid easy-to-make mistakes.
While not all stores may find this useful, you can actually print out the calendar view with all of the appointment information. This can help serve as a backup for staff if your website is temporarily unavailable.
Of course, if you want all of the features, you will want the premium version. Here are some of the key features:
Payment integration with a variety of payment services like PayPal, Stripe, and more
Integration with major third-party services like MailChimp, reCAPTCHA, SalesForce, and more
Supports both iCal and Google Calendar sync
SMS notification delivery services
Access to a visual form builder to help make it fit your business
The free version lacks many of the necessary features such as accepting online payments, so it will only get you so far. The good news is that the premium version is very cheap and offers several plans that just differ by the number of websites.
Professional starts at €5.99 for one website
Developer starts at €11.99 for five websites
Platinum starts at €17.99 for 25 websites
7. Appointment and Event Booking Calendar for WordPress – Amelia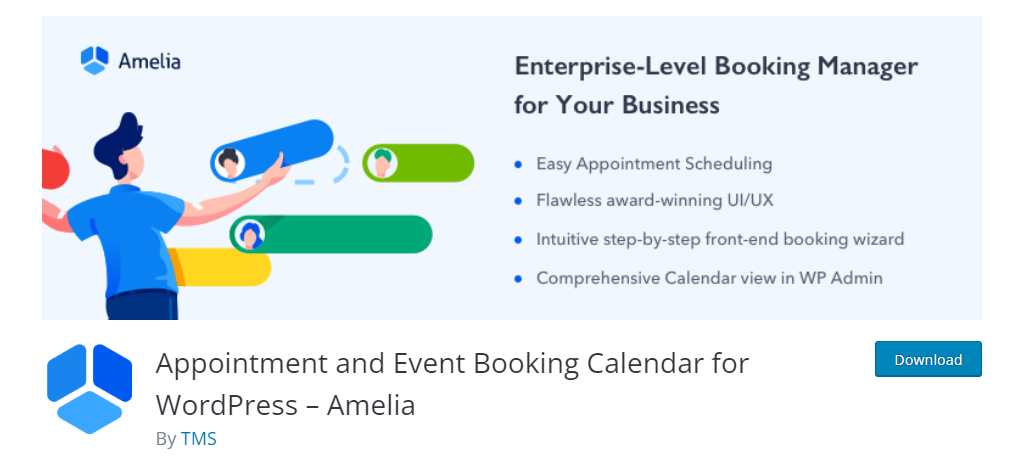 When it comes to easy-to-use WordPress booking plugins, you can not go wrong with Amelia Booking. It's the perfect choice for setting up appointments or just general event reservations.
It has some of the best UI/UX designs on this list. Combined with a setup wizard, Amelia is quite beginner friendly.
The free version of the plugin, dubbed Amelia Light, is a beginner-friendly tool perfect for new businesses. It requires no coding knowledge whatsoever and includes many key features for free.
This even includes access to email and SMS notifications, which are usually locked behind paywalls.
Of course, as your business grows, you will eventually need a more robust tool kit, and that's where the premium version comes in. This allows you to book recurring appointments and set up unlimited appointments with unlimited staff.
With such a long list of features available, here are some of the highlights you can expect:
Native Zoom integration allows you to book appointments with customers over a Zoom call
Advanced search options to help you find the information you are looking for
You can create forms for individual employees to help them create their own identity
Schedule buffer time between appointments (great for cleaning up an area between customers)
Full coupon support including creation and tracking
The free version can go pretty far, but if you need a more robust toolkit, the premium version has three plans to choose from that are available in annual and lifetime formats:
Basic starts at $79 per year or $199 for life
Pro starts at $119 per year or $399 for life
Developer starts at $249 per year or $589 for life
8. VikBooking Hotel Booking Engine & PMS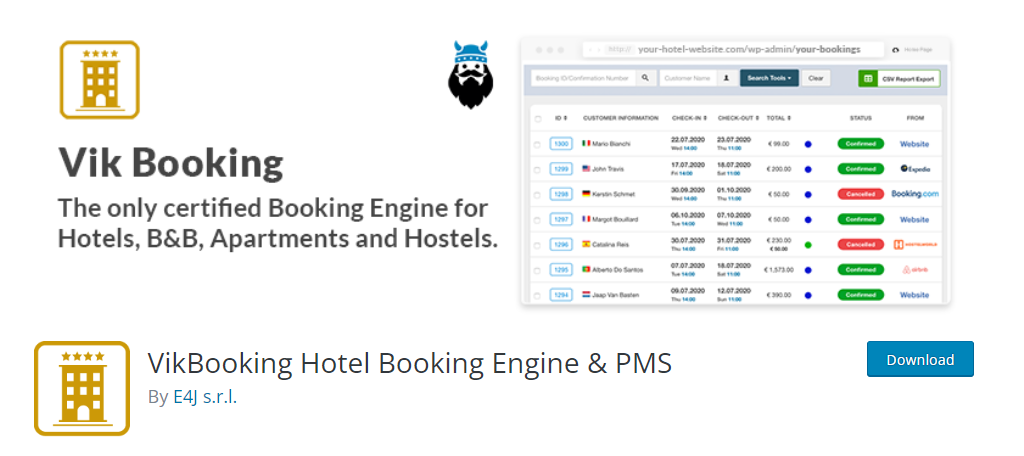 When it comes to hotels, booking systems are make or break, which is why everyone has one in place. If you don't, you need to create one today, and the VikBooking plugin can help you improve your business.
This plugin specializes in hotel bookings and is used daily by thousands of properties around the world.
As you might expect from a plugin specializing in hotels, it can handle any pricing structure including occupancy, nightly, LOS, OBP, and more. And you can customize the rates for each room offered by your hotel.
It even has built-in translation tools to help make your website accessible to international tourists.
The Pro version of this plugin takes everything to the next level with a vast array of exclusive features. One of these key features is automatic seasonal rate adjustment, which is important for areas that are more active for shorter periods (like the summer).
Of course, that's just scratching the surface. Some of the other key features include:
Easy to use interface for staff you handle check-ins, check-outs, and no-shows
Access to a variety of analytics including graphs and charts to help you see how your business is performing
Access to additional options for adding extra fees for rooms
The ability to set up booking restrictions (like forcing guests to book for at least two days)
Access to over 60 custom payment gateways
If you need to upgrade to the Pro version it's quite a simple process and starts at a price of €140.
9. Five Star Restaurants Reservations Plugin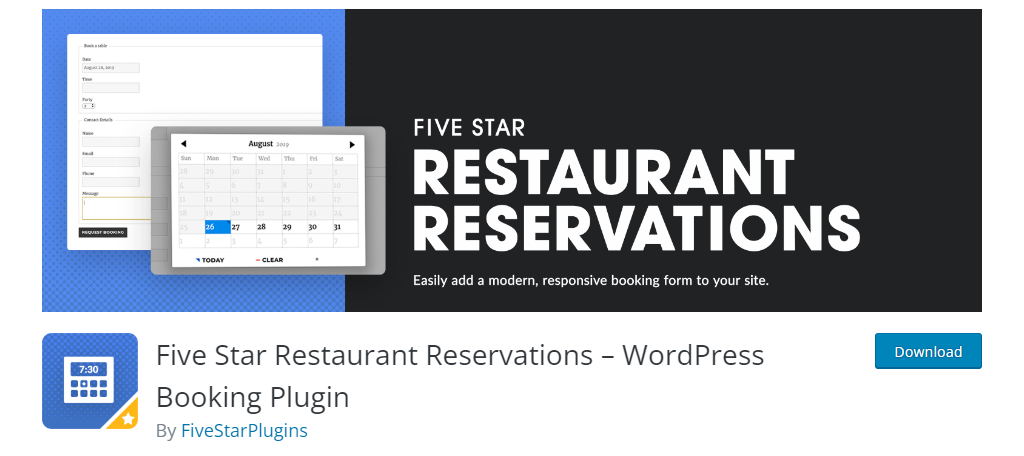 Many restaurants, especially high-end ones, offer reservations. This helps customers avoid long wait times and can help the staff prepare larger tables. While there are many plugins that can help restaurants, the Five Star Restaurant Reservation plugin stands tall.
Not only does this plugin offer users an excellent design, but it's also really easy to use.
Instead of having to use a shortcode to place the reservation option on your website, this plugin utilizes a dedicated block for Gutenberg. Thus, anyone can use this plugin effectively.
The plugin has a variety of features to help your restaurant avoid getting too busy. For instance, if you receive too many reservations, the plugin can be set to automatically reject them or send them to you for manual approval.
The Pro version takes this to the next level by allowing you to block customers that continuously set up a reservation and then become a no-show. Of course, that's just one feature, here are some others:
Users have access to a variety of customization options to make sure the forms match the website
Automatically subscribe guests to your email subscription with MailChimp integration
Create custom fields to ensure the plugin fits your needs
Access to email templates to help your notifications pop out to customers
A Bookings page that allows you to see the status of reservations
The free version will work great for smaller restaurants just starting out. But if you need access to more features, the Pro version starts at just $157 for a single site.
10. Hostel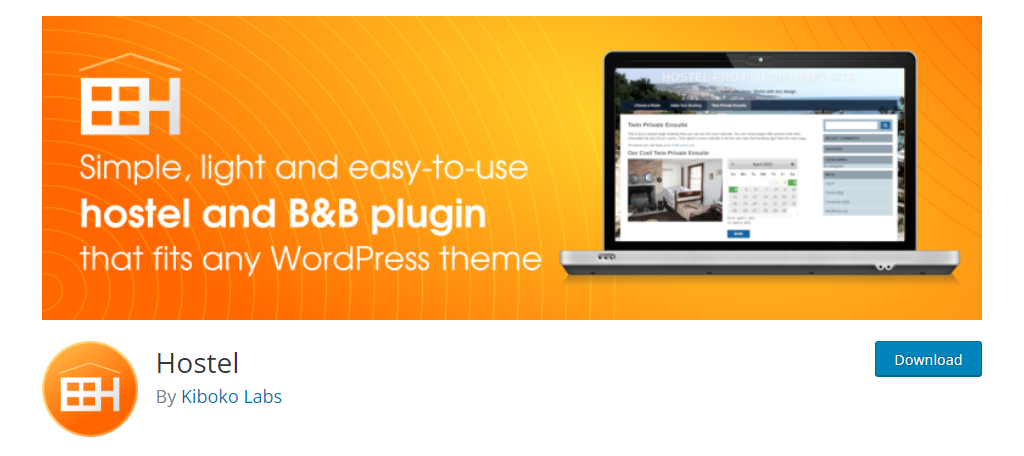 If you are running a Hostel or a BnB website, you probably won't need a complex tool to keep customers happy. And Hostel is one of the best WordPress booking plugins available for such needs.
There's not much to it, but I would say that's one of its strongest qualities.
Setting up this plugin is pretty simple. First, you'll start off by configuring the settings to match your business, then you can begin listing the rooms you have available. This includes room for pictures to show to potential guests.
Finally, there's just the actual process of booking the room, which allows users to use a drop-down to select the room, date, and time for their stay. The free version is a really simple tool, but for some places, that's all you'll need.
The premium version will add a robust number of features that larger Hostels or ones that manage multiple properties will want to use.
Some of the key features of the premium version include:
Access to seasonal pricing tools to help manage room prices
Booking forms are customizable to help the plugin adapt to any hostel situation
Supports iCal integration and sync
Analytic tools that help you identify what rooms are the most popular at what time of the year
Create add-on services like Bike Rentals to help accommodate guests
The premium version of the plugin has two plans available:
Hostel Pro starts at $77
Hostel Pro Ensuite starts at $97
11. BirchPress Scheduler
If you are looking for an easy way to accept online payments for your bookings, then consider using the reliable BirchPress Scheduler. This plugin makes it very easy to accept payments directly via credit card or PayPal.
That means you can avoid having to deal with a Payment gateway. That said, you can get more options by integrating with WooCommerce.
BirchPress is a versatile tool that can be configured to fit the needs of most businesses. The booking system can be made to fit nearly any format, as the fields themselves are customizable.
It also comes with a variety of safeguards to help you avoid booking mistakes. For instance, the holiday book system will automatically cancel bookings on holidays. Of course, you can change this if you plan to do business on those days.
Overall, it is a terrific tool that does everything a business could need. And if you are looking for more features, here are some of the highlights:
Booking features can be embedded on any post, page, or widget area by using shortcodes
The built-in form editor allows you to build any kind of form and make it match the rest of your website
developers have access to thousands of functions, action hooks, and filters
Supports all major calendars across most devices
The email notification system makes it easy to remind customers of upcoming notifications
This plugin only offers a premium version and offers customers three plans that include:
Personal starts at $99 per site
Business starts at $199 per site
Business + starts at $249 per site
12. Booknetic
When it comes to listing the best booking plugins in WordPress, it's impossible to not mention Booknetic. This is another all-in-one booking plugin that can match any business's needs.
It can do it all while remaining easy to use, which makes it a perfect pick for beginners.
Thanks to the wide range of customization options, the plugin can be used to create booking forms for virtually any business type. Combine this with a plethora of integration options and you have a very powerful booking system.
While most booking systems today are built with mobile users in mind, this one probably does it the best. It's easy for both employees and customers to make booking changes on the go due to an excellent design scheme.
It also provides a plethora of information through its analytics section. This helps keep a finger on the pulse of the business.
Of course, with so many features, it's impossible to mention them all, so here are a few highlights:
Sign-in options are available using Google or Facebook to help make it easier for customers
access to the most popular payment gateways like PayPal and Stripe
Utilize email or WhatsApp to send out notifications to customers about upcoming appointments
Create gift cards and discount codes to attract new customers or rewards existing ones
Reporting options to see how your business is performing
Booknetic is a premium plugin that starts at $79, which is pretty cheap considering how integral a booking system is for most businesses.
13. Simply Schedule Appointments – WordPress Booking Plugin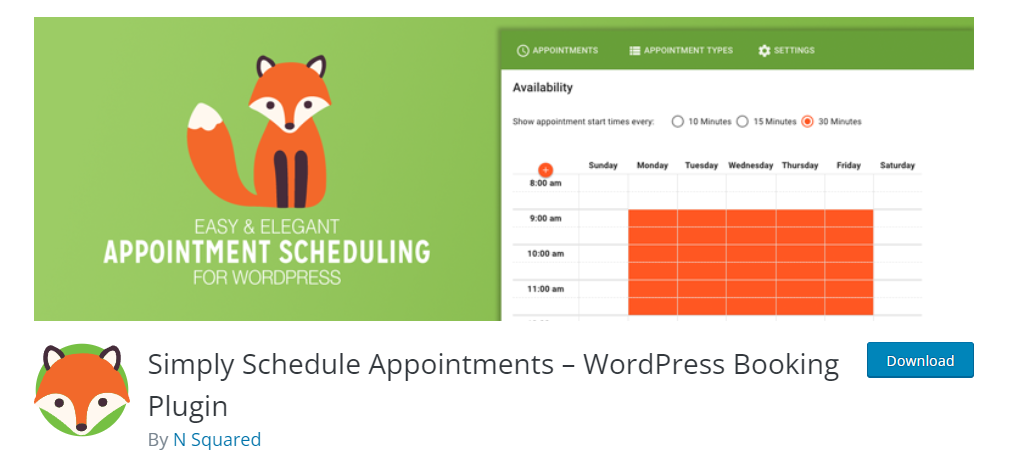 If you are looking for a way to make a booking website quickly and easily, you need a great plugin to do it, and the Simply Schedule Appointments plugin can be your ace in the hole.
With its incredible versatility, it can meet the needs of any business model while remaining easy to use.
This plugin offers users a free and premium version. The free version is a great fit for new businesses that need to implement a simple appointment system that offers a booking calendar for WordPress.
With it, you can easily manage your business hours, how long each appointment should take, and have some time in between appointments to unwind or clean up the area. It's a great option for new businesses.
Of course, every business eventually needs to upgrade its tools, and a booking system is no exception. Here are some of the key features you can look forward to in the premium version:
Accept payments in advance for your booking through PayPal or Stripe
Excellent customer service that can help you troubleshoot any problems that may arise
Ensure new leads are signed up for email notifications with Mailchimp integration
The setup wizard makes the plugin easy to set up, and you can easily upgrade from the free version
SMS notification support
If you are interested in upgrading to the premium version, it has three plans available:
Plus Edition starts at $99
Professional Edition starts at $199
Business Edition starts at $349
14. Booking Activities
Booking Activities is a free WordPress scheduling plugin that has a variety of premium add-ons to expand its functionality. what really makes this one of the best booking plugins in WordPress is the editor.
It is a custom-built WSYISWG editor that gives you complete freedom over every aspect of the booking process.
The editor utilizes a drag-and-drop system, which makes it easy to use for beginners. Not only can you use this for individual events, but you can also group the events together, which can help you bundle packages to customers.
For example, a tour company could schedule multiple tours around a city over the course of a weekend. There's a lot of versatility here, so creative developers can really make the most of it.
While the plugin is completely free, there are premium add-ons you can purchase to expand the feature set. Some of them include:
Advanced Forms for €59
Display Pack for €49
Prices and Credits for €69
Notification Pack for €49
Order For customers for €39
These add-ons can add a lot of versatility to the kit, which can be a huge boon for businesses.
15. Start Booking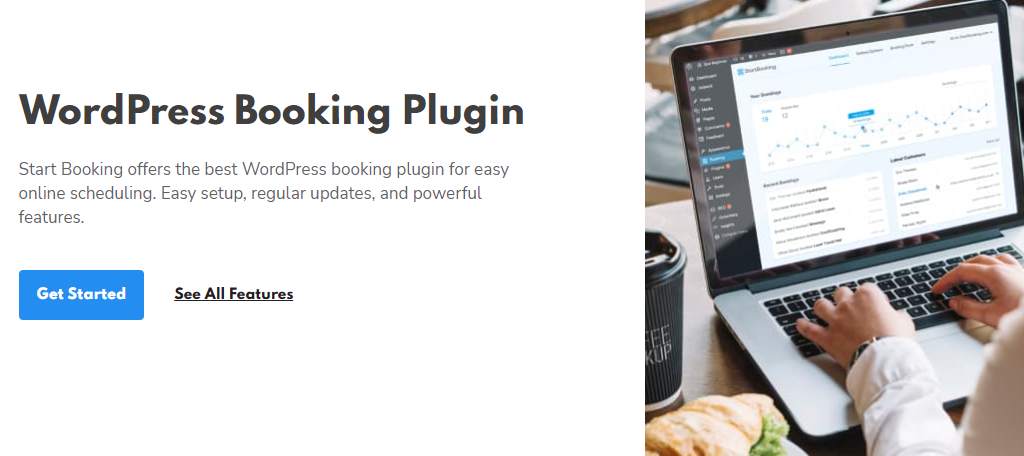 Start Booking has everything you would expect from the best WordPress booking plugin. It's versatile, easy to use, and capable of integrating with a plethora of other plugins and tools.
That's exactly why it's on this list. Its toolkit is broad enough to meet the needs of any business.
Start Booking offers users a stunning interface that is easy to use. In fact, it's really one of the cleanest interfaces on this list. And it's not just for individual appointments either. Start Booking can handle group activities like a Yoga or Swimming class.
Multiple customers won't have any problem signing up for the event. Of course, this is far more than an appointment booking plugin for WordPress because it doubles as a Customer Relationship Manager (CRM).
As a result, you'll find it not only easier to make appointments but also get help keeping those clients happy. A few of the other key features include:
Accept payments online from customers with Stripe
Set up meetings with customers or create virtual classes using Zoom
Utilize SMS messages to ensure that customers know when their upcoming appointments are
Swap between one-day, three-day, weekly, and monthly calendar views
Setup buffer times in between appointments
Start Booking is a premium plugin that does have a limited free trial you can test out. It offers users two plans:
Basic starts at $25 per month
Business starts at $75 per month
16. Team Booking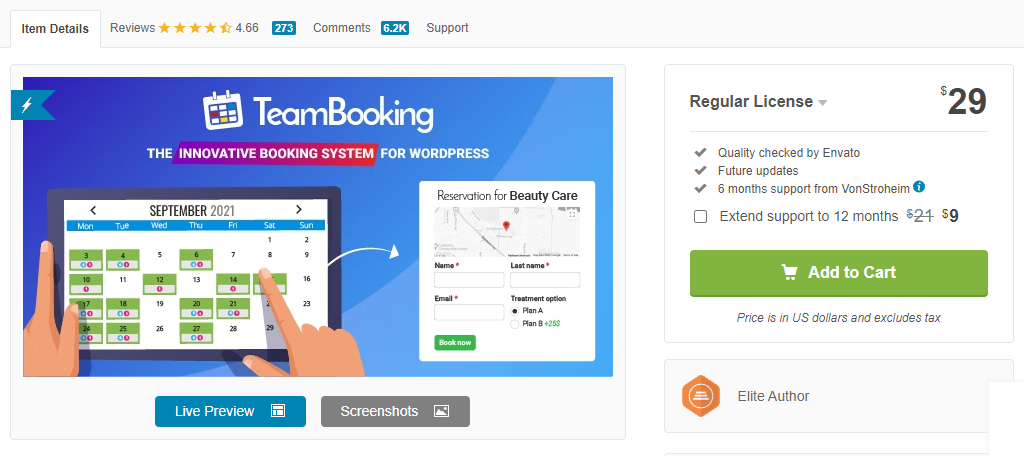 Team Booking is another excellent WordPress plugin that excels at helping your business set up an appointment in no time. And possibly most important, it's really affordable, especially for brand new businesses.
For just $29, you can have a fully functioning booking system ready to collect payments. It's far cheaper than most of the plugins on this list.
However, do not let that fool you into thinking you'll get fewer features. Quite the contrary, this plugin is feature-rich. Yet, despite a long list of features, the plugin remains highly accessible to beginners.
On the customer's end, they will be able to see key information like price, date, time, and location (very important for stores with multiple locations). It's all streamlined into a simple calendar view, but also supports a list view.
There are a ton of features beyond the basics that you can look forward to:
When viewing a location, customers will have access to a map to help them find the location
Supports major payment gateways like PayPal and Stripe
Access to a robust and customizable form builder
The ability to approve or deny reservations before they are confirmed
Access to unscheduled event forms, which are perfect for impromptu meetings
17. Booked – Appointment Booking for WordPress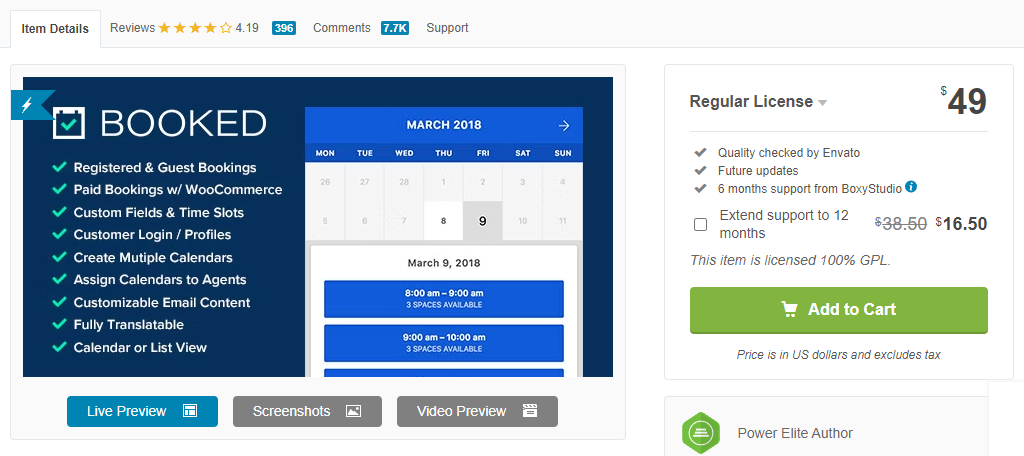 Closing out this amazing list of WordPress booking plugins is the amazing Booked plugin. Don't let its placement fool you, it is one of the best booking systems available on the platform and has a ton to offer any business.
As you might expect of any entry on this list, it is extremely easy to use. So, regardless of your experience, you won't have any trouble.
Starting with the basics, you can configure calendars for any occasion. This includes creating scheduling calendars for specific staff members (ideal for tutors or fitness trainers), or just for the general business if it doesn't apply.
With an integration option for WooCommerce, you will have access to every payment gateway under the sun. And you won't have to worry about mobile users, the plugin was built with them in mind.
Since it is impossible to go through every feature, here are some of the highlights:
The color coding option makes everything easy to view at a glance
Create custom fields in your forms to make the plugin work for any business type
A one-time payment that includes lifetime updates is all you need
Easy-to-use shortcodes that make the plugin a cinch to learn and master
Guest booking is available to help make it easier for customers
This is a premium plugin that starts at a low price of $49.
The Best WordPress Booking Plugins Depend On You
As with just about anything, the quality of a product is largely dependent on the needs of the user, and picking out the best WordPress booking plugins is no exception.
Be sure to take advantage of any free plugins or free trials to test the waters and see if the tool is right for you. Never settle for the first plugin you try, as there are literally hundreds to choose from.
What are the best WordPress booking plugins on this list for your needs?