The world's eCommerce giants invest heavily in coupon marketing. And you also should, with the right WordPress coupon plugin.
In the hyper-competitive landscape of online shopping, thriving requires more than just quality products. It's about luring potential customers, enticing window shoppers, and rewarding loyal patrons.
But how? One word: Coupons.
And when it comes to coupons, leveraging coupon plugins has become paramount. Yet, not all plugins deliver exceptional results. In fact, the right one can be a game-changer for your business if used properly.
This article dives deep into the best WordPress coupon plugins, including the key features of each. In the end, you'll get to know what plugin will work best on your online store.
Our Picks for the Best WordPress Coupon Plugins
How do you know you're choosing the best plugin for your coupons? It boils down to the specific features that set them apart from the rest.
Here are the things that you should look for in your coupon plugin:
Ease of Use: It offers a user-friendly interface suitable to everyone, even beginners.
Flexibility: The plugin can provide various discount types, from percentages to fixed amounts.
Integration: It's compatible with other tools and eCommerce platforms.
Customization: Users can adjust the appearance and functionality of their coupons.
Reliability: It operates smoothly, with minimal issues and consistent updates.
Analytics: The plugin gives insights into how customers use coupons.
Mobile Responsiveness: Coupons display correctly and work on all devices.
The features listed above aren't just arbitrary choices; they've been meticulously selected. And we've kept these crucial elements in mind when curating our picks for the best WordPress coupon plugins listed below.
Who said coupon creation had to be tedious? Explore how Coupon Creator can revolutionize your discounts!
One key feature of this plugin is its innovative Coupon Block. With it, you can showcase individual coupons or an entire loop of them. Display your discounts just the way you envision.
Coupon Creator is definitely one of the best WordPress coupon code plugins. It's loaded with features from generating dynamic coupon codes to offering advanced templates like 'Modern' and 'Two Column.' And if WooCommerce is your platform of choice, the integration is nothing short of seamless.
The plugin doesn't stop there. The "Click Reveal" feature is a clever feature. Every click gets tracked, codes get copied, and there's an option to usher customers to a new window.
Lastly, Coupon Creator goes the extra mile by offering Vendor and Location taxonomies. This ensures that visitors can filter and find coupons in a jiffy, making their shopping experience that much smoother and enjoyable.
Benefits of Using Coupon Creator
Provides dedicated support for bug troubleshooting
Offers Block Editor support for enhanced content layout
Create and display WooCommerce Coupons from its editor
Allows for efficient coupon and category searches
You can setup expiry dates on coupon
Drawbacks of Using Coupon Creator
Features are mainly targeted for small eCommerce stores
Need to upgrade to premium to maximize the plugin
Direct support is only exclusive to Coupon Creator Pro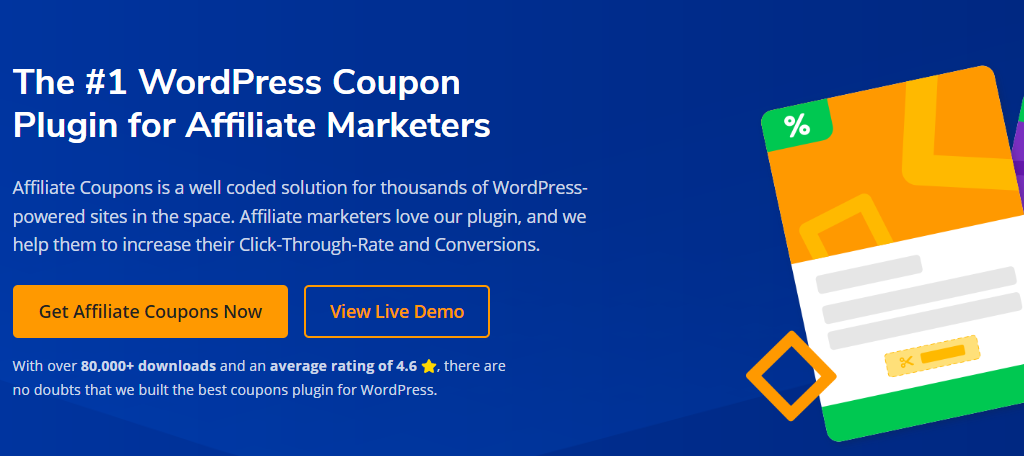 Unlock affiliate success effortlessly with the Affiliate Coupons plugin.
One of Affiliate Coupons' key features is its flexibility. Design an array of coupons, each tailored with exclusive deals and offers.
Every coupon can also be connected to a specific vendor. Through this, you can change universally valid attributes like descriptions or affiliate links easily.
This WordPress coupon plugin works with any theme, thanks to its adaptable shortcodes and templates.
With its intuitive design and adaptability, Affiliate Coupons stands out as a top choice. It's the perfect boost for your online venture.
Benefits of Using Affiliate Coupons
Fully responsive design on both desktops and mobile devices
Multiple styles and templates for diverse visual presentations
Manage multiple vendors and coupons with dynamic display capabilities
Compatible with all themes
Dedicated service team to assist with any inquiries or issues
Drawbacks of Using Affiliate Coupons
Filter option on post types can be improved
The free version has limited features
Not a lot of customization features comparatively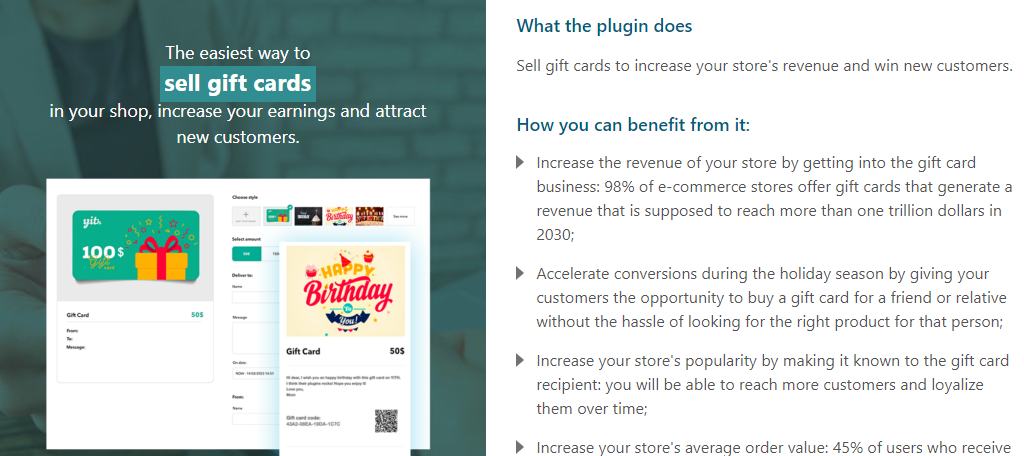 Gift, surprise, delight – all with YITH WooCommerce Gift Cards plugin.
When it comes to WordPress coupon code plugins, YITH is one of your best choices. It offers businesses a seamless way to create gift cards or discount codes tailored for their valued users.
These gift cards aren't just visual. They serve as functional discount codes on your eCommerce platform. Imagine the convenience of easily setting up these gift cards, and defining the discounted amount on your website.
Diversity is YITH's strong suit. With multilingual support powered by WPML, this plugin caters to a global audience. Add a dash of surprise by directly emailing these gift cards to your customers.
But the main highlight? YITH's bulk option. This feature redefines efficiency, especially when you wish to generate multiple gift codes with identical values. Overall, this WordPress coupon maker plugin truly encapsulates the essence of convenience and functionality.
Benefits of Using YITH WooCommerce Gift Cards Plugin
Offers the ability to create and sell virtual gift cards
A variety of gift card layouts are available in the gallery
Design customization is available for gift card codes
Specifically optimized for WooCommerce platforms
Hassle-free management of coupons and their statuses
Drawbacks of Using YITH WooCommerce Gift Cards Plugin
Essential features require payment
Premium plans are on the pricier side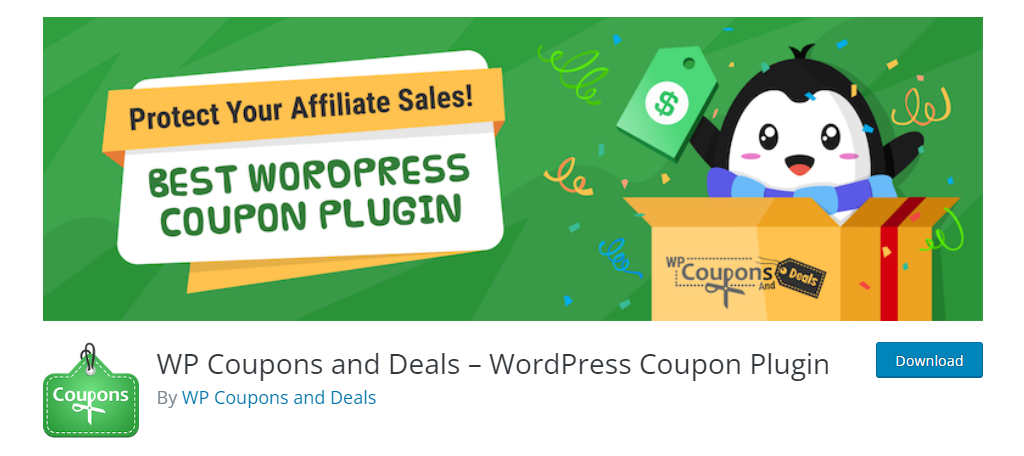 Watch your revenue soar with strategic coupon placements using WP Coupons and Deals. This WordPress coupon plugin allows the direct promotion of affiliate coupons on your site.
One of its standout attributes is its user-friendly nature. The plugin prioritizes simplicity, so it doesn't burden your website's performance.
Not only is it lightweight, but its speed competes with the fastest plugins available so far. Easily integrating into pages or posts, the plugin's shortcode facilitates customization directly from your content editor.
Its Pro version boasts distinctive features. One of which is the ability to hide coupons within the cookie header. This clever tactic ensures users click the affiliate link, revealing the coupon codes and other details.
Benefits of Using WP Coupons and Deals Plugin
Has a live preview function
Automatically hides or deletes outdated coupons for a clean interface
Share coupons using integrated social share buttons
Allows user feedback through like or dislike options
Different coupon templates to choose from
Drawbacks of Using WP Coupons and Deals Plugin
The premium version price is on the expensive side
Customer support can be improved
Free version has only basic features, and you most likely would need the pro version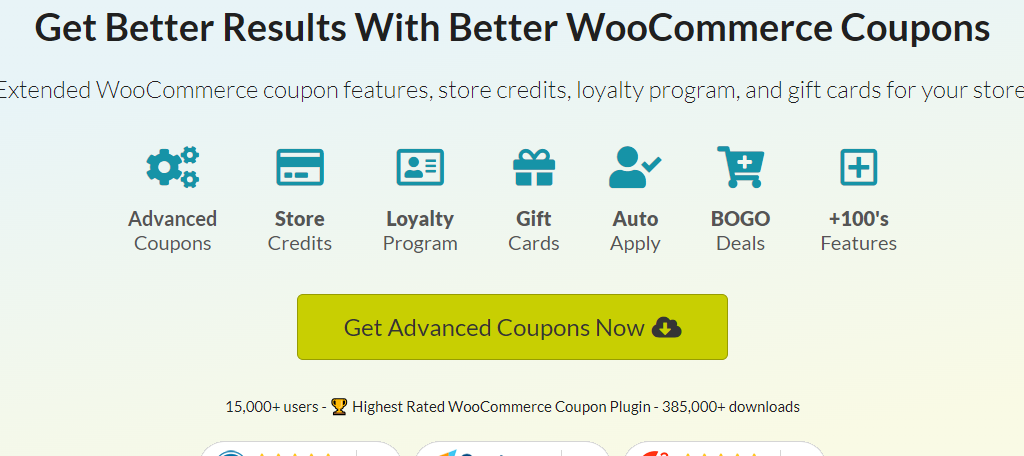 Want to captivate more customers with enticing offers? The Advanced Coupons plugin might be your answer.
Buy One Get One (BOGO) deals? Advanced Coupons lets you craft them with ease. But that's not all. Distributing coupon codes that instantly add products to a cart has never been smoother with this plugin.
Loyalty plays a pivotal role in business success. Recognizing this, Advanced Coupons incorporates a robust loyalty program. It allows customers to accumulate points, subsequently redeeming them for amazing coupons.
For those looking for the perfect gift, this plugin offers an innovative solution. Customers can now buy gift cards for their friends and family. And, to streamline the shopping journey, the Auto Apply feature stands out.
When certain conditions are met, coupons get added automatically. No need for any customer effort.
Being one of the best WordPress coupon plugins, Advanced Coupons promises an experience that neither you nor your customers will forget.
Benefits of Using Advanced Coupons
Easily apply coupon codes via URL, which is perfect for email campaigns and social media
Generate numerous child coupons from a parent coupon
Gain insights with a comprehensive dashboard report
Great customer support
Get more control with advanced coupon Usage Limits and a flexible reset timer
Drawbacks of Using Advanced Coupons
Using the advanced features can feel overwhelming at first
Cannot generate gift cards from the back-end
Debugging can be a bit of a challenge should things go wrong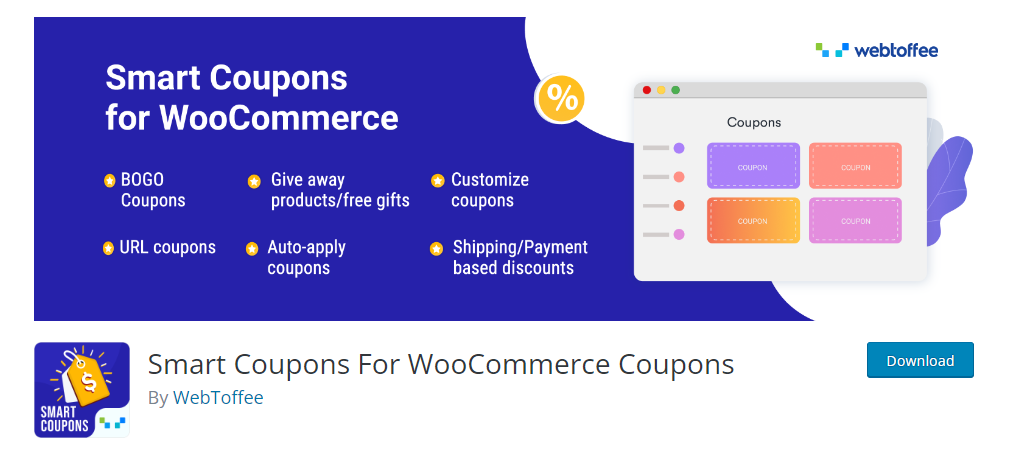 Make every sale count. And Smart Coupons is the best WordPress coupon maker plugin for that.
BOGO deals? They're just the start. Picture a world where your discounts vary—some in percentages, some in exact currency.
Here's where it gets thrilling. This plugin doesn't stick to plain old "Buy One Get One". Think "Buy 2, Get 1 at half the price" or "Buy 4, Get 2". And guess what? As shoppers fill their carts, the coupon will automatically be applied.
With this plugin, you can embed multiple giveaways under a single coupon. And based on different checkout options, this plugin can also limit coupon usage.
Benefits of Using Smart Coupons For WooCommerce Coupons Plugin
Customers can view discounts from their 'My Account' page
You can customize coupon appearance
Coupons can be issued with specific checkout options, which includes shipping methods, payment types, or user roles
Integrate giveaway products directly into coupons
Replicate existing coupons with a click
Drawbacks of Using Smart Coupons For WooCommerce Coupons Plugin
Initial setup can be challenging
Free version offers basic features only, and you might need to upgrade to its pro version
Customer support can be improved
FAQs About the WordPress Coupon Plugins
How do I promote my coupon code?
Promoting a coupon code effectively requires a blend of modern digital strategies and personalization. Start by leveraging digital channels. Share your code across social media platforms. Email it to your loyal subscribers. Most importantly, highlight it on your website.
Collaborating with influencers can also expand your reach. Additionally, investing in PPC ads work wonders if done right.
Single-use promo codes add an extra layer of effectiveness. While generic codes offer simplicity, they carry risks such as unintended overuse. This happens especially if customers find their way onto popular voucher platforms. And this misuse can be mitigated with these single-use codes.
How do I create a coupon code in Woocommerce?
Creating a coupon code in Woocommerce is simple. And this is made easier with the WordPress coupon plugins readily available.
1. Access the Coupons Section.
Go to Marketing > Coupons.
If you've freshly installed WooCommerce, you'll be prompted to create a coupon or learn more about the feature. Those with existing stores will directly see the Coupons screen.
2. Create or Edit a Coupon.
To initiate a new coupon, click on Add Coupon.
To modify an existing coupon, simply hover over it and select Edit.
3. Enter the Coupon Code.
This unique code will be used by customers to avail of the discount.
For a custom code: Input any combination of alphanumeric characters. Remember, coupons are not case-sensitive.
For an automated code: Click the Generate Coupon Code button. WooCommerce will then automatically produce a unique code for you.
4. Provide a Description (Optional).
This is for your internal reference. It could detail the promotion's name, effective dates, associated compensation, ticket number, or the customer's name.
Is a promo code a coupon?
Yes, a promo code is a coupon. They're terms that are often used interchangeably. Essentially, both aim to offer discounts or incentives to customers.
What is coupon API?
A coupon API serves as an interface tailored for coupon functions. Essentially, developers tap into this to effectively manage and distribute coupons across platforms such as social media and other websites.
What is a bulk coupon?
A bulk coupon refers to the creation of multiple coupons simultaneously. This is particularly useful when gearing up for substantial promotions or special events.
Using an effective WordPress coupon plugin can help you create coupons in bulk with only a few clicks.
Can you sell products on WordPress for free?
Yes, you can sell products on WordPress without incurring costs. There are many free plugins available for you to leverage. However, bear in mind that some advanced features might come with additional charges.
From Browsing to Buying, Coupon Plugins Can Help
To stand out in the world of eCommerce requires a unique edge. WordPress coupon plugins provide that edge, adding value to both your business and your customers.
Through these tools, you can tailor offers that drive sales and boost brand loyalty. So, choose the right plugin for your needs and watch your sales soar!