Making your events stand out from the crowd demands more than just a basic calendar. It needs the best events plugin WordPress can offer.
You might be dealing with tasks like managing event tickets or sending auto-reminders. Or, perhaps you're looking for ways to boost event visibility, increase user engagement, or smoothly process payments. This is where a full-featured events plugin comes in handy.
The event plugin you choose for your website can be a game changer. It can catapult your event to success, or leave you struggling with a sub-par interface and lackluster event promotion.
But identifying the right events plugin can be a daunting task. That's where this article comes in handy. I meticulously reviewed and analyzed the top-performing WordPress event plugins of 2023.
Our Picks for the Best Events Plugins for WordPress
A high-quality event plugin for WordPress usually has several main features that add to its overall use and effectiveness. Here are some key traits of a great events plugin for WordPress:
Ease of Use: A great plugin should be user-friendly, with easy-to-use features, even for people with little technical knowledge.
Event Management Capabilities: Key features should include the ability to create and manage single or recurring events, sell tickets, manage attendees, and send out automated reminders.
Integration: A robust plugin should offer seamless integration with key services such as payment gateways, email marketing tools, and social media platforms.
Mobile Responsiveness: With the rise of smartphones, the plugin must work well on all devices. This ensures a smooth user experience for all.
The Events Calendar is a delight for both new users and professionals. It offers an array of features, making it easy to create and manage your events calendar.
And if you like tweaking things, it offers a host of customization options. With tools like stylesheet, template tags, filters, and free extensions, you can personalize The Events Calendar as you want.
The plugin's key strength is its ease of use. After you install the plugin and adjust the settings, you're set to start creating events in no time.
As an events plugin in WordPress, The Events Calendar is highly versatile. It serves different users – small businesses, musicians, universities, or even large corporations. And it's even adaptable to major theme frameworks such as Avada, Divi, and Genesis.
With the Pro version, The Events Calendar offers extra features like recurring events, ticket sales, and auto imports. It's truly one of the best events plugins for WordPress that you can have.
Benefits of Using The Events Calendar:
Select from various calendar views – day, month, or list.
The tool is fully customizable to fit your needs.
Set time zones for events to sync everyone's schedule.
Comprehensive features like quick event creation, saved venues & organizers, Google Maps, Google Calendar, and iCal exporting.
Embed a calendar on your site, showcase event countdowns, or highlight notable venues using shortcodes and blocks.
Drawbacks of Using The Events Calendar:
The wide array of customization options can confuse beginners.
Some users might want a more straightforward setup process.
Limited support options for premium users.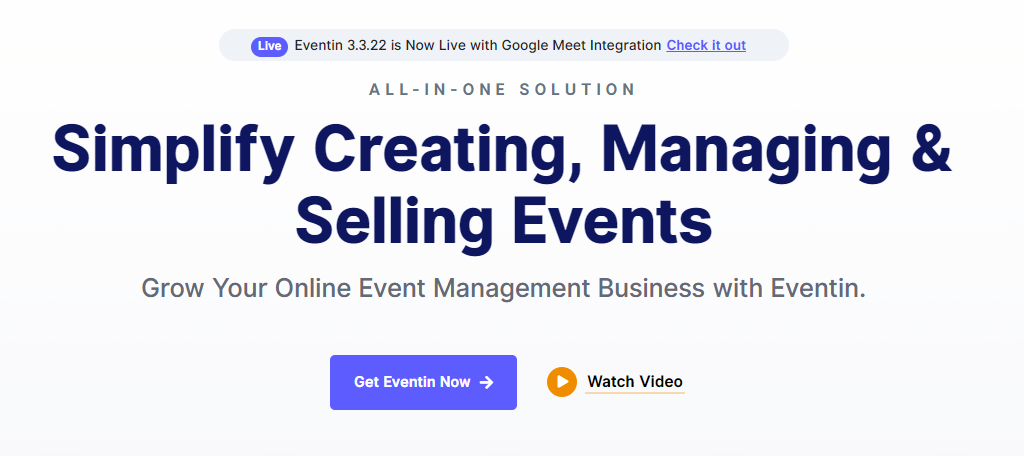 You may be searching for an all-in-one solution to manage and coordinate events directly from your website. Well, Eventin is the best WordPress events plugin you can find.
For starters, Eventin supports both Single and Multi-event modes. It also works with WordPress shortcodes and Elementor Builder. This means it can fit easily into any WordPress website.
One of the plugin's cool features is its QR codes. When guests buy tickets, they get a unique QR code. This code is then scanned at the event which makes managing guests easy.
And with its integrated RSVP feature, Eventin allows users to send invitations, keep track of attendees, and even limit responses based on event capacity. All these reasons make Eventin an events plugin WordPress users should highly consider.
Benefits of Using Eventin:
It has a multi-tier ticket pricing feature. This lets you set different prices for each ticket type.
Offers manual sign-up, event submission, and a multi-vendor event marketplace.
Its Event Schema for Google Rich Results can help boost your events' visibility online.
It integrates with services like Zoom, Buddyboss, and WooCommerce.
You can create repeat events and full profile pages for speakers or organizers.
Drawbacks of Using Eventin:
It can take some time to learn how to use all its features.
Because of its many integrations, it may need regular updates.
Some extra features can cost more to the user.
WP Event Manager has carved its niche in the market with a lightweight, scalable, and feature-packed design. It's one of the best options for an events plugin WordPress users could choose.
This plugin is easy to use, making the setup of live, virtual, or hybrid events less daunting. It also works well with most WordPress themes, saving you from buying extra ones.
Arguably one of the best WordPress events plugins, WP Event Manager's flexibility and adaptability come into play with its premium add-ons. These supercharge your event management capabilities, transforming your website into a full-fledged event hosting platform.
With a handy search and filter feature, WP Event Manager ensures your events won't get lost. It offers listings powered by AJAX, easy forms for guest sign-up, and built-in RSS.
For developers, WP Event Manager also has its own charm. It has clean code, built-in SEO, caching support, and offers many ways to customize.
Debug mode and a GitHub repository make it even more appealing for advanced users.
Benefits of Using WP Event Manager:
You can use shortcodes to show your events in fun ways.
Users can tweak event listings, and manage and preview events from their dashboards.
Strong SEO integration helps people find your events.
Offers great support, including guides, videos, and active forums.
Supports over 40 languages, including RTL ones.
Drawbacks of Using WP Event Manager:
Some features are only in the premium add-ons.
Limited options for reports and analytics.
Design options can be too limited for non-developers.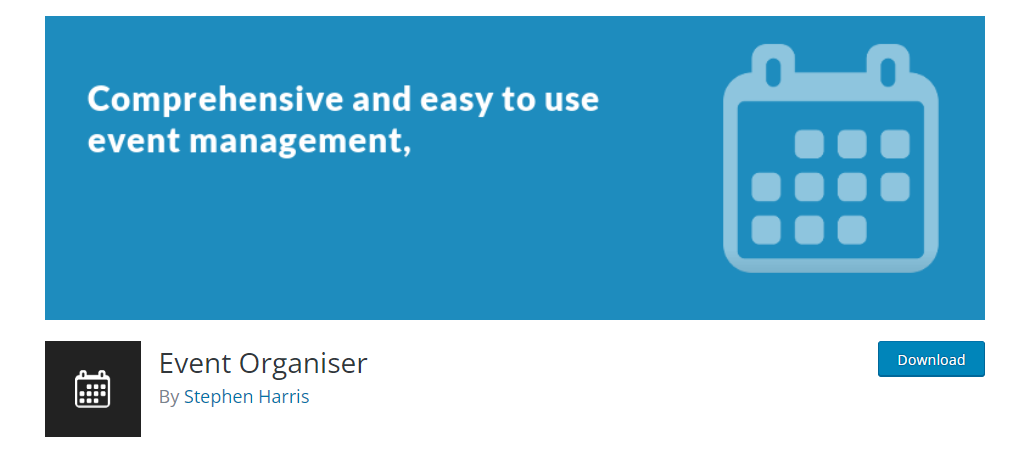 Event Organiser takes a leap forward in managing events with your WordPress site. Through its in-built "custom post type," the plugin creates events with the same functionality as posts.
The plugin makes managing events in just a few clicks. With Event Organiser, you can set up single or repeating events and assign places. Indeed, it's an intuitive event plugin WordPress creators can easily use.
In terms of visual representation, it offers a user interface that is not just intuitive, but also familiar to WordPress users. You can view your events in a list format or on a calendar page within the admin area, giving you an organized view of all your events.
To top it off, Event Organiser also has add-ons to boost your plugin's abilities. This makes it a WordPress events calendar plugin that fits right into your dashboard.
Benefits of Using Event Organiser:
Offers user-friendly functions that go beyond post functions.
Lets you easily see event data such as start time and place.
Helps you create and manage event venues with Google Maps and a full editor.
Lets you assign events to categories and tags. You can color-code categories for easier organizing.
Drawbacks of Using Event Organiser:
The interface may not be as sleek as other event plugins.
Advanced features like ticketing need third-party integration, which could be a downside.
It can export/import ICAL files, but might not work with other calendar formats.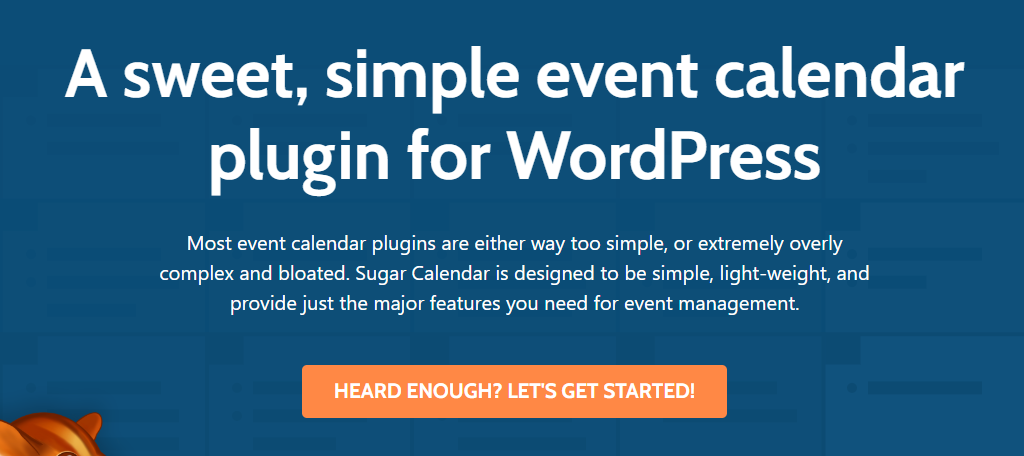 Sugar Calendar stands out as a simple, fast, and lightweight events plugin that WordPress users will love. It doesn't slow your site but gives you an easy way to manage events.
This WordPress events calendar plugin adapts to your location and audience, thanks to its custom date formatting and translation-ready features. Additionally, the plugin caters to audiences across the globe.
Each event or calendar can be assigned a specific time zone. And with the Visitor Conversion feature, an event page is instantly updated to match each visitor's time zone.
Sugar Calendar can handle events with specific timing needs and set up recurring events. For Professional and Ultimate license holders, the Advanced Recurring add-on allows for more complex, irregular events.
Benefits of Using Sugar Calendar:
Built for user convenience.
Their development team always makes improvements and fixes bugs.
You can easily add event data from CSV or XML files with WP All Import.
It works well with Gutenberg blocks for more front-end display options.
Sugar Calendar offers many widgets for different event displays. It also works with many extensions.
Drawbacks of Using Sugar Calendar:
The live page view on the front end could be enhanced.
Some users say the documentation is missing important information.
It needs add-ons for advanced features like ticket sales and syncing with Google and iCal.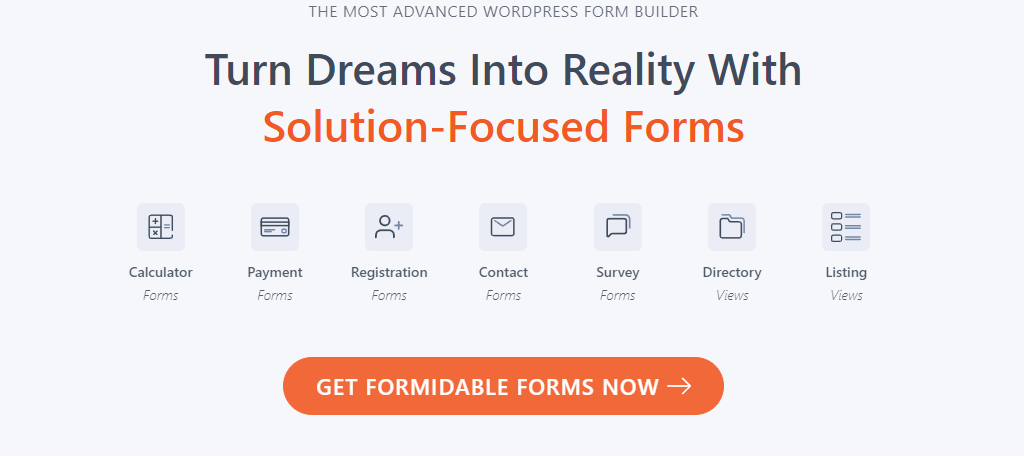 Need a WordPress events plugin that does more than just make forms and gather data? Try Formidable Forms!
Formidable Forms is a WordPress events calendar plugin with loads of time-saving features. If you think it's only used for creating forms, you might want to reconsider. It also lets you manage and show the data you collect in views and graphs.
Handling form entries is a breeze with this plugin. The easy backend interface gives you control over your form entries. In other words, no data gets left out or underused.
Formidable Forms stands out from other WordPress form builder plugins because of its Formidable Views. This special feature turns form entries into eye-catching content. As users fill out forms, Formidable Views changes them into well-designed webpages on its own.
Benefits of Using Formidable Forms:
You can show your gathered data effectively.
The Drag and Drop Form Builder makes it easy to create complex forms.
It lets you make polls and surveys fast. This provides you with feedback or data and quick results.
The plugin lets you schedule forms and limit entries for better form control.
Drawbacks of Using Formidable Forms:
Sometimes, the plugin gets unstable from new updates.
If the forms are complex, setup can take time.
The plugin can be hard to use with different add-ons.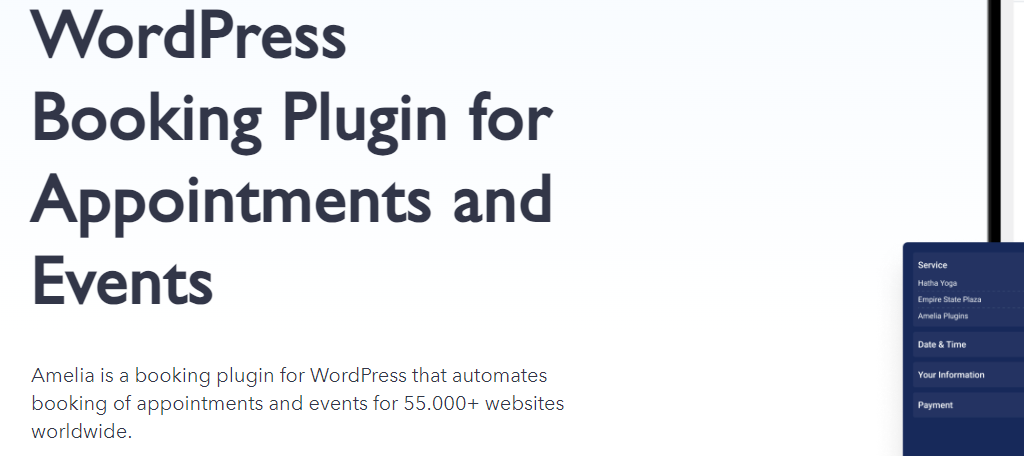 With over 55,000 global installations, Amelia presents an intuitive, user-friendly booking interface. And the best part? It functions efficiently without the need for extensive adjustments to your existing workflow.
What's more, this events plugin for WordPress has been engineered to reduce manual booking management. It can handle client interactions, assist with service and employee selection, and oversee payment processes.
Amelia also sends real-time text reminders about booked, canceled, or moved meetings to customers and staff. This helps keep everyone on time and in the loop.
Lastly, its admin panel is a treasure chest of key statistics and metrics. Its simple-to-read view of business and team results helps owners and managers make smart choices for their businesses. You can quickly check your business health using widgets, charts, and tables.
Overall, Amelia's enterprise-level design ensures a professional and trustworthy feel for your website.
Benefits of Using Amelia:
Manage businesses with multiple locations by saving contact data, addresses, and places.
It comes with a full back-end attendance system.
Most tasks only need a few clicks
You can easily tune Amelia's sleek and modern user interface to match your theme and business look.
The Step-by-step Booking Wizard gives an alternate way to schedule appointments.
Drawbacks of Using Amelia:
Some users find it hard to sync their calendars right.
Amelia's design can limit those users needing specific changes for their site.
Some users may find their text alert feature a bit much.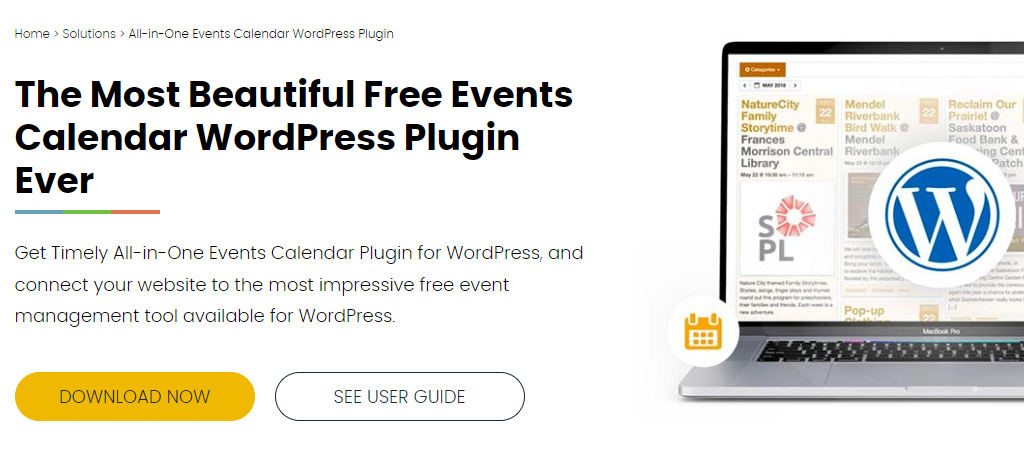 Made for freelancers and bootstrapped entrepreneurs, Timely offers a free but efficient solution to any event needs. This plugin helps you make and manage events, be it in-person, virtual, or both.
Known as one of the best free events plugins for WordPress, Timely mixes modern design with a range of features. It gives a nice-looking, easy-to-use online event calendar for your site in many languages.
You can display events in month, week, or agenda views and customize themes, colors, and fonts for a personalized look.
With Timely, creating, scheduling, and publishing events is a breeze. Details, including text, images, videos, tables, and links, can be easily added to your event page, while a media library facilitates media uploads.
Plus, the plugin lets you copy events and import them using ICS/CSV files.
Benefits of Using Timely:
Easy-to-use interface that doesn't need coding or API links.
Supports the creation of single-day, multi-day, all-day, and recurring events, even with complex patterns.
Lots of custom options for a personal calendar look.
Lets your audience subscribe to, or print your events calendar.
Options for direct event sharing and audience subscription.
Drawbacks of Using Timely:
The large number of features can intimidate new users.
Knowledge base lacks key instructions on how to use the plugin properly.
FAQs About Events Plugins for WordPress
How do I add an event to my WordPress plugin?
Adding an event to your WordPress plugin varies on the specific plugin you are using. But the general steps are:
Go to your WordPress dashboard.
Look for the tab for your events plugin, like "Events".
Click on the "Add New" or "Create Event" button.
Fill in details about your event like title, description, date, time, and place.
Publish the event. It should now be visible on your events calendar.
How can an event plugin enhance my website's SEO?
An event plugin can significantly enhance your website's SEO through the use of structured data. Structured data is the metadata that search engines use to comprehend the content on your website.
Google, for instance, uses structured data to understand the context of a page and collect info about the web.
The goal of using an event plugin is to craft your events with comprehensive, structured data. This can include specifics about the event such as date, location, and pricing. This structured data makes your website eligible for rich results in search engine outputs.
Rich results are special search results features that present information in a more graphical manner, boosting visibility and click-through rates. For instance, an event's details might be shown straight in search results. This improves the likelihood of user engagement.
However, effectively employing structured data can be complex. This is where an event plugin helps, as it simplifies the process of creating and managing this structured data for your events.
Are WordPress event plugins mobile-friendly?
Yes, many WordPress event plugins are responsive even for mobile phones. This means they automatically adjust their size and layout to fit any device, including smartphones and tablets.
However, it's important to confirm this feature in the specific plugin you're considering, as some may not have this capability.
Should I upgrade to premium for my plugins?
The decision to upgrade to a premium version of a plugin depends on your needs. Premium versions often come with additional features, dedicated support, and regular updates.
If you find that the free version of a plugin does not offer the functionalities you need for your website, then upgrading to the premium version can be a good choice.
How do I show upcoming events on my WordPress site?
To show upcoming events on your WordPress site, you generally need an events plugin installed. Most event plugins will provide a widget or shortcode that you can add to any part of your site (like a sidebar or footer) to display a list of upcoming events.
The specifics will depend on the particular plugin you're using.
How many plugins should a WordPress site have?
There's no hard and fast rule about the number of plugins a WordPress site should have. It really depends on the specific needs of your site.
However, it's important to note that adding too many plugins can slow down your site and potentially create conflicts or security issues. As a general rule, only use plugins that are necessary and provide significant value to your site.
Lastly, always make sure that they are from reputable sources, regularly updated, and compatible with your version of WordPress.
Streamline Your Site With the Right WordPress Events Plugin
WordPress offers an extensive range of event plugins that are perfect for your website.
But before choosing one, take into account the plugin's features, ease of use, and compatibility with your current WordPress theme. Consider testing a few options to see which one provides the best user experience and fits seamlessly with your site's aesthetic and functionality.
Always remember, the best events plugin for your WordPress site will ultimately depend on your needs.