WordPress is home to thousands of themes, with many of them specializing in specific website types. In this case, we are looking at themes that specialize in making portfolio websites in WordPress.
A portfolio website is one which shows off the author or company's past projects or art. In more creative industries, a portfolio can be used as a resume as they are a clear demonstration of what the developer can do.
To properly show off these projects, you need to select a theme that is suited for displaying them. The defining aspect of portfolio themes is their ability to showcase images against a plain background.
This allows the content you are showing off to really shine and take the center stage, but that's not to say that clients are not looking at your website design. A well-designed website will better reflect your skill set, which is where picking a good theme comes in.
Today, I will share the best portfolio themes you can use in WordPress.
Make Sure You Have Content For Your Portfolio
Before you start choosing amongst the best portfolio themes, make sure you actually have content to fill it with.
This might be one of the most obvious pieces of advice, but it is still one of the most common issues. Many individuals struggle to fill their portfolios with content that actually shows off their skill set.
Perhaps an even bigger problem is releasing a seemingly empty portfolio. Only including a single project or a handful is often not enough. Customers want to see more, and sadly, being able to quickly check out portfolios online makes this problem more apparent.
Even more importantly, make sure your portfolio stands out. Look at other sites and make sure you have content that is better.
In many cases, a bad portfolio will scare away potential customers in a matter of seconds. The content you display needs to be eye-catching and properly showcase the skills that customers are looking for.
If you don't have quality content, your portfolio is not going to be very successful, thus, it's easily the most important aspect.
1. Jevelin
If you want to build the best portfolios in WordPress, then Jevelin is the theme for you. It offers you excellent design options which are strongly showcased in the portfolio demo it provides, which you can import to use as a base.
It excels at displaying images and also provides tabbing to help visitors find the sample work they want to find. When combined with the best portfolio plugins, this theme really shines.
Now, if you planned for the portfolio to be just a part of your website, Jevelin is again a perfect choice. At its core, it is a multipurpose theme that is ideal for any kind of website from a blog to an eCommerce store.
In terms of customization, you pretty much have no limits outside of your creativity. You'll also have a built-in page builder you can use to move, add, or remove any element.
It's a really fantastic theme when it comes to any website that needs a portfolio.
Benefits of Using Jevelin
Install any site demo in a single click to speed up site creation
Integration options for popular plugins and tools like WooCommerce
Includes access to the Slider Revolution plugin
Learn how to use the theme by watching an excellent video tutorial
Make it easy for visitors to share your website content on their favorite social media platforms
2. Portfolio Web Pro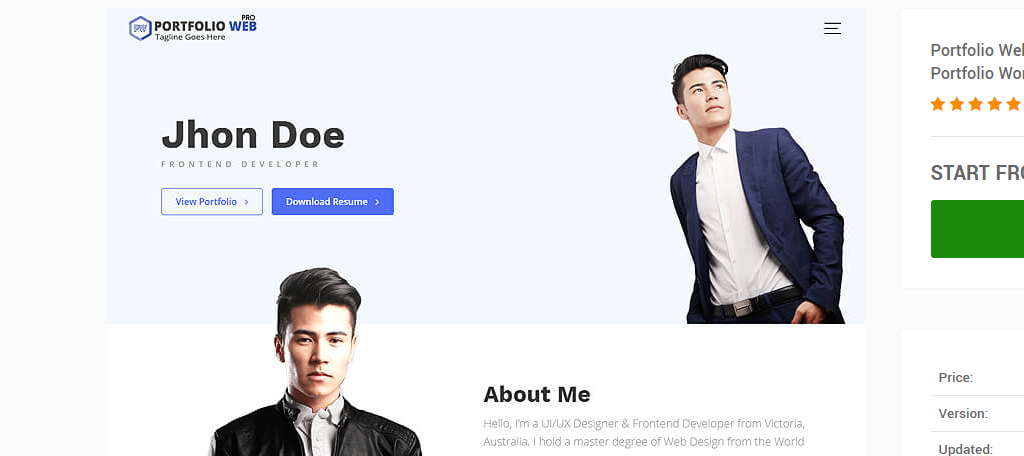 Portfolio Web Pro was built specifically for online portfolios and excels at creating any kind of collection of work. It makes it easy to view portfolios and resumes in an online environment and provides the tools to build them from scratch.
However, you probably have already guessed all of that from the name.
This theme is designed in such a way as if the web page itself is your resume. It has a lot of widget areas, which open the door for creative design options, and the theme provides several tools that you can use to fill them.
For example, you can add progress bars to show your skill level in certain programs, create timelines to show off your work history, easily display statistics about yourself or your company, and much more.
It was made for portfolios, and the quality really shows.
Benefits of Using Portfolio Web Pro
Social media integration makes it easy for visitors to share your portfolio
This theme is translation ready, which is perfect for those that work internationally
Choose from multiple site layouts to see what works best
Responsive design ensures that the website looks great on any device
Add unlimited sliders to your website to help save room
3. Pixgraphy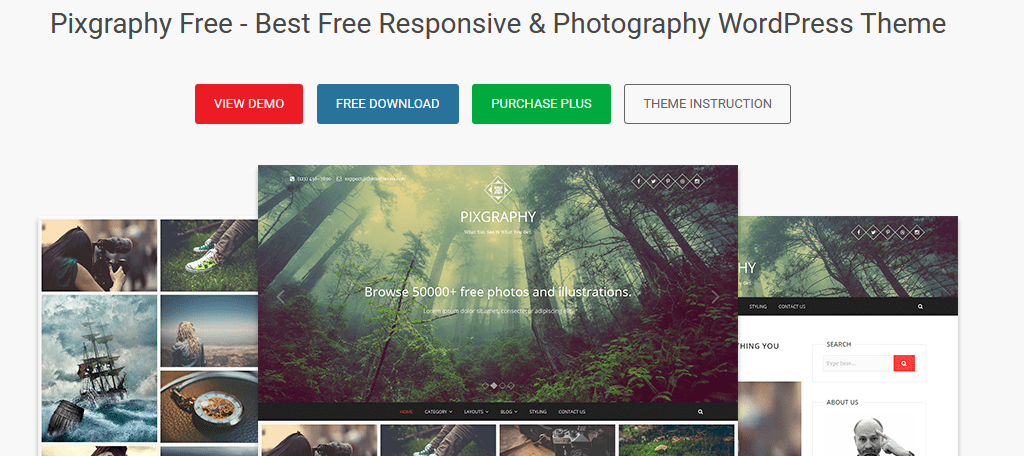 Pixgraphy stands among the best free WordPress portfolio themes on the platform. It has a clean modern designed grid layout that is perfect for portfolios with a lot of widget area to work with.
At the top, there is a huge header image that you can change to a slider if you so desire.
While the normal layout is great you'll also have several other layout options you can choose from to help you find the best match for your site. This theme also includes social media icons to make it easier for visitors to share your content.
Perhaps one of the rarest features in a free theme is offering one-click demo imports, as this is generally a premium feature. With this, you can use the demo site as the basis of your portfolio site.
Benefits of Using Pixgraphy
Create an online store with WooCommerce compatibility
Responsive design ensures your portfolio looks great on any device
Includes multiple blog layout options
The Pro version includes a custom footer builder
Choose from over 5 sidebar widget areas
4. WordPress Portfolio Theme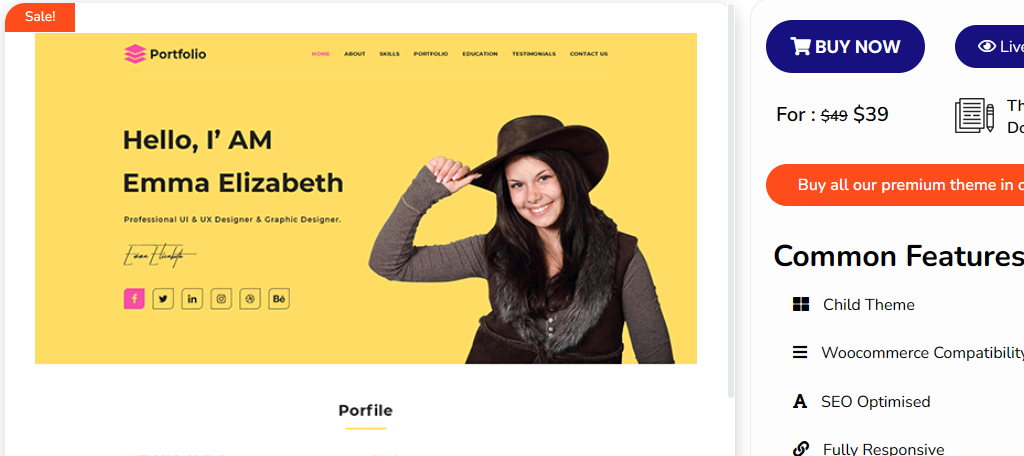 As you might expect from the name, WordPress Portfolio Theme, this one specializes in creating online portfolios. As such, it has several features that are perfect for crafting the perfect online portfolio.
That said, due to the high level of customization available, you can actually build any kind of website with this theme.
Perhaps one of the best aspects of this theme would be the progress bar you can use to show off your individual skills. For instance, you can rate yourself as having a 97 in coding PHP to give potential employers an idea of your skill set.
In terms of design, it has a beautiful gallery to show off your past projects in, with multiple layouts to select from. There are over one hundred fonts you can choose from, and you can insert your own custom CSS or JS to customize the theme further.
Benefits of Using WordPress Portfolio Theme
Compatible with most major plugins like WooCommerce or Contact Form 7
Utilize Font Awesome icons to make the website stand out
Easily and stylishly display video content
Includes access to a full-width template
Pagination options can help you break your portfolio up into multiple pages
5. Perfect Portfolio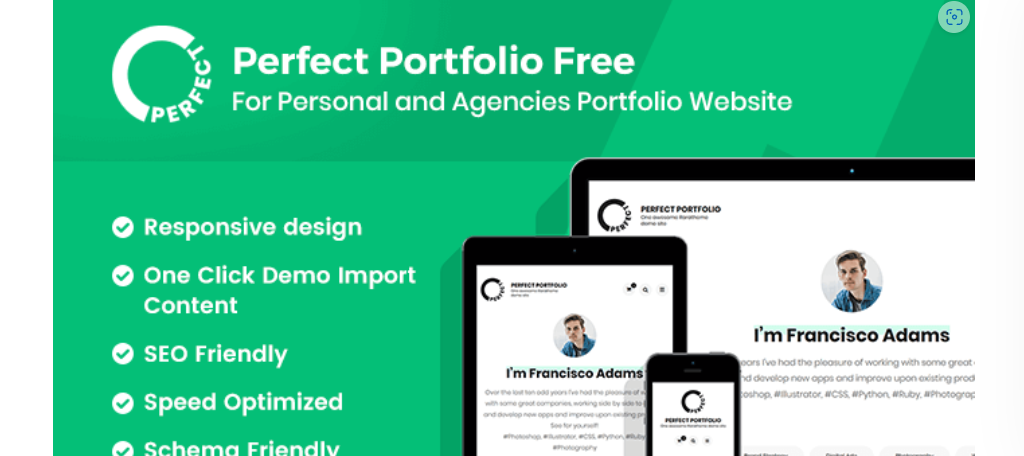 Perfect Portfolio is another excellent free option to consider when building an online portfolio. The theme was built for individuals, as well as agencies looking to showcase their projects to potential customers.
It has all of the tools and features you will need and a robust selection of customization options.
If this is your first time building with WordPress, you'll be pleased to know that the live customizer allows you to see all of the changes you make in real-time. This can really make a difference, even if you are a veteran when it comes to web design.
In terms of design, it sports a stunning gallery that can showcase all of your past projects. You can even separate the items into individual tabs, to help visitors find the projects they are interested in faster.
Overall, this theme really lives up to its name.
Benefits of Using Perfect Portfolio
This theme is translation ready and supports RTL
Easily add your agencies logo within the customizer
Further customize the theme by adding your own CSS
The Pro version includes access to a support team that can answer all of your questions
Compatible with popular plugins like WooCommerce
6. Studio 8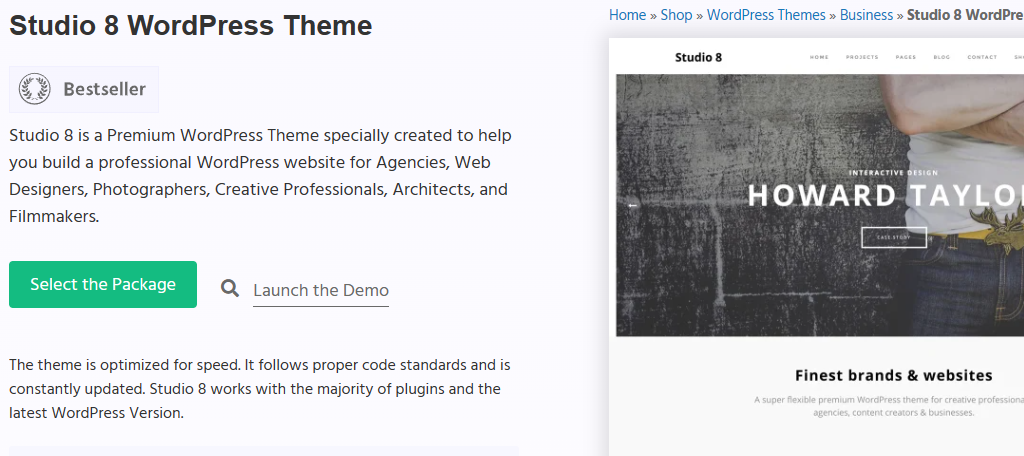 Regardless if you want to make a simple portfolio website, or something a bit flashier, Studio 8 is easily one of the best themes to consider. It provides a professional design that is ideal for freelancers and agencies alike.
It is also optimized for speed, which results in a better visitor experience.
In terms of design, the gallery is amazing and offers you multiple layout options like choosing between 2, 3, or 4 columns. It's really about finding the right fit for your portfolio.
Of course, it can do more than just portfolios.
For instance, you can add a blog section to the site to further explain what you or your business delivers. You could even incorporate an online store by installing WooCommerce. There are really no limits when it comes to Studio 8.
Benefits of Using Studio 8
Responsive design ensures that the website looks great on any device
Easily upload a company logo to properly brand your website
Gain access to amazing support that responds quickly to all inquiries
Works with any portfolio plugin in WordPress
Includes 7 unique Gutenberg blocks to add more options
7. Mozzy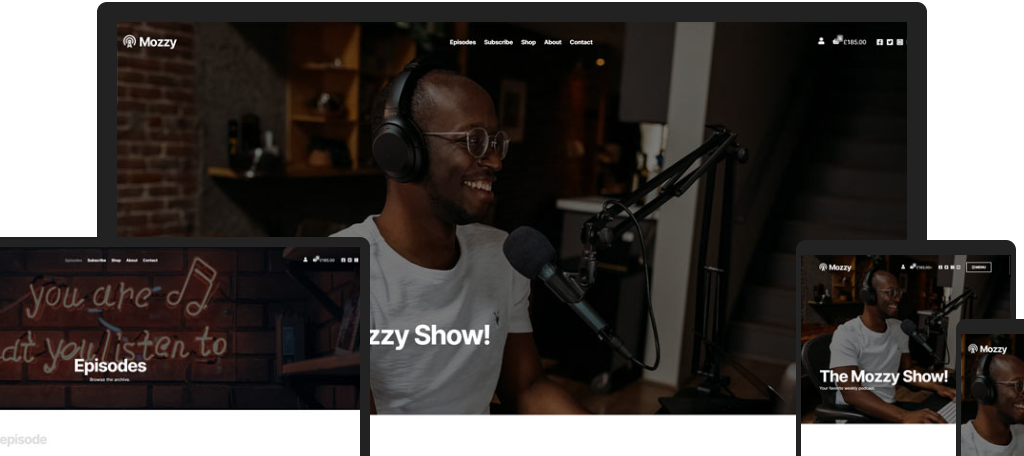 When it comes to amazing portfolio themes, Mozzy is certainly going to make the list. It is an excellent theme that can make beautiful portfolios, but this one goes beyond that and adds its own personal twist to it.
That would be thanks to the excellent selection of audio tools, which also makes this ideal for podcasters.
In terms of portfolios, there is a built-in section that is highly customizable. It gives you plenty of room to show off your projects and get the appearance just right. You'll have several layout options to choose from among other things.
The real bread and butter of this theme is the AudioIgniter player. If you want to include any form of audio content such as music or podcasts, then this is the perfect theme to show it off. That said, you are not limited to it, you can use any audio player.
Benefits of Using Mozzy
Easily create audio or visual playlists that show off your skills
embed content from the service of your choice (Spotify, Castos, Sticher, and more)
Compatible with page builders like Elementor
Create your own color scheme to better reflect your style
The theme is translation ready, supports RTL, and supports multiple multilanguage plugins
8. Coastline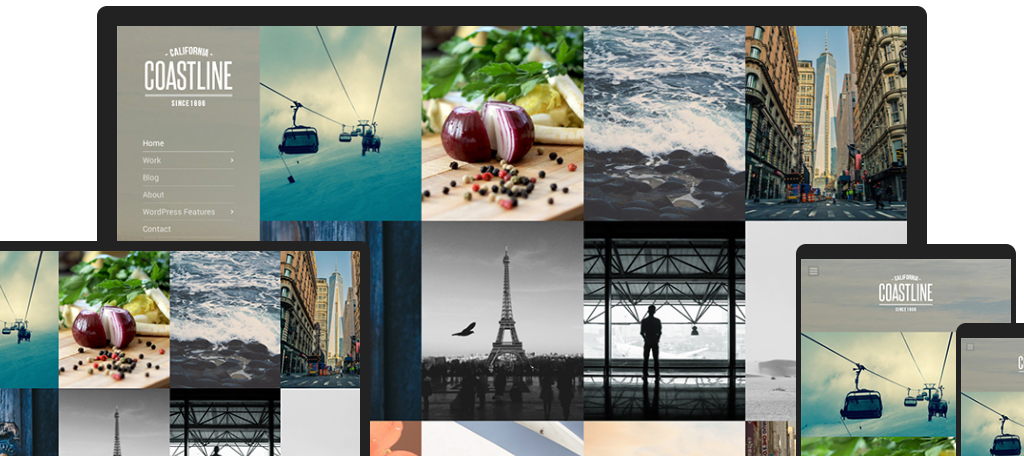 Coastline is one of the best portfolio themes available. It offers users an amazing gallery display that is perfect for capturing the best aspects of your images, as well as a suite of customization options to get everything looking exactly how you want them.
One of its strongest attributes would be its responsiveness. I cannot stress enough how good sites look on mobile devices.
Another one of its strongest points is the portfolio management tool. This allows you to easily categorize your work., which in turn, allows you to build galleries for specific types of work. This helps customers find the work that applies to them.
In terms of design, it sports a grid layout where users can customize the size and number of columns on display. It also includes a sidebar and header area, which you can toggle off if needed.
Benefits of Using Coastline
Easily place and rearrange your portfolio items in any order
Add more design options by using the Elementor plugin
This theme was built with speed in mind and delivers a fast experience
Translation ready with support for RTL and most multilanguage plugins
Utilize sticky navigation menus to improve sitewide navigation
9. RyanCV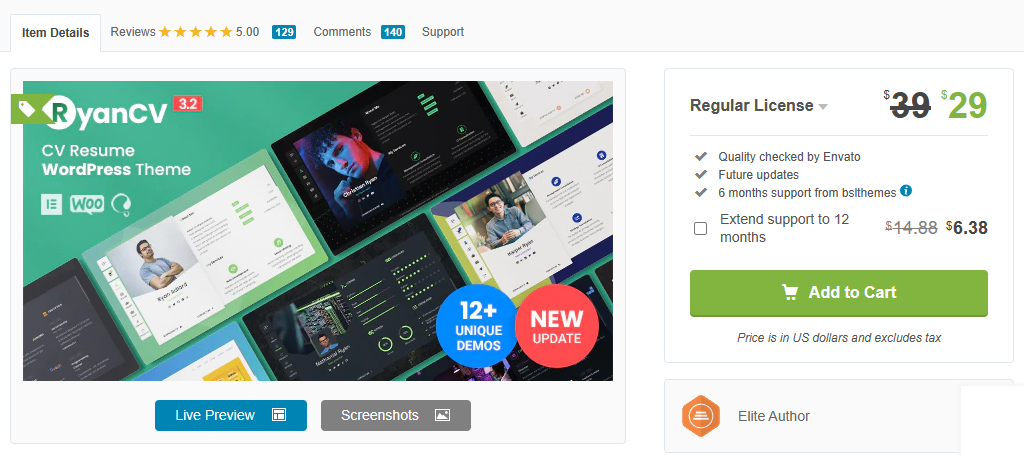 Closing out this list of the best portfolio themes is RyanCV. It is a theme that specializes in resumes and portfolios. As such, it has a lot of unique features that make it stand out as one of the best choices to build a site.
It is versatile enough to build any kind of portfolio or resume, which is best demonstrated by its amazing lineup of demos.
It has a demo for basic resumes, portfolios for photographers, system engineers, content creators, and much more. All of them can be installed in a single click and customized to match your brand, which can save you a lot of time.
However, the portfolios that really catch someone's eye are the ones you build yourself. With the basic tools and design options of this theme and by installing the Elementor page builder plugin, you'll be able to build any kind of portfolio in no time at all.
Benefits of Using RyanCV
Easily switch between light and dark layouts to see which one looks better
Choose from multiple displays to show off skills (progress bars, circles, dotted lines, etc.)
Display your work history using a timeline
Access 24/7 support to help troubleshoot any problems
This theme is translation ready and supports RTL with support for multilanguage plugins
What Else Should Portfolios Include?
We all know that a portfolio should show off your skillset, but that's actually not the only thing that should be on display. In fact, I would argue that there's another element that is even more important than the portfolio itself.
That would be remembering to add your contact information.
While this might seem obvious, there are a lot of portfolios that fail to include a contact form and details. What this means is that even if your portfolio is successful and makes the viewer want to hire you, they won't know how if there is no information.
Even worse is when the information included is out of date. A customer will look elsewhere if they receive the wrong information from who they are trying to hire.
There are two ways you can go about this.
The first is to make a dedicated Contact Us Page. As the name implies, the page is exclusively providing contact information such as your phone number, fax number, email, mailing address, and even your business's physical location if applicable.
The other option is to make a smaller Contact Us section that includes your name and contact info.
Failure to include this will ultimately make your portfolio meaningless.
Is It Worth Including A Blog?
If you are a web designer, UX designer, or something else that deals with visual design or art, then you already know the importance of a powerful portfolio and how it can showcase your past and present projects.
However, like most things, what you should include in your portfolio is changing things up and adding blog content, as it is becoming more prevalent.
Now, I know what you are thinking, I'm a designer, and my customers are not interested in my writing abilities. But that isn't true. Blogging allows you to explain your artistic process and more importantly, shows off another valuable skill: Communication.
Typically, if someone is impressed with your work, they will contact you, and this is often where customers are lost. Many freelancers lack communication skills regardless of whether it is over the phone or through email.
Communication is essential.
And often times, customers may want regular updates on your progress. A blog demonstrates that you are more than capable of delivering that information in a cohesive manner.
There are also other characteristics that can be gleaned from a blog.
For example, if someone updates their blog regularly, it shows that you are committed and can follow a schedule. These are very important characteristics that a traditional portfolio does not demonstrate and can be the deciding factor when a customer makes a choice.
As the number of online portfolios increases, finding a way to stand out is more important than ever.
Show Off Your Skills With A Portfolio Today
As you can see, WordPress offers a lot of options when it comes to portfolio themes. They can help you show off your skills and attract new clients or businesses to hire you.
Of course, even if you do everything right from a web design perspective, the truth is a portfolio is only as good as the content it has inside. If you don't have a lot of past projects or examples work, you won't achieve the desired result.
You may need to spend time creating examples for the sole purpose of displaying them, but it will be well worth it when customers see them.
Ultimately, themes are a great starting point for building a portfolio, but be warned, you really need to customize it and make it your own. Using a demo site is not recommended as it does not show off your creativity in any way.
That said, they can be an excellent base if you have no web design experience.
Has your portfolio helped you land more gigs? What is the most important aspect of building a portfolio?