Imagine receiving detailed insights from your website visitors every day and using that feedback to perfect your business offerings. That's the power of a top-notch WordPress feedback plugin.  Leveraging such tools can revolutionize the way you interact with your audience.
However, finding the best WordPress plugin for your site feedback often presents hurdles, such as compatibility issues, customization challenges, and budget constraints.
That's where this article comes in. We've searched the internet, studied user reviews, and tested these plugins to give you a clear guide to the best WordPress feedback plugins available today.
So, if you want to boost your website's interactivity and get valuable feedback, keep reading to learn more.
Our Picks for the Best WordPress Feedback Plugin
A high-quality WordPress feedback plugin incorporates the following elements to enhance your website's engagement and gather valuable insights:
User-Friendly Interface: A great feedback plugin should have an intuitive and easy-to-use interface for both website administrators and visitors providing feedback.
Multiple Feedback Options: It should offer various feedback options such as ratings, comments, surveys, and contact forms to cater to different user preferences.
Customization: The plugin should allow customization of feedback forms to match the website's branding and specific needs.
Spam Protection: Effective spam protection features like CAPTCHA or anti-bot measures to ensure the quality of feedback.
Notification System: An alert or notification system to inform website administrators when new feedback is submitted.
Integration:  It should have no issue working with other WordPress plugins and themes.
With these features in mind and more, here are the best WordPress feedback plugins for you to choose from.
If you're looking for an ideal WordPress feedback plugin to enhance your website's user experience, then try Jotform.
This plugin simplifies feedback collection by allowing you to add a personalized button to your website. It enables your visitors to effortlessly share their thoughts and suggestions, ultimately boosting user engagement.
But that's not all JotForm can do. You can also create custom forms for your website with this plugin. Once seamlessly integrated into your WordPress site, the feedback button becomes visible across multiple pages, ensuring a seamless experience for you and your visitors.
Even with the free version, you can receive up to 100 form submissions each month with Jotform. If your needs grow, this plugin offers premium options tailored to your requirements.
Benefits of Jotform:
Offers quick form creation to simplify your work
Smooth integration with many business apps like email marketing services, project management boards, cloud storage apps, and more.
Easy online payments can be made through your forms
Offers discounts for non-profit organizations
User-friendly interface allows your site visitors to leave feedback hassle-free
Drawbacks of Jotform:
You can only create up to five forms each month for the free plan
The difficulty of the admin UX may take some time to get used to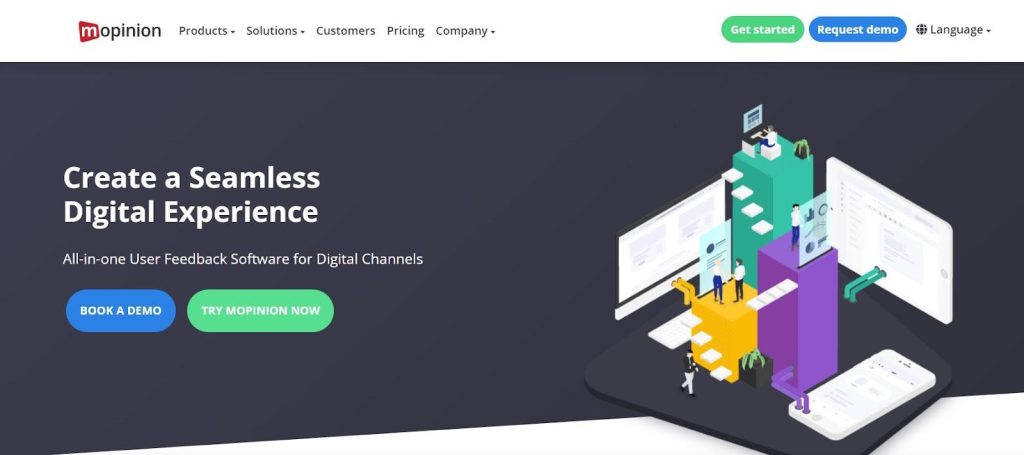 Mopinion simplifies the process of gathering feedback from your website visitors, allowing them to effortlessly provide suggestions, compliments, or report bugs by simply clicking a dedicated feedback tab on your site. This user-friendly feature is designed to be accessible to all, regardless of tech-savviness.
With this plugin, you have full control to tailor questions to suit your needs, incorporate your branding with logos, and select your preferred language. Additionally, you can enhance user engagement by setting up icons for actions like exit prompts.
Once feedback starts rolling in, accessing it is a breeze. Your personalized Mopinion account, automatically created upon plugin installation, provides a central hub for feedback management. Alternatively, if you prefer convenience, you can opt to receive feedback directly in your email inbox.
Overall, Mopinion emerges as an outstanding WordPress feedback plugin for collecting user opinions and enhancing your website's usability.
Benefits of  Mopinion
Provides actionable insights into user behavior
Customizable feedback surveys for your specific needs
Engages users with icons for various actions
Centralized feedback management helps streamline the workflow
Optional email delivery for feedback convenience
Drawbacks of Mopinion:
The plugin was last updated three years ago
No free version is available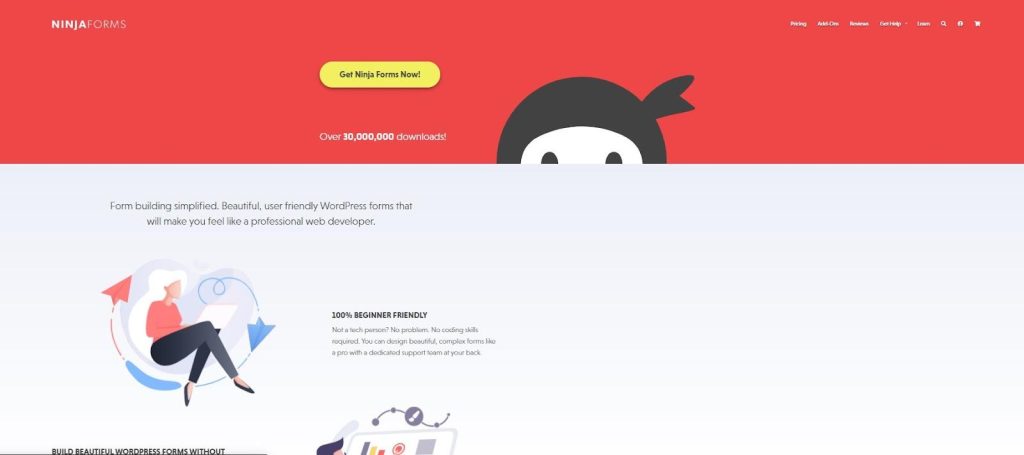 Ninja Forms is known for its user-friendly drag-and-drop form creator, making it very easy to create even the most intricate forms. And the best part is no coding skills are required.
Whether you need one form or a dozen, Ninja Forms imposes no limits on the number of forms or fields you can create.
But that's not all. Ninja Forms elevates your website's functionality by seamlessly integrating payment and donation options. You can configure single payments, subscriptions, and choose from fixed, variable, or user-entered amounts, providing your customers or donors with the flexibility they deserve.
What truly sets Ninja Forms apart is its ability to engage your users. Post-form submission, you have options – express gratitude with a message or guide them to another section of your website.
This plugin seamlessly combines user-friendliness with practicality, making it a standout choice for gathering site feedback.
Benefits of Ninja Forms
Provides spam protection including Akismet and Google reCaptcha to eliminate bots
Users can upload files when they submit feedback
Offers more than 27 field types
Public form links are available and can be shared
Can translate to 16+ different languages
Drawbacks of Ninja Forms
Does not support French characters
Does not offer a demo version for add-ons
A bit pricey since you'll need to buy add-ons individually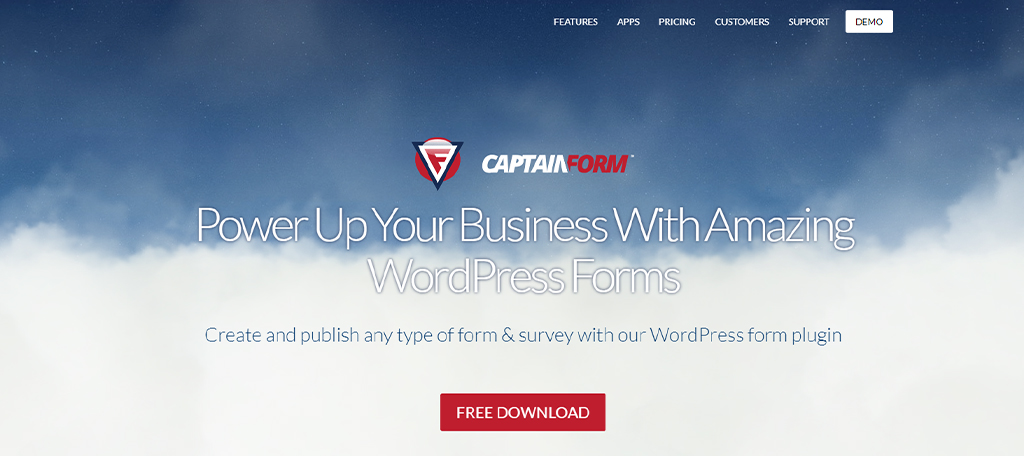 Engage your audience, gather insights, and enhance your website with CaptainForm – the WordPress plugin designed to make feedback collection and form creation a few clicks away.
One of CaptainForm's key features is its intuitive editor. With its drag-and-drop functionality, you can effortlessly build web forms right within your WordPress form plugin dashboard. No need to be a coding wizard – CaptainForm simplifies the process.
This plugin also offers a gallery of 30+ free-form templates. And you can customize these templates to match your specific needs, making it incredibly versatile.
How about the data management part? CaptainForm also makes it easy to manage submissions, create reports, and generate charts. In short, you'll have a comprehensive view of the feedback and insights you've gathered to help you make informed decisions.
Benefits of CaptainForm
Offers top-notch security features like CAPTCHA and SSL Encryption
Provides form submission preview for users
Features form with pagination and multiple fields per row
Users can upload files via forms
For premium users, multiple and custom recipients are available
Drawbacks of CaptainForm
Users may find its appearance a bit dated
Not a lot of pricing options available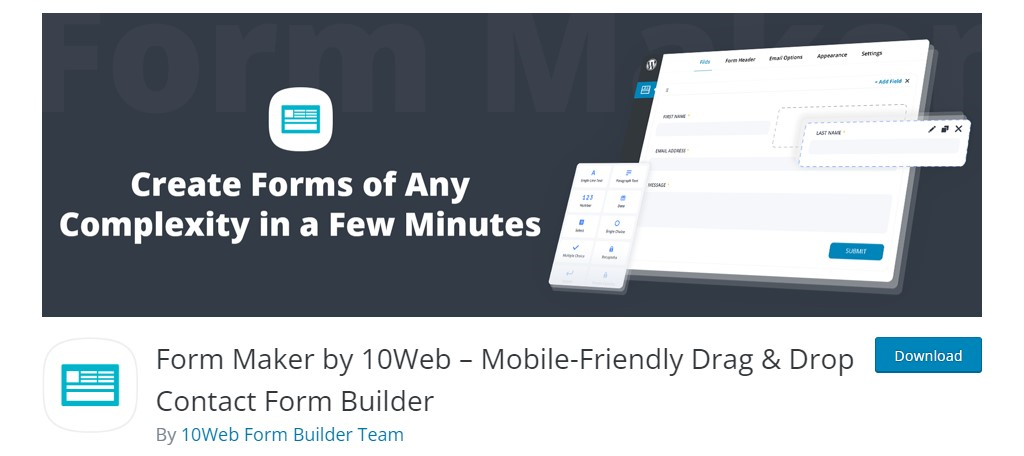 For flexibility, Form Maker by 10Web combines simplicity with a wide range of capabilities, making it the top choice for website owners who want to collect valuable feedback.
Form Maker has a user-friendly interface where you can drag and drop elements to create forms. It's designed to work well on all devices, including mobiles, tablets, and desktops. This means your audience can easily provide feedback no matter what device they use.
You have 40+ different form field types to choose from with this WordPress plugin. So, whether you need simple text fields or more advanced options, Form Maker has you covered.
What's more, Form Maker offers different ways to display your forms, like popups, top bars, scroll boxes, or embedding them into your blog posts. This flexibility allows you to place feedback forms strategically on your website.
Benefits of Form Maker by WD
Has PDF-integration add-on that allows submitting forms in PDF format
Its MailChimp integration helps with your email marketing efforts
Integrate PayPal and Stripe gateway to accept payments
Allows you to build forms with complex conditional logic
The plugin comes with many customizable themes that you can use
Drawbacks of Form Maker by WD:
A limited number of questions allowed for the free version
May take some time to use the plugin efficiently as it has a learning curve
From the name itself, Helpful is really helpful in understanding your audience and making your content better.
First, this plugin is easy to use. It lets you add a "Was it helpful?" survey to your blog or knowledge base pages. It's a simple survey that makes it easy for visitors to give quick feedback without filling out long forms.
If you want more features, there's a pro version of this plugin. It lets you export feedback data, change where the feedback form appears, and customize it. These extras give you more control over your feedback.
Now you may be wondering why should you choose a simple "Was this helpful? Yes/No" survey. It's because, from a customer's perspective, these forms are easier to respond to. And people are more likely to give feedback when the process is simple.
If they want to, users can also add comments for more details.
Benefits of  Helpful
Offers multiple rating button styles and customizable SVG icons
With content customization, you can rewrite the question any way you want
Offers typography and color customization to match your website design
The plugin stores feedback data in a custom database table
Has a dedicated "Test Mode" option
Drawbacks of Helpful
Can be too simple for those looking for a more complex feedback form
The plugin can mainly be used for blogs and knowledge-base pages only
Level up your feedback generation with Fluent Forms, one of the best WordPress feedback plugins available on the market.
First off, Fluent Forms is user-friendly. With its drag-and-drop builder and lots of ready-made templates, you don't need to be a tech whiz to use this plugin.
It also works perfectly on all screen sizes. Your forms will look great on any device without you having to do anything extra. This is crucial in today's world where people use various gadgets.
With its Conversational Forms, you can say goodbye to boring, static forms on your website. With this feature, your forms become interactive and dynamic, which means fewer people leave your forms without finishing them.
Fluent Forms also has smart conditional logic, which is a fancy way of saying it can do clever stuff. You can set it up to send emails and notifications based on specific things people do. Plus, you can show or hide parts of the form, giving each visitor a personalized experience.
Benefits of Fluent Forms
Fluent Forms can turn data into PDFs easily
Payment and donation collection with its integration with Stripe and PayPal
Connect with your favorite CRM tools to generate more leads
Instant notifications via email or SMS whenever someone submits a form
Highly customizable experience for form-building
Drawbacks of Fluent Forms
You may need to write a little CSS if you have custom styles to apply
Can have too many updates in a short time which can overwhelm users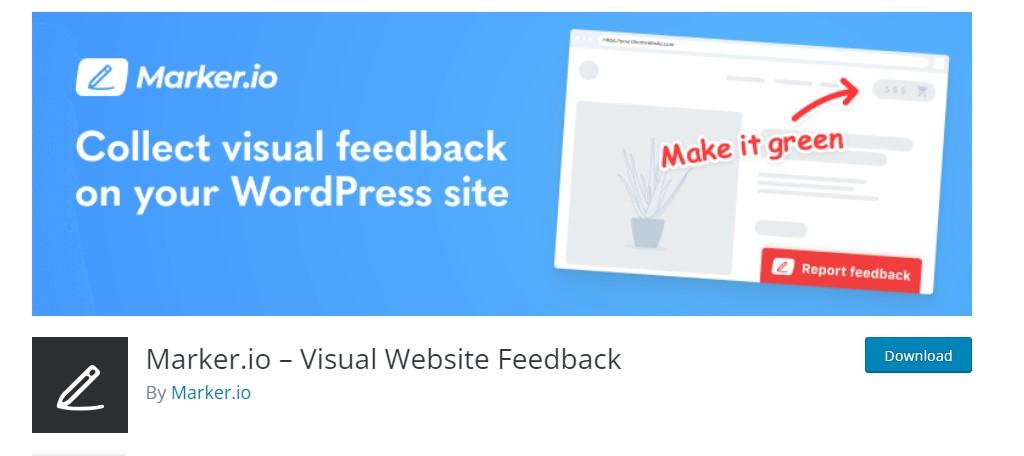 Designed especially for agencies and software development teams that need feedback from clients and team members during projects, Marker.io is one of the best WordPress feedback plugins when it comes to team collaboration.
With Marker.io, getting feedback is easy. You can take screenshots, add notes, and send them straight to your WordPress dashboard. This simplifies communication and eliminates the need for long email conversations.
This plugin also works smoothly with tools like Trello, Asana, and Slack. That means feedback from your team or clients fits right into your workflow, making the whole development process more efficient. 
Lastly, Marker.io is user-friendly. Even if you're not a tech expert, you can still give helpful feedback. Its clear design helps you share your thoughts easily and effectively.
Benefits of Marker.io
Widgets and forms are customizable
Report feedback on any browser or mobile device
Notifies and report as soon as your team closes an issue 
Client-side errors and logs in the dashboard are automatically recorded
Gives your clients an overview of all the feedback they have reported
Drawbacks of Marker.io
Cannot attach multiple screenshots at the same time
Unable to capture items outside the browser
This plugin is only for project management purposes (feedback between agencies and clients), and not for end-users to use
Know what your customers truly have to say about your business with the User Feedback plugin.
It enables real-time feedback collection from website visitors, making it easy to learn what your audience thinks of your website, what features they'd like to see, and how they see your product or service.
This plugin also offers easy-to-use templates to collect the specific feedback you need. Just install the plugin, pick the feedback templates you like, and you're ready to collect valuable insights. It's simple, even for WordPress beginners.
Overall, this plugin aims to make it easier for small businesses to be competitive. It allows you to create as many surveys as you want to target specific products, individual blog posts, or even users who've already made purchases in your store. 
Benefits of User Feedback
Customizable surveys include ratings, scales, and open feedback
Can launch surveys on specific devices like tablets and phones
Run feedback on specific times and dates
With its CSV export, you can analyze your results even when offline
Automatically works with Google Analytics
Drawback of User Feedback
Most features locked behind the Pro version
FAQs on WordPress Feedback Plugins
What is a WordPress feedback plugin?
A WordPress feedback plugin is a tool that you can add to your WordPress website to collect reviews, comments, or suggestions from your visitors. These plugins can help you create feedback forms, surveys, or polls, allowing you to gather valuable insights to improve your website's content, design, and functionality.
It's a practical way to engage with your audience and ensure that your website meets their needs and expectations.
Should you ask customers for feedback?
Definitely! Asking customers for feedback is vital. It helps in understanding what they like or dislike, and this aids in improving your offerings. It is a simple way to foster trust and loyalty.
What questions should I ask for user or client feedback?
When asking for feedback, focus on straightforward questions that encourage detailed responses. You might ask about the overall user experience, the usability of your site, or the quality and relevance of the content presented. Tailor the questions to retrieve actionable insights that can help you enhance your product, service, or website.
How can I encourage more users to leave feedback on my website?
To encourage users to leave feedback, make the process simple and quick. You can also offer incentives such as discounts or freebies in exchange for their feedback.
Additionally, make sure to actively respond to the feedback received. Personally responding to their reviews shows that you value their opinions and are keen on making necessary improvements.
What are the best practices for responding to negative feedback?
Responding to negative feedback requires tact and professionalism. Always thank the reviewer for their feedback, acknowledge their concerns genuinely, and if possible, offer a solution to their problem.
Maintaining a positive and understanding tone is key to showcasing excellent customer service.
Can I set up automatic responses to feedback received through these plugins?
Yes, many feedback plugins allow you to set up automatic responses. This feature helps in acknowledging the receipt of feedback promptly, which can enhance the user's experience by making them feel heard and appreciated.
What kind of feedback can I collect through WordPress feedback plugins?
Through WordPress feedback plugins, you can collect various types of feedback, including suggestions, complaints, reviews, and general comments. These plugins allow you to tailor feedback forms to your needs, encouraging users to share their experiences and opinions on different aspects of your website.
Find The Perfect WordPress Feedback Plugin For Your Website
In conclusion, using a WordPress plugin to give feedback on your website is a decisive step toward enhancing your online presence in 2024. The right choice can be a game-changer that aids in refining content and understanding your audience's needs more deeply.
Don't delay in making a choice that could boost your online business. Choose a WordPress feedback plugin that fits your goals and let it guide you toward success. Enhance your website, engage your audience, and stay ahead in your field.