Instagram is one of the most popular websites on the web with over 4 million monthly visits, which is why so many websites focus on integrating with the platform. WordPress has plenty of Instagram plugins to choose from for this reason.
With them, you can do a variety of things from displaying your Instagram feed to automating your Instagram posts from WordPress. There's really a plugin for every occasion, which is what makes the platform so popular.
Today, I will share the best Instagram plugins to use with WordPress.
The Instagram Feed Pro plugin by Smash Balloon is easily one of the best ways to display your feed in WordPress. It has features for all types of users, which is why it has over one million users that praise it.
You can display your feed using a variety of filter options to curate the best images from your account.
Perhaps one of its most popular features would be showcasing your shoppable feeds. Many influencers and businesses will create feeds for products they are selling, and this plugin has several features to make that easier.
Normally, displaying content from a third-party site would slow down your website. However, this plugin avoids that by implementing a smart feed caching solution. This helps prevent your website from slowing down when showing off your feed.
Benefits of Using Instagram Feed Pro:
Automatically push your latest Instagram content to your WordPress site
Includes a variety of customization options to display your feed the way you want it
Responsive design ensures that users can view your feed no matter their devices screen size
Create multiple Instagram feeds to display in different areas of your website
Create feeds consisting of posts that you were tagged in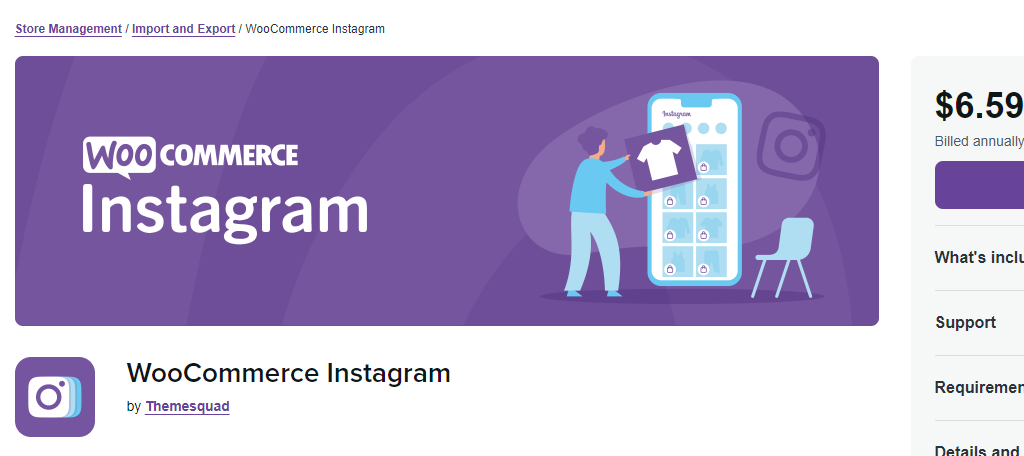 While many just use Instagram to show off their vacation, new dishes, and other fun activities, many influencers and business owners use the platform to move products. WooCommerce Instagram is a powerful eCommerce tool for WordPress that makes this easy.
It allows you to build a buyable Instagram feed by uploading your products to Instagram.
You can create posts, feeds, and stories around your product entries. You have a ton of creative options with this tool when it comes to how to display the products.
For instance, want to show off a new bikini? No problem.
You can create a post showing yourself, or a model wearing the bikini and include a small sale button in the bottom corner of the post. You can even have hover effects that show the price of the items in the post, and yes, you can show off multiple products at once.
Benefits of Using WooCommerce Instagram:
Includes support for product variations (colors, sizes, etc.)
Showcase tagged feeds to show happy customers with their products
Easily redirect users to your shop to boost sales
Excellent mobile design ensures checkout is smooth on any device
Filter you products using a variety of options like stock status, product type, and more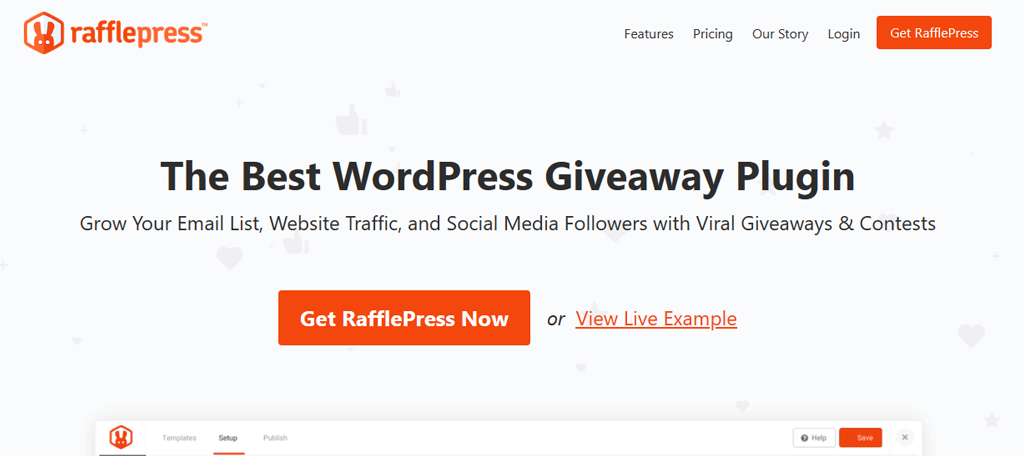 Instagram and giveaways go together like peanut butter and jelly. One of the best ways to create these is with the RafflePress plugin for WordPress. It makes it easy to set up giveaways on a variety of platforms including Instagram.
And one of its best features by a mile would definitely be giveaway builder.
With it, you can build full giveaway campaigns in just a few clicks. And you even have a variety of templates that you can use to give yourself a head start. It utilizes a drag-and-drop interface to make the process easy for any skill level.
Sadly, competitions bring out the worst in people, thus, you need to protect your giveaway from cheaters. Luckily, RafflePress has Fraud protection that can be used to detect duplicate entries and submissions from the same IP.
Benefits of Using RafflePress:
Make it easy for participants with one-click entries
Integration options with marketing and CRM plugins
Encourage viral sharing with refer-a-friend bonuses
Create landing pages for your giveaways to help entice participants to enter
Includes a variety of social media icons and buttons
When it comes to displaying feeds from your favorite social media networks, there is no better place than the widget areas in WordPress. Many themes have an amazing amount of space to display content in them, which makes them an ideal choice.
And there is no better option than the Social Slider Feed plugin that works for Facebook, YouTube, and Instagram feeds.
While the name may suggest that this tool only builds sliders, that isn't true at all. Besides sliders, you can also build with masonry design to display images in stylish ways. This opens up design options for your sidebar, header, and footer widget areas.
You can also link any of the images from Instagram to specific pages from your site, including sales pages for products, which is a great way to increase sales.
You can choose the order the images appear by a variety of filters from publish date to category.
Benefits of Using Social Slider Feed:
Choose from multiple image sizes when building widgets
Alert Instagram users when a new post goes live on WordPress
Sort images by popularity, date, or just display them randomly
Include captions for images and video content
Supports multiple languages for users with international followers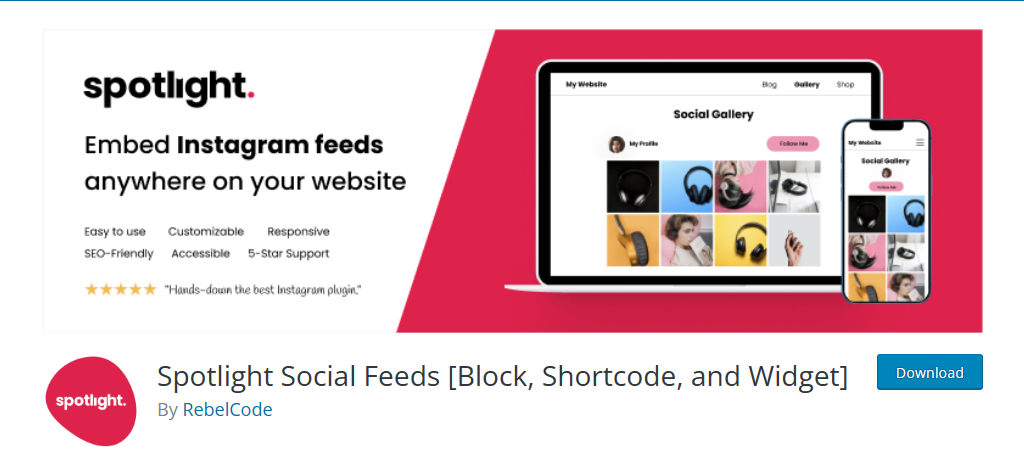 Adding your Instagram feed to your WordPress website doesn't have to be difficult, and that's where the Spotlight Social Feeds plugin comes into play. This tool allows you to easily embed Instagram feeds anywhere in WordPress.
You can do this using easy-to-place shortcodes, widgets, or blocks for Gutenberg.
Another way that this plugin helps make it easy for users is the in-the-style option. You'll gain access to over 20 templates that are ready for use. Each one offers different feed design options when it comes to image placement.
This makes Spotlight the best Instagram plugin that beginners can use for free. That said, there is a premium version with even more features to take advantage of like building tagged Instagram feeds.
Benefits of Using Spotlight Social Feeds:
Create a custom feed header to show off your account profile
This plugin is compatible with images, video, reels, and gallery content
Choose the number of columns to display when using a shortcode, widget, or block
Generate a popup lightbox when users click on an image
Responsive design ensures your feed looks great on any screen size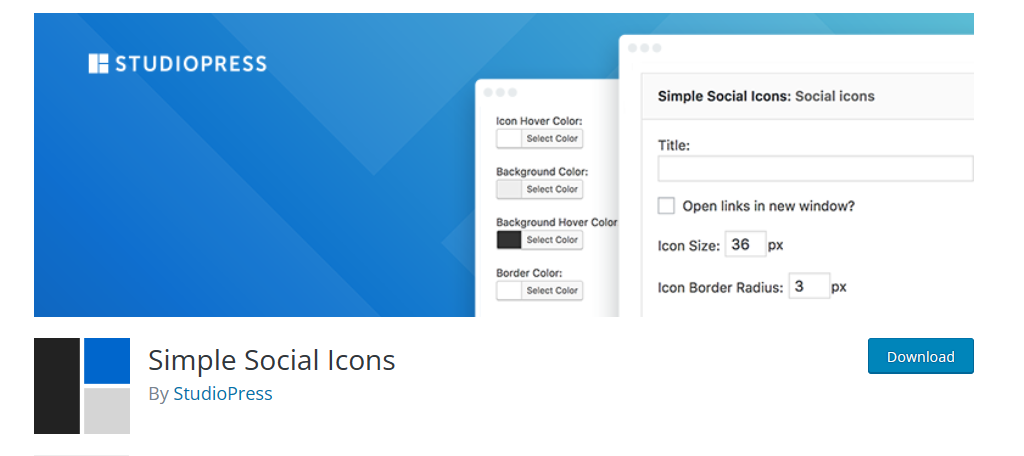 Not all websites go all in on social media integration. Sometimes, they just want the bare minimum, which is just including sharing buttons for the platforms they support. One of the best ways to add this is with the Simple Social Icons plugin.
It gives you access to a myriad of social icons for every platform with multiple designs to choose from.
In terms of usability, this plugin lives up to the "simple" in its name. You can create a social share button by choosing from the icon library, inserting the URL of your account, and customizing the size of the button.
It's quite easy to use and doesn't do anything crazy.
If you do plan on using this for multiple platforms besides Instagram, you'll be pleased to know that you can organize the social icons in any order. This allows you to put your favored social networks first.
Benefits of Using Simple Social Icons:
While there is an impressive selection of social icons, you also have the option to add your own
Change the color of a button when a visitor is hovering over it
Make the social button open up in a new tab when clicked
Customize everything about the button from border width & color to the text alignment
Buttons can be placed in the widget area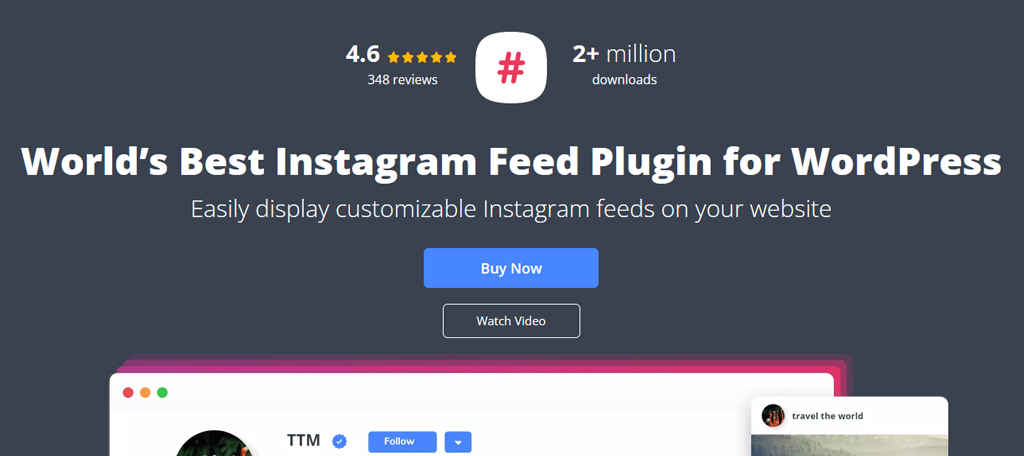 10Web Instagram Feed may just be the best Instagram plugin for WordPress as it includes a wide variety of customization tools that are easy to master. This makes it a great choice for beginners but also offers the depth that experts look for.
And that's exactly why this tool is so popular with over 2 million downloads.
One of the best ways to keep visitors on a page is to keep giving them content to enjoy, and there's no better way to do this than with infinite scrolling. With this, you can keep displaying images from your Instagram feed as long as the user keeps scrolling.
When it comes to the feeds you can build, you have a ton of options because you can include feeds from multiple Instagram accounts. Not to mention the ability to create feeds when your account is mentioned by others.
Benefits of Using 10Web Instagram Feed:
Display comments, captions, and other metadata within your Instagram feed
Responsive design ensures that the feed will look excellent on any screen size
Allow users to download images
Easily add your feed to any post or page in WordPress
Implement pagination to improve loading times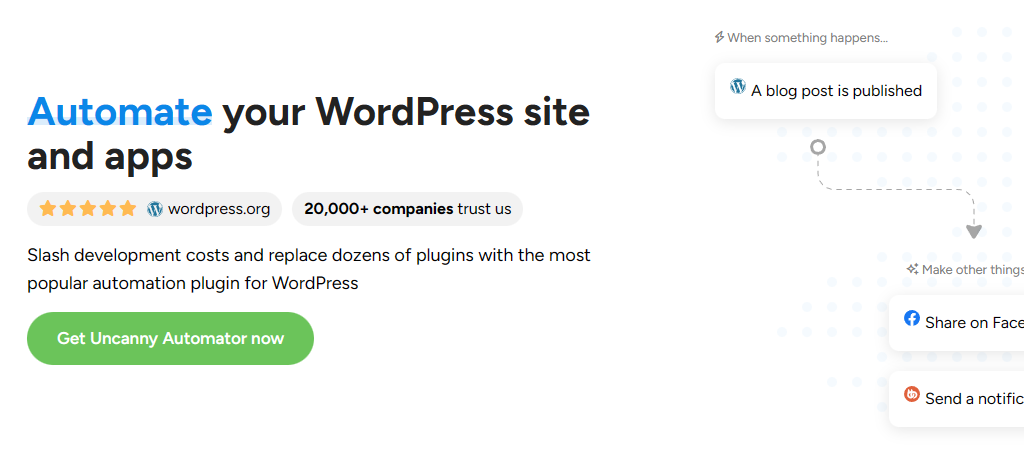 Ever notice how some websites are able to synchronize their posts on social media exactly when a new product goes live or when they release new blog content? This is all thanks to automation tools that help synchronize content drops across platforms.
One of the best plugins to do this for Instagram in WordPress would definitely be Uncanny Automator.
This plugin makes it possible to set up synchronized posts across multiple social media platforms when you create a new post in WordPress. You can choose between the messages going up at the same time as the post goes live, or delaying the posts at better times.
After all, sending out a message on Instagram at 3 in the morning may not be that effective. No coding skills are required to do this, instead, it utilizes a simple visual builder that makes it easy to set this up for any skill level.
Benefits of Uncanny Automator:
One-click integration with third-party tools like Google Sheets, Elementor, and more
Create conditional triggers for users to receive emails
Intuitive design makes it the perfect tool for beginners
No limit on the number of platforms you can connect with
Setup robust webhooks for even more customization options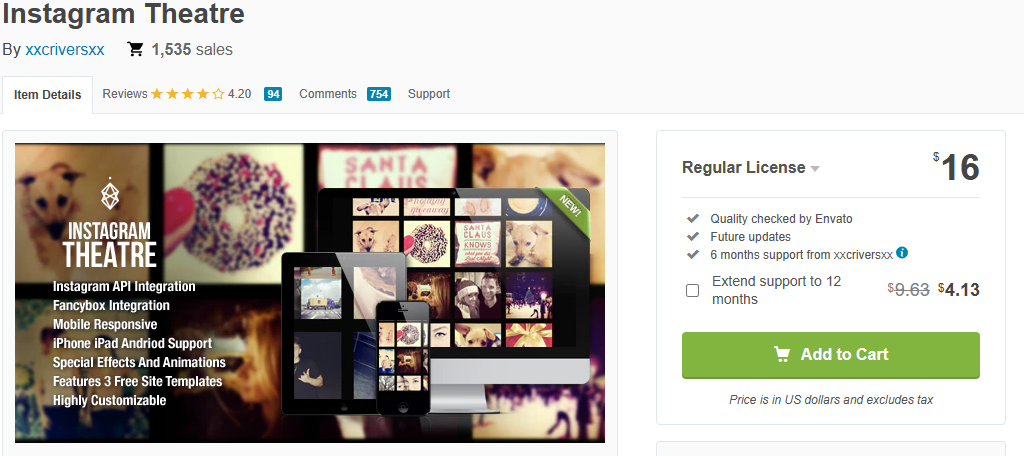 Closing out this list of the best Instagram plugins for WordPress is the amazing Instagram Theatre plugin. This premium plugin focuses on showcasing images from Instagram in a stylish manner with a variety of design options to choose from.
It also supports displaying Instagram feeds based on a variety of factors such as tagged feeds, or feeds focused on specific hashtags.
In terms of design options, you can choose from multiple layout designs like fullscreen mode, thumbnail mode, list view, and more. All of these are naturally responsive so no matter what device a visitor is on, it looks fantastic.
One of the more interesting features you can use is Location mode. This allows you to locate posts that were taken at a specific location. This works well when mentioning an event like a baseball game.
Benefits of Using Instagram Theatre:
Supports multiple Instagram accounts
Gain access to excellent support that can answer any questions you may have
Ensures fast loading times to minimize site slowdown
Includes site templates that maximize the design options of the plugin
Fancybox integration options
Keep An Eye On Your Site Speed
One of the biggest problems websites face when adding content from third-party sites is that it impacts the site speed. After all, when a user loads a page, that website must connect with the third-party site to display the content, thus, it's an extra step.
Some of the tools on this list try to minimize the impact displaying an Instagram feed will have on WordPress, but it's important to monitor this yourself. Luckily, WordPress has amazing tools like GTMetrix that can help you identify site slowdowns.
If this does happen, one of the best ways to correct it is to reduce the size of the feed you are displaying.
The less content your site needs to load from a third party, the faster it will load. Failing to address this issue will have a huge impact when it comes to your website search engine rankings, as speed is a big factor.
Connect WordPress and Instagram With These Plugins
As you can see, WordPress has no shortage of amazing plugins that make it easy to integrate WordPress and Instagram. Regardless of if it is something simple like displaying a feed, or something more complex like making an Instagram store, you have options.
Doing so can be a huge boon for both your Instagram account and WordPress website. In many cases, it is easier to gain website views from users surfing through Instagram than search results.
Of course, Instagram is just a single social media platform. Be sure to integrate with other popular options like Facebook and Twitter.
What are some of your favorite Instagram plugins for WordPress? Has integrating with Instagram boosted site traffic or sales?