As you are aware that a dedicated server is a powerful machine that can hold a tone of a website's user traffic. I already have introduced Liquid Web in this post previously. In this article, I will focus on Liquid Web's traditional dedicated server. What exactly it is and what features does it have? What is the price, performance, and security, and what kind of support you will get if you go with them for a dedicated server?
Unmanaged Server Price: $99/mo* (Discounted with our Coupon)
Managed Server Price: $149/mo*
Renewal Price: $199/mo*
What's Unique About Liquid Web Dedicated Server?
Managed and unmanaged server options
High powered
Very rare 100% Uptime SLA commitment
Free website Migrations
Customizable servers
No setup fee
High level of support
Liquid Web Dedicated Server in its own words
High Powered Dedicated Servers | Unmanaged Server from $99/mo to $189/mo | 25,000+ Servers Powering 30,000+ Happy Customers | 25+ years of experience | Linux or Windows Available | 100% Network and Power Uptime SLAs | US and EU datacenters
Pros and Cons
Positive
No Setup fee
High Level of experts support
100% network and power uptime
Lots of addons
Discounted for first time purchase
Custom servers available
Negatives
Missing AMD Servers
Only Intel Servers
Liquid Web Dedicated Server Features Highlights
| | |
| --- | --- |
| Disk Space / SSD Storage | 250GB – 500GB SSD (RAID) |
| Bandwidth | 5TB Free. Upgradable to 20TB |
| Free Website Transfer: | Yes |
| Full Root Access: | Yes |
| RAM: | 16 GB – 64 GB. Expandable |
| Default Uplink Port: | 100M. Upgradable to Gigabit |
| Moneyback Guarantee: | Not Applicable for Dedicated Server |
| Control Panel (Addon): | InterWorx, Plesk Web Pro, or cPanel Admin* |
| Website Backup & Restore (Addon): | Acronis Cloud (Offsite & Off Server) & Liquid Web (Off Server) |
| Uptime SLAs: | 100% |
| Payment Modes: | PayPal and Credit Cards |
| 24/7 On-site Support: | Phone/Chat/Email |
| Backup Drive | 1TB SATA included |
| OS: | Linux and Windows |
| Extra IP | $5/2IP/month |
| Pricing Model: | Monthly |
| Free Dedicated IP: | 1 |
| Pricing: | Starting at $99 per month (For our users only) |
| Renewal Price: | ($199/month) |
Dedicated Server Provisioning Time
After successful payment, it takes 24 – 48 hours to hand over your dedicated server. Also, it depends upon your customizable server requirements. Prices depend on your selected hardware such as RAM, Hard disc, uplink port, and additional bandwidth, etc.
Prices and Plans
Liquid Web entry-level Linux dedicated server "Intel Xeon E3-1271 v3" Quad-Core single processor CPU starts at just $99/mo and that is a promotional price. The real and renewal price for this server is $199/mo. Remember this price is for an unmanaged server. And this pricing is for US locations only. If you choose the EU location the pricing will be different, normally $249 for an entry-level server. You need to pay for a control panel addon if you want complete managed services. There are 3 different control panels to choose from – cPanel ($42/mo for 100 accounts), Interworx ($20.00 /mo), or Plesk Onyx ($25.00 /mo). And this server has a predefined SSD space of 250GB and 5TB of outgoing bandwidth. This 5TB bandwidth has a 100M uplink port by default. If you need a Gigabit port you need to pay $50/mo. There is 1 free dedicated IP and Standard DDOS Attack Protection is added by default.
Interested in VPS instead? See managed VPS here
With the Bundle option (managed server) selected, the price with slightly increase to $149/mo (promo price). Its actual price with the bundle is $234/mo. With the bundle option, you get double RAM that increases to 32GB, 250GB Acronis Cyber Backups, InterWorx, Plesk Web Pro or cPanel Premier 100**, and Threat Stack Intrusion Detection for security. By selecting the Bundle option, this server becomes managed. So there is no worry about its management and security.
Prices for US server locations:
| Plan Name | SSD Space | CPU Cores | RAM | OS | Price | |
| --- | --- | --- | --- | --- | --- | --- |
| Intel Xeon E3-1271 v3 | 250 GB | 4 cores | 16 GB | Linux/Windows | $99 | Details |
| Intel Xeon Silver 4208 | 500 GB | 8 cores | 16 GB | Linux/Windows | $149 | Details |
| Dual Intel Xeon E5-2620 v3 | 500 GB | 12 cores | 32 GB | Linux/Windows | $189 | Details |
| Custom | On demand | On demand | On demand | On demand | – | Details |
Customer Support
Liquid Web is known as the Most Helpful Humans in Hosting. Prices are slightly higher than some other hosting providers but that is due to the high level of support that Liquid Web offer. Their support team is always available 24/7 through phones, live chats, and tickets. You get a 60 second response time on all phone calls and live chats and a 60 minute initial response time on all ticket requests. Apart from this, a huge knowledge base and blog section are available for self-help.
Security
A Standard DDOS Attack Protection is included by default in all server plans. You can buy Threat Stack Intrusion Detection as an addon for $30/mo. But if you choose the bundle option you will get it in the package. Apart from this, a 1TB SATA Backup Drive is included at all service levels. You can go with an addon of Acronis Cloud (Offsite & Off Server) – $40/mo for 250GB & Liquid Web Cloud (Off Server) – $25/MO for 250 GB. You can buy it up to 5TB.


Performance
Liquid Web commits to a 100% network and power uptime guarantee with all of its servers. It's very rare in the hosting industry. That's the second reason Liquid Web servers are more expensive than other providers.
Liquid Web VS. Competition
For a dedicated server, Liquid Web competes with Hostgator and Godaddy. A managed dedicated server at Hostgator is priced at $189/mo while Godaddy costs $384/mo and these are non-promotional or actual prices. Liquid Web beats its, competitors, in terms of uptime. Hostgator and Godaddy commit 99.9% uptime whereas Liquid Web guarantees 100% uptime. That means servers from Liquid Web will remain online for the whole month or a whole year without a single nap. It's a pretty amazing thing.
Another major difference is the default off-server backup. Liquid Web offers off-server backup by default even in unmanaged servers. while Godaddy and HostGator are missing it.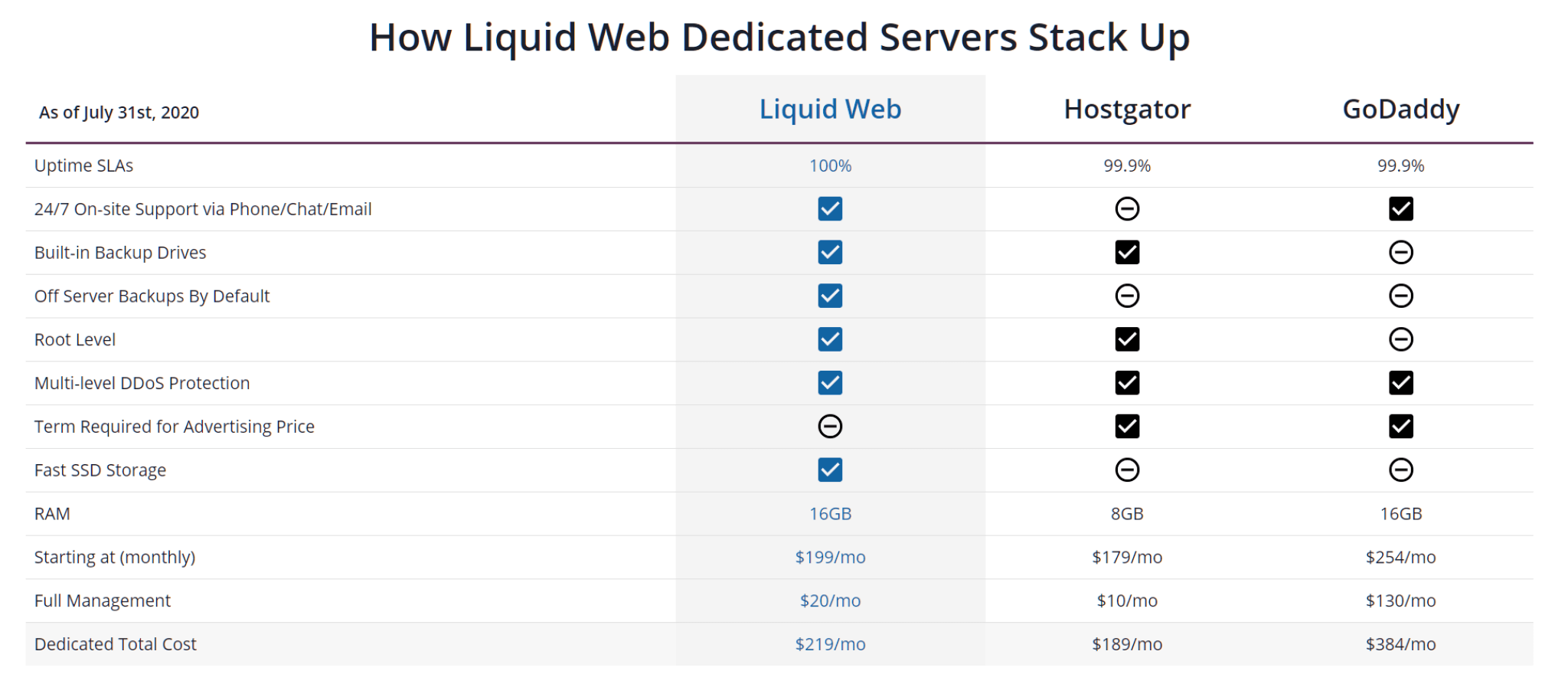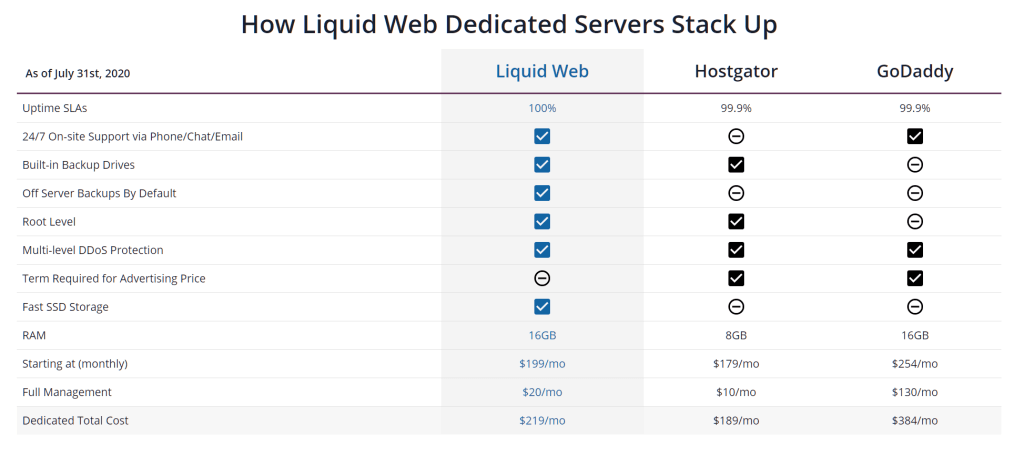 Final Word
Many of us look for low prices or cheap options when buying hosting for our websites. A dedicated server gives full room for our websites to breathe and run independently without sharing its resources with outsiders. Liquid Web dedicated servers guaranteed 100% uptime and a high level of technical support and which makes these servers premium. If you want complete peace of mind, go with managed option. Just focus on your website work and let Liquid Web handle the management and security headache. If you are a fan of AMD servers, Liquid Web may disappoint you as it has only Intel servers listed.
Disclosure

When you buy through affiliate links on our site, we may earn an affiliate commission, at no cost to you.