Nexcess Review for 2023
WordPress is a popular and versatile content management system (CMS) that powers millions of websites, today. As a result, many web hosting services heavily focus on WordPress, with some, like Nexcess, devoting all their resources and efforts to it. Nexcess has high-quality, managed hosting that offers excellent uptime, elite performance, ultra-flexible infrastructure, WordPress-oriented security, cloud platform flexibility, daily backups, and other terrific features. Nexcess has fantastic plans that make the web host an Editors' Choice pick for WordPress hosting eCommerce hosting.
As per various customers' Nexcess reviews and from our own experience, these features are really helpful in making their hosting faster and highly secure.
Nexcess in its Own Words
Premium and Managed WordPress Hosting Provider | Managed CMS Hosting from $19 – $999/mo | Data centers in the US, EU, and Asia Pacific | 500,000+ Websites under management | 23 Years of hosting experience
Nexcess at a glance
Nexcess (Liquid Web's sister company) is an American web hosting company that specializes in shared Managed WordPress hosting, WooCommerce hosting, Magento hosting, Cloud hosting, and Enterprise hosting. The products are available on the nexcess.net website, and it is accessible worldwide. Nexcess is hosting over 500,000+ websites to date and counting.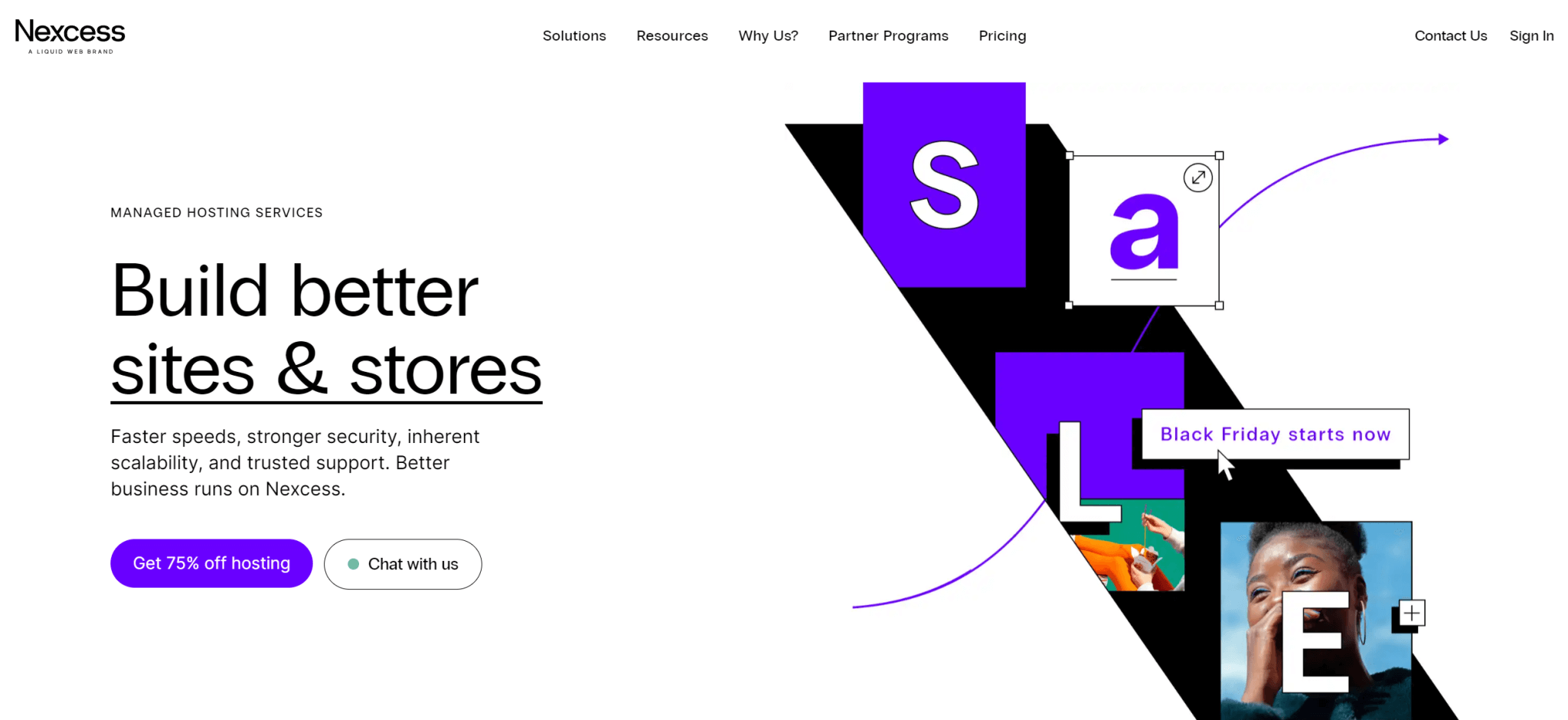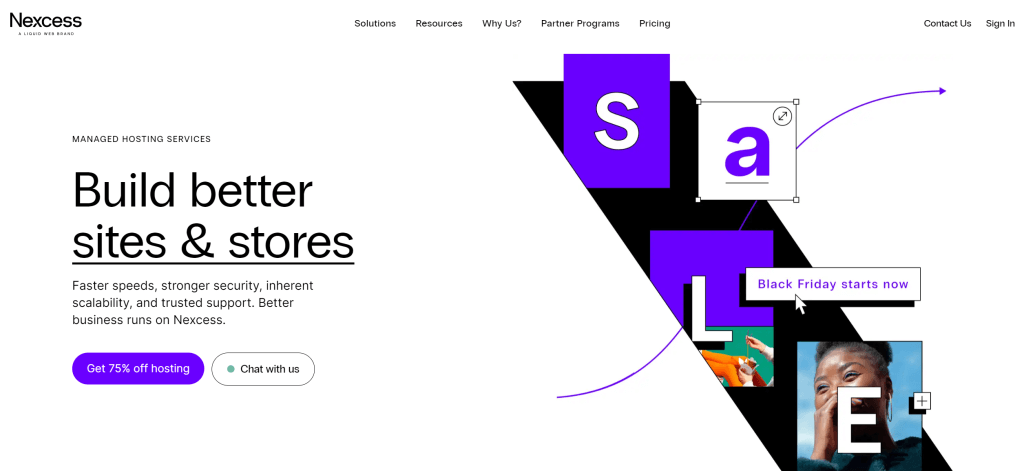 Like many hosting companies, Nexcess operates data centers in North America of the United States. It owns data centers in US Midwest, Southfield, MI, and US Midwest, Dearborn, MI. Apart from the US, they have servers in Europe (UK & Netherlands) and Asia Pacific (Sydney).
Being a Liquid Web brand, Nexcess is well-priced. However, its snob value, features, and capabilities are unparalleled.
Let's dive into more details:
Main Key Features & WordPress Hosting Overview
| | |
| --- | --- |
| PHP Workers: | Base 10 (Scalable to 20 max) |
| Storage: | 15 GB – 800 GB |
| Bandwidth: | 2 TB – 10 TB |
| Uptime Claim: | 99.99% |
| Free Domain: | No |
| Website Transfer: | Yes |
| Control Panel: | Custom Dashboard |
| Free CDN | 250 GB |
| Free SSL: | Yes |
| Moneyback Guarantee: | 30-day money-back guarantee |
| Plans Names: | Spark, Maker, Designer, Builder, Producer, Executive, & Enterprise |
| Support: | 24/7 |
| Pricing: | Starting at $19 per month (renews at $19/mo) |
| Promo Code: | 33% OFF ($12.67/month) |
Pros of Nexcess Hosting
Nexcess offers a 100% uptime SLA statement on its hosting services. It's true based on our experience. This cloud hosting is scalable, secure, super-fast, and is perfect for WordPress and digital commerce platforms.
The basic entry-level plan is just not affordable but contains enough resources. 2TB bandwidth, 15GB storage, and 10 PHP Workers are pretty much higher than its competitors.


On top of that, every customer gets priority support. They have one of the best and most knowledgeable teams in the industry.
Managed Hosting Solutions
Nexcess offers a great product portfolio of managed hosting including WordPress, Magento, and wooCommerce hosting plans many others. Even create a membership site easily on their hosting. If you are new to website building, you can try their StoreBuilder (eCommerce Store Builder).


Nexcess Cloud infrastructure, which automatically keeps your WordPress website + WooCommerce store updated & secure.
Once you create an account on their Managed WooCommerce hosting, they'll make sure your eCommerce store stays open so you can continuously accept orders and build your business.
Dedicated Support Team
Premium-grade support: The support team is available 24/7 by phone, live chat, email, and ticketing system. Technical support on live chat is only available during business hours but available through tickets 24 hours.


For emergencies, you can call on their phone numbers at any time to resolve issues. The United States-based customer service is quite good, knowledgeable, and helpful. 
Beyond this, you can access the Knowledge Library for tutorials and how-to material for self-help.
Website Migration
Once your account is active with Nexcess, they will move every file on your website. Request a migration through the portal.


Website migration can take 2-5 days depending on the complexity of your website and based on first-come, first-serve.
A lot of Premium Freebies
When you sign up for a plan with this company, you get many premium plugins as freebies. The premium plugins include iThemes Security Pro & Sync, Performance Monitor plugin, Astra Pro, Qubely Pro, Elementor, Ninja Forms, and more.
Inbuilt Caching
NGINX Accelerator comes by default in all plans. It accelerates content and application delivery. The NGINX Cache is a micro-cache that compresses and stores static content in memory for short periods.
Faster Site with More PHP Workers
Nexcess offers ten base PHP Workers in the entry-level spark plan, and these PHP Workers can scale up to 20. Apart from this, we have reviewed Kinsta which offers 2 PHP Workers in the Starter plan at $30/mo.
Daily Backups
The backup feature is available in the dashboard. The daily backup is stored for 30 days. You can restore your website anytime with a click if any disaster happens. Backup copies are stored on a daily basis.
Strong Security Features
All the Nexcess plans come with premium plugins, including iThemes Security Pro. So nothing is worrying about WordPress site security. It fixes all the website errors, and vulnerabilities and removes malware magically.
Local Brute Force Protection, Two-Factor Authentication, and quick site scan can be activated in just one click. Also, a free SSL certificate for encryption comes by default.
Scalability
Every plan has easy cloud auto-scaling to maintain the tsunami of user traffic. The first cumulative 24 hours of scaling for your site are free. After that, you will be charged $6/hour (billed in 30-minute increments).
Advanced auto-scaling is available in the dashboard for uncontrolled traffic and that will incur a $99 charge for enabling it.
Dedicated CDN Storage
Nexcess gives you real and dedicated CDN storage, not just like Cloudflare CDN. Content Delivery Network (CDN) service is included in every plan. By default, it's 250 GB without any additional cost.
If needed more, it is priced at $0.10/GB. Enabling CDN service improves load times for your website magically.
Developer Friendly
All plans come with a 1-click staging site. You can easily get a staging environment copy of production to be able to test anything.
User-friendly dashboard
Nexcess offers an easy-to-use dashboard that is loaded with many features. You can manage DNS, email accounts, MySQL, PhpMyAdmin, SSL installation (Owned SSL and let's encrypt both support), backups, FTP and SSH details, and performance tune-ups.
You can manage PHP versions (PHP 7 and 8 compatible) and monitor bandwidth usage and PHP-FPM from the dashboard.
30-day money-back guarantee
Nexcess added a 30-day money-back guarantee since our last review, so it now has a no-hassle 100% money-back guarantee for the first 30 days of your investment. To request a refund you will have to contact the billing department. They will credit back your full payment within 7-10 business days.
Nexcess performance
We have tested Nexcess WordPress Spark Plan for one year. It delivers excellent performance for a low-traffic website with a 100% uptime rate. As your website traffic grows you have to upgrade to the next level plan for more resources. Nexess offers you an easy upgrade to any plan.
Cons of Nexcess Hosting
If there are Pros then obviously, there will be cons too. We will not hide the cons of Nexcess. We will share everything that we have experienced.
No Free Domain
Nexcess does not offer free domain registration. However, paid domain registration is available.
The best part is you get a free subdomain that will live your site instantly.
Late response from the support team
After research, there are many complaints about support. Nexcess support team responded late on tickets for support-related issues. However, the sales team is available around the clock. This company has an in-house team of technicians and they work only during business hours. This could be improved.
All the major issues can be solved by calling them on their phone numbers after submitting a ticket.
No Dedicated IP addon
Yes, that's right. According to the statement by the sales team, Nexcess does not offer dedicated IP addresses on the lower plans of the Managed WordPress platform. They offer a dedicated IP address on the Producer plan and above.
This is a very disappointing thing.
Nexcess Pricing, Hosting Plans & Key Features
Premium Managed WordPress Hosting
The Nexcess managed hosting solutions are priced between $19 to $999 per month. The Nexcess WordPress Hosting is available in seven plans: Spark, Marker, Designer, Builder, Producer, Executive, and Enterprise.
Spark: This is an entry-level plan that starts at $19 per month. You get one domain hosting, 15GB disk space and 2TB bandwidth, an SSL certificate, CDN, and unlimited email accounts.
Maker: This plan costs $79 per month. You get five domain names, 40GB disk space and 3TB bandwidth, SSL certificate, and unlimited email accounts.
Designer: This plan is priced at $109 per month. Host up to 10 sites, 60GB disk space and 4TB bandwidth, SSL certificate, and unlimited email accounts.
Builder: This plan starts at $149 per month. You get 25 domain names, 100GB disk space and 5TB bandwidth, SSL certificate, and unlimited email accounts.
Producer: This plan costs $299 per month. You get 50 domain names, 300GB disk space and 5TB bandwidth, SSL certificate, and unlimited email accounts.
Executive: This plan starts at $549 per month. You get 100 domain names, 500GB disk space and 10TB bandwidth, SSL certificate, and unlimited email accounts.
Enterprise: This is the highest-level plan and it costs $999 per month. You get 250 domain names, 800GB disk space and 10TB bandwidth, SSL certificate, and unlimited email accounts.
Full Price Info:
| | |
| --- | --- |
| WordPress Hosting | $19 – $999 |
| Magento Hosting | $49 – $849 |
| WooCommerce Hosting | $19 – $999 |
| Cloud Hosting | $49 – $849 |
5
Conclusion
Is Nexcess a good choice?
Yes, we do recommend Nexcess for its good hosting.
Our Nexcess Hosting experience started out well.
Their speed, uptime, and support were all good. Moreover, they offer plenty of useful features with their managed hosting plans.
Also, they offer strong security options, great 99.998% uptime, plenty of WordPress premium plugins, and multiple tiers of hosting packages suitable for different customers. The pricing starts at $12.67/month with our special discount.
Nexcess Managed WordPress Hosting really makes things faster and allows more concurrent connections with 10 base PHP Workers given in an entry-level spark plan and those can scale up to 20.
Overall, Nexcess delivers decent features, performance, and good value for your money.
Add your rating!
Nexcess Hosting User's and Editor's Reviews & Scores
In this Nexcess review, We've rated their services and hosting features.
9.6
Total Score
Nexcess delivers decent features, performance, and good value for your money.
PROS
Premium and Managed WordPress Hosting
Managed CMS Hosting from $19
Data centers in the US, EU, and Asia Pacific
eCommerce ready solutions
Website Builder
Very Strong Security Features
Excellent Support
Free Website Transfer
Premium Plugins
Dedicated CDN Storage