When your business grows, so does traffic to your website — and the need for more resources. As a Liquid Web VPS customer, you're probably well aware that VPS hosting is the most accessible and affordable entry point to managed hosting for your business. 
It's a great choice for developers and designers, as well as smaller sites with moderate traffic. Some small businesses may never need anything more.
If your business is fortunate enough to experience significant growth, however, you may want to consider growing your hosting as well — and sooner rather than later. 
Your virtualized private server runs on a parent server alongside a number of other VPSs that each are allocated a finite amount of that server's resources (the RAM, CPU cores, and disk space included in your plan). 
Over time, increased web traffic, disk space utilization, database size, and query volume can push you closer to the limits of those resources. As you approach full resource utilization, you'll want to start planning your growth strategy to avoid any potential disruption to your business.
Signs of an Overtaxed VPS
As your hosting requirements approach the limits of what's capable with your VPS plan, you'll begin to see any number of warning signs. They'll vary depending on the specific resource(s) under pressure, but generally, be on the lookout for:
Noticeable lag or delayed response time when loading web pages onto your site.
Intermittent, unexpected downtime.
Sluggish or degraded performance when running your hosted applications.
Support and monitoring tickets — Liquid Web provides 24/7 proactive monitoring and will always open a ticket to notify you about potential issues with your server. Often, the issue will already have been resolved before the ticket arrives in your inbox, but pay attention to the identified cause and the technician's recommended course of action. 
Notifications from your VPS itself — Your control panel or operating system is typically configured to send email alerts whenever resource allocation is exceeded. Those emails may include subject lines such as excessive resource usage, load alert, disk quota, or disk usage warning. (Note: A notification is dispatched every time the resource condition is met, so an occasional email or two is generally nothing to worry about. As a Liquid Web VPS customer, what you should watch out for is a large volume of these emails over a short period of time.)
Growing Your Hosting: The Best Path Forward With Liquid Web
Depending on the specific resource feeling pressure, you may have more than one option to temporarily squeeze more out of your Liquid Web VPS. 
RAM and CPU allocation can be increased by resizing to a larger plan. Larger VPS plans also include more disk space, but if storage is your only concern, you can also add cloud storage to your plan separately.
If you're on a Next-Generation VPS, you also may consider moving to a Memory- or CPU-optimized plan to maximize either of those specific resources.
While any of these options may help keep you on Liquid Web VPS a bit longer, they're all short-term solutions. There's a good reason for that, and it happens to be great news for your business: businesses experiencing growth tend to keep growing. 
You're not likely to add a few thousand visitors or a few hundred customers this month and then remain at that level for the foreseeable future. As problems go, it's a good one to have.
Liquid Web Dedicated Hosting Provides Room To Grow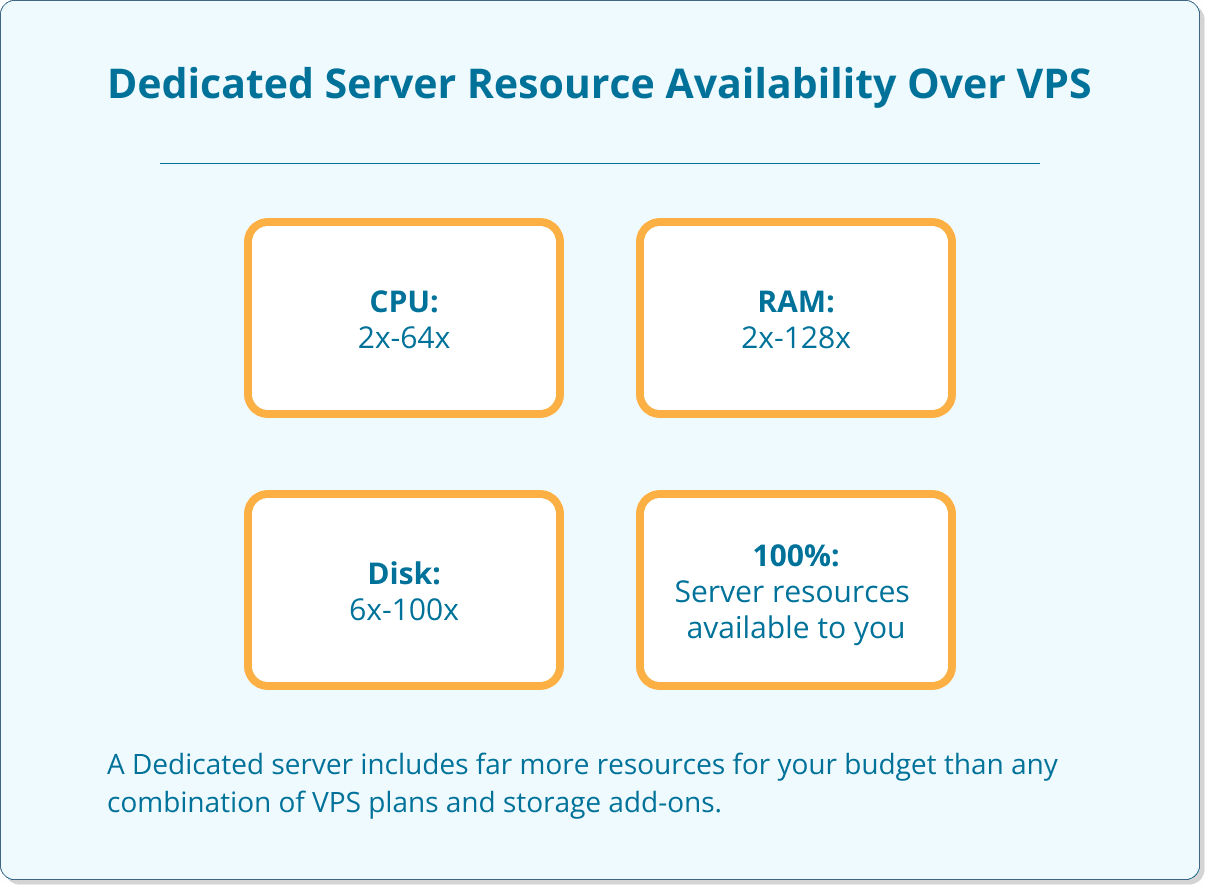 A growing business will need more and more server resources over time to keep up with demand, traffic, and utilization. That can be done while remaining on Liquid Web VPS, but it's rarely the smartest investment. 
Even mid-tier VPS plans at Liquid Web approach the cost of a dedicated server, and add-ons such as cloud storage (which is much more expensive than physical storage) can mean you'll ultimately be paying a lot more for a lot less power and performance.
With Liquid Web dedicated hosting, you get the whole server — and all its resources — to yourself. Upgrading from VPS to dedicated hosting with Liquid Web can not only alleviate immediate issues with resource utilization and availability but also leave plenty of room for future growth. 
Additional Benefits of Dedicated Hosting With Liquid Web
For many, cost is the primary consideration for dedicated hosting. As an alternative to incremental upgrades to a cloud VPS plan, it's certainly worthwhile on that front alone.
But dedicated offers many more advantages over VPS than simply price. Here are a few to consider:
Improved Performance
With Liquid Web VPS hosting, you're sharing hardware resources with other tenants on the same server cluster. This can impact performance — but moving to Liquid Web dedicated hosting means you don't have to share any CPU, memory, or storage resources. You're in complete control of resource usage, and as a result, you'll see page load speed, reliability, and overall performance improve.
Enhanced Security and Compliance
Another benefit of moving from Liquid Web VPS to dedicated hosting is improved security. Not only do you have more control over resource usage with dedicated hosting, but you also have complete control over your server configuration. This can help protect you from unauthorized access and data breaches. More granular server controls are also helpful in adhering to strict security compliance.
Future-Proofing and Customization
Moving from VPS to dedicated hosting can also set you up for success in the future. As your business continues to grow, the demands of your site will too. Fortunately, dedicated hosting can be scaled up or down easily, allowing you to adjust resources based on changing needs.
Moving to dedicated hosting now lets you avoid running into painful resource limitations. It could also be easier and less costly to move now as opposed to later.
And as mentioned, moving from Liquid Web VPS to dedicated hosting enables you to fully customize the server configurations to meet your needs — you have the flexibility to customize your server's hardware, software, and operating system to suit your specific applications and workloads.
Get Started With Dedicated Server Hosting
If the needs of your website are growing, it may be time for you to move from VPS to dedicated server hosting with Liquid Web.
Avoid disruptions to your business and future-proof yourself with Liquid Web's dedicated server hosting. We have a highly trained team committed to migrating VPS instances over to dedicated servers with minimal downtime in mind.
With best-in-class support for Linux or Windows operating systems, the dedicated servers come with Proactive Sonar Monitoring™, ServerSecure hardening, and guaranteed 100% power network uptime.